Alexa Skills Development
Use Voice Commands To Transform Your Business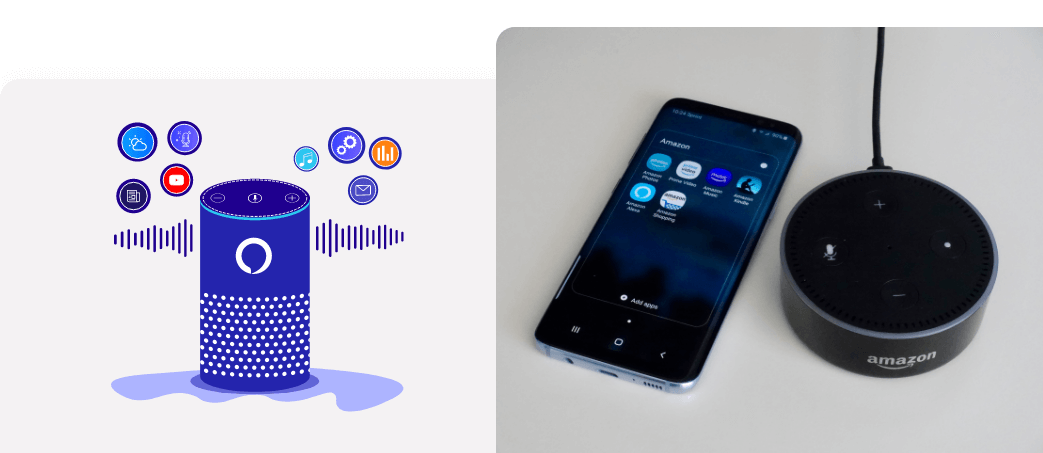 Voice assistants such as Alexa are enjoying growing popularity. For many companies, they represent a new marketing and communication channel. Companies can make use of the potential of voice assistants and make all business areas more efficient and intuitive, from marketing to sales and internal use.
Some industries that can use Alexa to entice their clients;
Entertainment and culture
Education
Hospitality
Healthcare
Transportation
E-commerce
Customer service
Marketing
Benefits Of Having A Virtual Assistant
Generate More Time
If your working days are long, your stress level is high and you just don't have time for the things that are really important to you, a virtual assistant can give you the support you need. If you outsource some tasks to a virtual assistant such as Alexa, you finally have more time for family, friends and hobbies.
Increased Productivity
Multitasking is often an illusion. Coordinating too many tasks, appointments and projects at the same time cannot go well in the long run, something always falls by the wayside. As an entrepreneur, you can also get help from outside, you don't have to do everything on your own. If you hand over tasks to a virtual assistant, you can concentrate on the important things in your business again, increase your productivity and get the best out of yourself.
Share Tasks
You can hand over tasks such as data acquisition or internet research quickly and easily to a virtual assistant and no longer have to worry about them yourself.
Are there activities in your business that slow you down in your day-to-day work because they don't suit you or you don't like doing them? Seek help from a virtual assistant for such tasks and benefit from external expertise.
Proper Management
A virtual assistant can help you manage your to-do list properly. With the implementation of I.T solutions such as Alexa by experts, you can manage your daily work in a structured manner and complete all tasks efficiently.
Flexibility
Most virtual assistants are very flexible in terms of time and can easily adapt their working hours to suit their clients. They can often be reached outside of normal office hours and can also support you in the evenings or on weekends if required.
Full Cost Control
You decide 100% for yourself which budget you want to spend on your virtual assistance each month. There is no fixed number of hours worked per week, you decide how often and for how long your virtual assistant will support you.
Virtual assistants are self-employed and work on the account. So you only pay the hours worked plus sales tax. Additional payments such as Christmas or vacation pay and continued payment of wages in the event of illness do not apply. Since you work virtually with a VA, there are also no costs for premises or office equipment. The organizational and bureaucratic effort is also very low.
Teamwork
Virtual assistants are particularly valuable for self-employed individuals who have no employees. You can exchange ideas with a virtual assistant wonderfully. It brings a breath of fresh air into your business and can show you completely new perspectives. A long-term and trusting cooperation is particularly advantageous in emergencies. Your virtual assistant can also keep your back free for a short time and step in if you are sick or just want to go on vacation.
Hyperlink InfoSystem Fields Of Activity
Consultation
There is a sophisticated strategy behind every successful skill. We advise you on all important questions about the conception and dialogue options of the Alexa Skill, which is precisely tailored to your target group. We always keep your business model in mind and how the Alexa Skill pays for it.
Development
We take over the development of your Alexa skill and publish it for you on Amazon. In development, we rely on the highest quality standards so that smooth use can be guaranteed. We can also integrate additional APIs into the Alexa Skill and thus link the Alexa Skill with your data.
Maintenance
Users use a variety of ways to interact with their Alexa skills. We take care of the continuous maintenance of your Alexa skills in order to integrate additional dialogue options and their variants so that the users always achieve the goal of their interaction.
Alexa Can Perform Many Important Operations
Alexa can perform many useful skills, such as making appointments, choosing restaurants, ordering food, checking the weather, looking for your phone, starting and unlocking a car, turning on lights, heating, kettle and vacuum cleaner.
More specialized skills allow you to call Uber, check-in for United Airlines flights, play music on Spotify or Apple Music, tune your guitar, play Xbox with your voice, listen to news from The Guardian or fairy tales, check balances and pay credit card bills (at Capital One, US Bank, American Express), transfer and solicit money through PayPal, and donate to over 240 charities.
And the Mastermind skill provides many ways to communicate, collect information and manage the device, allowing you to send messages and emails, as well as call, google, share geolocation, check the battery, open articles from a laptop and read them aloud, launch Google Maps, for Android also - read notifications, set caller ID, turn on Wi-Fi, Bluetooth, and do not disturb.
Various agencies can carry out the development of apps. But imagine developing your app the way you guessed it. Our passion at Hyperlink InfoSystem leads us day after day to continually update ourselves on the "tools of the trade" to explore new horizons.
A momentum that allows us to provide each customer with a cutting-edge service in mobile app development. In this way, we can provide every business with the technology it deserves.
Process We Follow
1. Requirement Gathering
We analyze the requirements with the clients to understand the functionalities to combined into the app. This process allows us to form a development plan and transform the client's thoughts into an efficient and functional app.
2. UI/UX Design
Our developers use efficient UI trends to design apps that are not only pleasant to the eye but also intuitiveness and flexible. Our applications do not only complete the needs of our clients but also are simple and convenient to the end-users.
3. Prototype
We develop a preliminary visualization of what the mobile app would look like. This helps to generate an idea of the appearance and feel of the app, and we examine the users' reactions to the UI and UX designs.
4. Development
Our team of experts in Native, Hybrid, and Cross-Platform app development, using languages such as Swift, Kotlin, PhoneGap, Ionic, Xamarin, and more to produce high-quality mobile apps for the various operating systems.
5. Quality Assurance
We have a team of developers who carefully test every app to ensure that they provide an excellent user experience and meet the requirements of our clients. Apps developed by our development team are bug-free because they perform through a series of experiments before deployment.
6. Deployment
We follow the best practices when deploying our apps on different app stores, where they can be easily noticeable to considered users.
7. Support & Maintenance
All digital solutions need development. The deployment of an app is not the ultimate stage. Even Post-deployment, we work with our clients to offer maintenance and support.
Process We Follow
1. Requirement Gathering
We follow the first and foremost priority of gathering requirements, resources, and information to begin our project.
2. UI/UX Design
We create catchy and charming designs with the latest tools of designing to make it a best user-friendly experience.
3. Prototype
After designing, you will get your prototype, which will be sent ahead for the development process for the product.
4. Development
Development of mobile application/ web/blockchain started using latest tools and technology with transparency.
5. Quality Assurance
Hyperlink values quality and provides 100% bug free application with no compromisation in it.
6. Deployment
After trial and following all processes, your app is ready to launch on the App store or Play Store.
7. Support & Maintenance
Our company offers you all support and the team is always ready to answer every query after deployment.
Latest Blogs
Explore the Latest Blogs on Trends and Technology.