Hire Spring Boot Developers In Canada
Hire the best spring boot developers in Canada from Hyperlink InfoSystem. Hire us in 24h!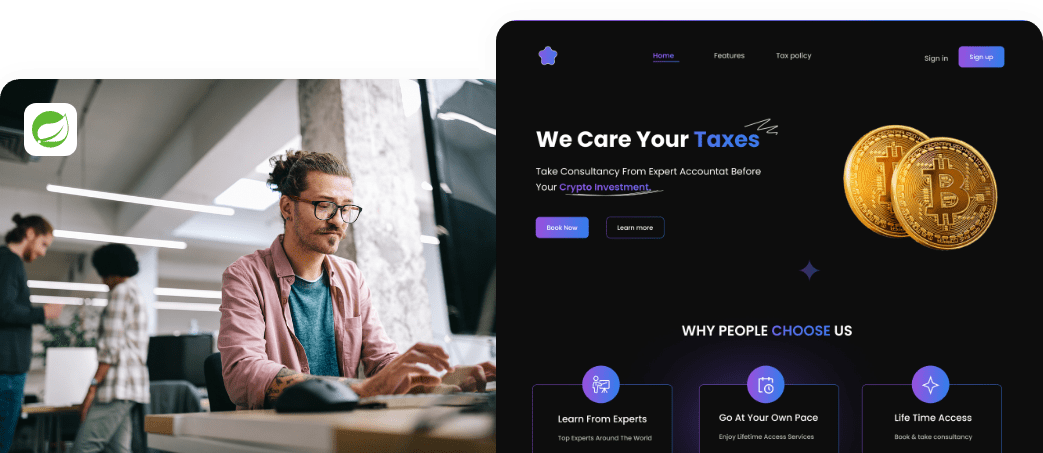 With the aid of microservices, Spring applications can be developed using the open-source micro-framework known as Spring Boot. Standard Web Application Resource (WAR) deployments, as well as standalone Java applications, are supported. With Spring Boot, programmers don't have to spend time on tedious tasks like setting up the development environment before they can begin writing code. Develop excellent solutions when you hire Spring Boot developers in Edmonton, Canada.
As opposed to other Java frameworks, it offers a large range of configuration options using XML, as well as strong batch processing, database transactions, an intuitive workflow, and several development tools.
It does its job by supplying universally applicable settings for the codes and annotation setup necessary to kick off a brand new Spring project immediately. Additionally, it employs the 'Opinionated Defaults Configuration' methodology to get rid of unnecessary settings and streamline the testing process, whether it is at the unit, the code, or the integration level.
The Benefits Of Spring Boot
For starters, it's built on Java, which is widely considered to be the best programming language in the world. Additionally, Spring Bootcan assist you in rapidly developing any apps without worrying about the right and secure setup of those applications.
A wealth of open-source resources, including tutorials and classes, are available for learning Spring Boot thanks to its sizable user base. There are several threads in Spring Boot. When carrying out lengthy or repeated tasks, this is a helpful tool. When one thread is being used up, another can be utilized simultaneously.Additional advantages of Spring Boot include:
Built-in HTTP servers for testing web applications.
Spring Data, Spring Security, Spring Object Relational Mapper, and Spring JDBC are all easily integrated into Spring Boot.
The various available plugins allow developers to easily and efficiently interact with embedded and in-memory databases.
Oracle, PostgreSQL, MySQL, MongoDB, Redis, Solr, ElasticSearch, Rabbit MQ, ActiveMQ, and many more database and queue services can be simply connected.
Helps with administrative tasks; software can be managed remotely.
Embedded Servlet Container included, reduces dependencies.
It allows for a wide range of customizations in XML files, Java beans, and database transactions.
Provides quick and simple access to the Command Line Interface, which facilitates rapid iteration during the development and testing of Spring Boot applications written in Java or Groovy.
Increases productivity of the development team and shortens the time required for new features to be implemented.
Assists in automating the configuration of all Spring app components for use in a production environment.
Provides a default configuration for unit and integration tests, easing the development and testing of Java-based applications.
Saves time by eliminating the need to write common code, annotations, and complicated XML setups by hand.
Why should you hire Hyperlink InfoSystem for Java Spring Boot Development?
In terms of application architecture, we have you covered with our Spring Boot services. Consequently, if you want high-quality, custom software, contact our in-house developers. Hyperlink InfoSystem's professionals use the Java framework and get the benefits of both Spring and Java. Besides that, here are a few other ways in which we're unique:
We have expert spring developers on staff that will focus only on your projects. That's why they keep you updated and listen to your suggestions for improvement.
When building your team, choose from our pool of qualified developers.
Our clientele appreciates the full command of the team thanks to our PMS and communication channels.
All sorts of developers are available for hire, so you can put together just the right team.
The Hyperlink InfoSystem development team has a perfect track record of never missing a deadline.
You can reach anybody on our staff anytime through phone, email, or video chat. So, we're here to respond to any concerns you can have about current or future initiatives.
Ways In Which We Can Improve Your Projects
Hyperlink InfoSystem strives to establish lasting relationships with each of its customers. Learn from our process for developing useful Spring Boot web apps that contribute to your projects.
User interface and user experience design
For every project, we hire expert UI/UX designers to work on the interface. We also think the design is crucial to winning over new customers.
Support after project completion
We stay with you even after development is complete to make sure your feedback and changes are accounted for.
PMS tools to maintain transparency
We employ top-tier project management software to keep our customers up to date in real-time.
We think it's critical to provide a satisfying experience for our customers. As a result, all of our Java Spring projects use the optimal design developed by our team.
Hire Spring Boot Developers
By offering a default unit setup and integration tests, the Spring Boot framework aims to cut down on development time and boost speed. Accepting the default property values and skipping the XML setting will get your Java app development project started fast.
Spring Boot is an addition to Spring that streamlines the whole development, testing, and deployment process. We have a team of seasoned experts ready to assist you if you are having issues with your Spring Boot application development project.
Agile is the foundation of our business, and as such, we have emerged as the industry's premier Java spring boot development firm. To ensure that our customers get only the highest quality software, we have established a strict protocol that we adhere to at all times. Hire Spring Boot developers in Edmonton, Canada to develop excellent digital solutions.
Latest Blogs
Explore the Latest Blogs on Trends and Technology.