Unity 3D Game Development
Hire Unity 3D Game Developer In Canada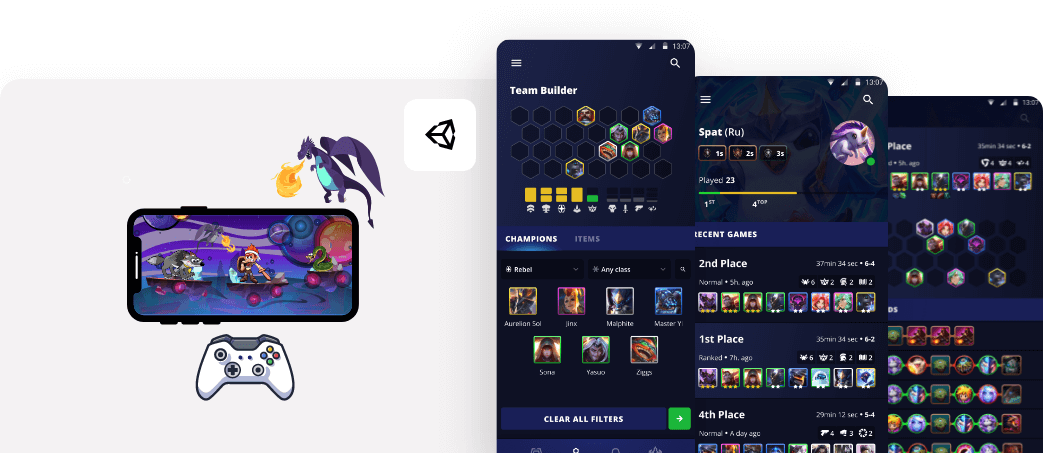 The world of videogames is gaining more and more strength. More and more people are interested in this world. As a result, Game Engines have been born, which are software whose purpose is to help people who want to develop video games. This is possible thanks to the fact that the software has engines, functions and components that achieve rendering, animation and other aspects of video game development.
Unity is one of the most popular Game Engines in the sector. It is considered a video game engine (although it is currently more appropriate to mention it as a platform), which helps the developer in the creation of multiplatform games (that is, both for mobile devices and console).
Advantages Of Using Unity 3D
1. Easy To Use
It is a tool with which you are creating content at the moment. Your learning curve for creating simple, basic games in 2D and 3D is fast. Naturally, Unity is a tool that requires years of experience to get to know it thoroughly, to obtain all the performance and possibilities; no one should doubt that. But it is also true that knowing 20% ??of the possibilities of the tool can develop interesting and fun mid-level games.
2. Two Languages For Scripts
There were three, but the most popular are Javascript and C#. Many people know Javascript, so in this case, they already have that in advance. But the latest versions work with C# as a modern and safe language. Currently, Javascript has been dropped, so it is necessary to work with C#. C# it is very powerful and immensely better at developing modern and robust applications and games.
3. Asset Store
Unity 3D has a complete store of add-ons for games; from scenarios, weapons, sounds, control modules of anything, and an endless number of elements that allow development agencies such as Hyperlink InfoSystem to create visually impressive games. These assets allow us to reduce game development time greatly. Now, like everything, it can be abused. Many developers download an asset, implement it by changing four things, and already have a game for sale. Naturally, this creates two things: first, very simple games, and second, repeated games. Also, to learn, it is better to perform these functions by hand even if they are not so sophisticated because then you see how things work inside. As always, the solution is in balance.
4. Multiplatform
Many people are opposed to "cross-platform miracle" products. There are many software that generated code for Windows and Mac, or iOS and Android with often lamentable results. Unity 3D handles this topic very well. But be careful, if a game is graphically powerful and very complex, running it on a mobile device is not going to give the same result as with a next-generation PC graphics card with an Intel i7 at 3 GHz. This is a mistake that many people fall into. The tool is cross-platform. The game is not always going to be, and many times you must work for the Windows / Mac or iOS / Android binomials.
Our Mobile Game Development Services
Our simple game development service is accompanied by another game product that we can offer you at a fraction of the cost. We offer you 100% effective overall results and with the dedication, talent and rich experience of our team.
Our team also offers other types of game development services including AR, VR and WebGL game development as well as modern mobile games, traditional browser games and the most popular Facebook games.
Whatever your idea is, Hyperlink InfoSystem will appreciate hearing, discussing, and implementing it in a timely manner and at the affordable cost of your budget. We rely on experts with in-depth knowledge in this field as well as largely creative designers who take care of every important and small detail of the game plot, the characters, the graphics and the presentations of the surroundings.
You can be rest assured that Hyperlink InfoSystem is efficiently designing this group of entertainment products to the highest quality, developing games that could be some of the most famous and widely played online.
We guarantee personal access to every single customer, project or company that tries to increase the retention rate of the end product, which increases your income, your image and your reputation at the highest level.
The mobile game development process for Hyperlink InfoSystem's world-class player service includes:
iOS or Android development and deployment
Optimization functions for mobile devices
2D and 3D graphics
Porting
Synchronous and asynchronous multiplayer
Social characteristics
Pre-production of the game
Web services for the backend area of ??games - data management and analysis, traffic analysis, self-system monitoring, crash warnings, push notifications, analysis of advertising expenditure, research of player behavior, management of virtual services, promotions and marketing campaigns as well as full customer support
Game updates and upgrades
Hyperlink InfoSystem – A Leading Unity 3D Game Development Company In Canada
Hyperlink InfoSystem is one of the leading Unity 3D game development company in Canada. With the development of hundreds of Unity 3D game with functionality ranging from simple to complex, we are best suited to develop a Unity 3D game for your company. We have experts in different aspects of Unity 3D game development, such as the user interface and user experience. Our attention to detail ensures that we excel in all our projects and have excellent customers' ratings. We are always evolving, and we use the best technologies for every project.
Our developers work according to proven, agile development methods. In addition, we adhere to the current design guidelines of the respective platform and develop your apps using coding best practices. Current design guidelines are often criteria for posting in the application stores. Using best practices means that the source code we create is clean, maintainable, and of high quality.
Process We Follow
1. Requirement Gathering
We analyze the requirements with the clients to understand the functionalities to combined into the app. This process allows us to form a development plan and transform the client's thoughts into an efficient and functional app.
2. UI/UX Design
Our developers use efficient UI trends to design apps that are not only pleasant to the eye but also intuitiveness and flexible. Our applications do not only complete the needs of our clients but also are simple and convenient to the end-users.
3. Prototype
We develop a preliminary visualization of what the mobile app would look like. This helps to generate an idea of the appearance and feel of the app, and we examine the users' reactions to the UI and UX designs.
4. Development
Our team of experts in Native, Hybrid, and Cross-Platform app development, using languages such as Swift, Kotlin, PhoneGap, Ionic, Xamarin, and more to produce high-quality mobile apps for the various operating systems.
5. Quality Assurance
We have a team of developers who carefully test every app to ensure that they provide an excellent user experience and meet the requirements of our clients. Apps developed by our development team are bug-free because they perform through a series of experiments before deployment.
6. Deployment
We follow the best practices when deploying our apps on different app stores, where they can be easily noticeable to considered users.
7. Support & Maintenance
All digital solutions need development. The deployment of an app is not the ultimate stage. Even Post-deployment, we work with our clients to offer maintenance and support.
Process We Follow
1. Requirement Gathering
We follow the first and foremost priority of gathering requirements, resources, and information to begin our project.
2. UI/UX Design
We create catchy and charming designs with the latest tools of designing to make it a best user-friendly experience.
3. Prototype
After designing, you will get your prototype, which will be sent ahead for the development process for the product.
4. Development
Development of mobile application/ web/blockchain started using latest tools and technology with transparency.
5. Quality Assurance
Hyperlink values quality and provides 100% bug free application with no compromisation in it.
6. Deployment
After trial and following all processes, your app is ready to launch on the App store or Play Store.
7. Support & Maintenance
Our company offers you all support and the team is always ready to answer every query after deployment.
Latest Blogs
Explore the Latest Blogs on Trends and Technology.