CakePHP Development Company
Using One Of The Most Popular PHP Framework For Your Projects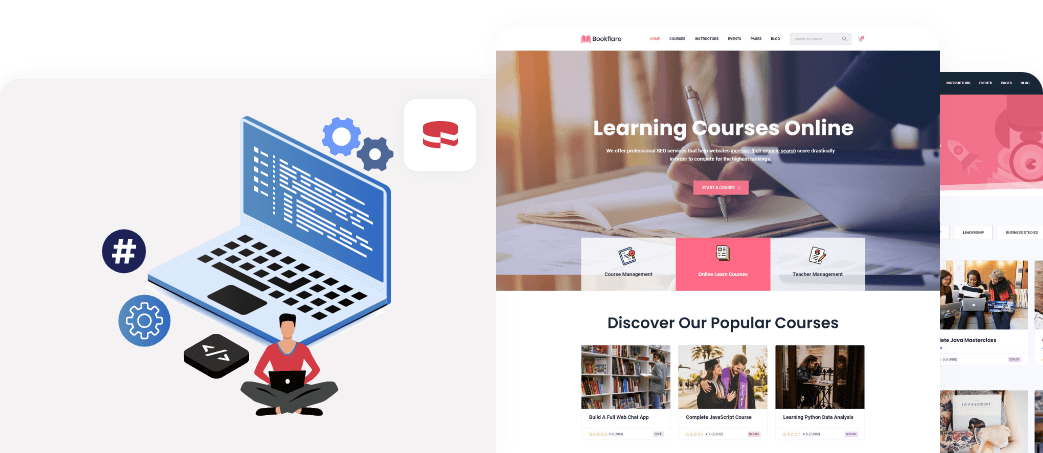 PHP grants unparalleled advantages, and deploying it for web application development provides a rewarding opportunity for companies to be on the path to technological advancement. While PHP by itself consists of different numbers of frameworks having a distinct set of features and uniquely functioning ways, CakePHP has become more prominent among them due to its discerning features and in advance of time features. Being a dynamic and compelling executive, it has too much going for developers and websites or app owners. It is also one of the known easy to use frameworks, which facilitates the building of applications which are responsive as well as utility oriented.
Features of CakePHP
Crud Scaffolding
This feature of the framework supports three major tasks of web application development and helps users create a single line of code for their application. Create, read, update, and delete are the four aspects that make up the terms CRUD and CakePHP ensures that any application under development is customizable at any stage and at any time to suit specific requirements. In other words, it ensures that one has complete control or authority over the dynamics of production and the end result.
Class Inheritance
There is no doubt about class inheritance in CakePHP. However, there are two main folders that allow others to work and view separately. This may sound like a basic concept but is actually needed when there are multiple codes running.
Expandability Through Easy Plugins
CakePHP is one of the few known platforms that offers tremendous extensibility. It allows code reuse and lets developers build on the prevailing structure by extending their program, adding new functionality in the form of extensions, helpers, or components. Simply put, one can modularize a web application and make it usable for a different purpose or even make it responsive to new requirements. The best thing about it is that anything is possible without disrupting the core infrastructure library and just adding the functionality from rich plugins or extensions.
Zero Configuration
This feature is absolutely adored by the developers. There is no requirement for specification or connection establishment between system resources and no need for their configuration too. Everything works on auto-detection on CakePHP, for which developers don't need to look for any kind of installation or to fix at any stage.
Integrated Validation
CakePHP is the idol framework for the built-in validation functionality, and developers like the way things are used in the framework to make advanced validation rules work. The built-in validation features include useful and great validation and excellent flow of entities.
All of these frameworks make CakePHP. It is inevitably an easy to manage platform for developers to bring any web project idea into real existence. While its unparalleled features and robust flexibility contribute to its popularity, most midsize organizations and small businesses rely on it for their online web solutions.
The Advantages Of Cakephp:
No configuration: configure the database, and that's it
Extremely simple: it's a piece of cake
Very active and very responsive community
Soft license: MIT license (what you develop is yours and can be sold)
Healthy framework: all code was written by the CakePHP development team
Respects best practices: security, sessions, authentication and many more
MVC
Hierarchization of data in the database according to the MPTT structure
Object-Oriented: beginner or experienced in object development, no problem!
Documentation provided
Cache Management, Rights
Integrated development assistance tools (forms, ajax, data validation, authentication, etc.)
Command-line console allowing the generation of CRUD (Create / Read / Update / Delete, Scaffholding) applications on the fly
And many others!
Cake Php Development At Hyperlink Infosystem:
Developed in PHP and based on the MVC architecture, the CakePHP framework ensures rapid development of web applications. Its Model-View-Control architecture supports a clear bifurcation of website design, development and flow. Very functional, the framework saves development time. Being open source also saves the cost of developing any web application. CakePHP web development is chosen for its simplified functionality and fast customization.
Hyperlink InfoSystem is a trusted name for web application development. It is one of the most sought after CakePHP development companies in the outsourcing industry. Its CakePHP development team has been repeatedly chosen for CakePHP web development by its satisfied customers. We have a proven track record of providing top quality CakePHP development services including customization of CakePHP, CakePHP plugins, custom module development, and all other types of websites.
Benefit From The Expertise Of An Experienced Developer
Great Flexibility And Versatile Use
CakePHP is based on the MVC pattern, which allows you to use it in a variety of ways, e.g. as a stand-alone application, as one or more parts of a microservices architecture or as backend technology for frontend frameworks such as AngularJS. The framework also leaves enough flexibility for future changes in the development of your applications.
Quick And Easy Creation Of Prototypes
CakePHP's code generation capabilities allow prototypes to be created in a very short time. You also have the opportunity to test your concept right from the start.
Hosting
CakePHP can be hosted on all common web servers, virtual servers or cloud solutions such as the Google cloud platform.
Hyperlink Infosystem Is A Leading Company In Cakephp Development Development
Based in Canada, Hyperlink Infosystem is a leading I.T. solutions provider that specializes in CakePHP web app development. Our team is made of experienced developers who have undertaken many CakePHP app development projects. We combine our creativity, experience, and attention to detail to make your project a success. We follow the best methods in developing, delivering, and sustaining complex mobile app solutions. The whole team is at your disposal to advise you and guide you as best as possible towards solutions adapted to your needs.
Process We Follow
1. Requirement Gathering
We analyze the requirements with the clients to understand the functionalities to combined into the app. This process allows us to form a development plan and transform the client's thoughts into an efficient and functional app.
2. UI/UX Design
Our developers use efficient UI trends to design apps that are not only pleasant to the eye but also intuitiveness and flexible. Our applications do not only complete the needs of our clients but also are simple and convenient to the end-users.
3. Prototype
We develop a preliminary visualization of what the mobile app would look like. This helps to generate an idea of the appearance and feel of the app, and we examine the users' reactions to the UI and UX designs.
4. Development
Our team of experts in Native, Hybrid, and Cross-Platform app development, using languages such as Swift, Kotlin, PhoneGap, Ionic, Xamarin, and more to produce high-quality mobile apps for the various operating systems.
5. Quality Assurance
We have a team of developers who carefully test every app to ensure that they provide an excellent user experience and meet the requirements of our clients. Apps developed by our development team are bug-free because they perform through a series of experiments before deployment.
6. Deployment
We follow the best practices when deploying our apps on different app stores, where they can be easily noticeable to considered users.
7. Support & Maintenance
All digital solutions need development. The deployment of an app is not the ultimate stage. Even Post-deployment, we work with our clients to offer maintenance and support.
Process We Follow
1. Requirement Gathering
We follow the first and foremost priority of gathering requirements, resources, and information to begin our project.
2. UI/UX Design
We create catchy and charming designs with the latest tools of designing to make it a best user-friendly experience.
3. Prototype
After designing, you will get your prototype, which will be sent ahead for the development process for the product.
4. Development
Development of mobile application/ web/blockchain started using latest tools and technology with transparency.
5. Quality Assurance
Hyperlink values quality and provides 100% bug free application with no compromisation in it.
6. Deployment
After trial and following all processes, your app is ready to launch on the App store or Play Store.
7. Support & Maintenance
Our company offers you all support and the team is always ready to answer every query after deployment.
Latest Blogs
Explore the Latest Blogs on Trends and Technology.