Hire UI/UX Designers in Toronto, Canada
Hyperlink InfoSystem is a Leading UI/UX Design Services Provider Company in Toronto, Canada. Are you Looking for dedicated designer? Hire Best Designer from Hyperlink InfoSystem.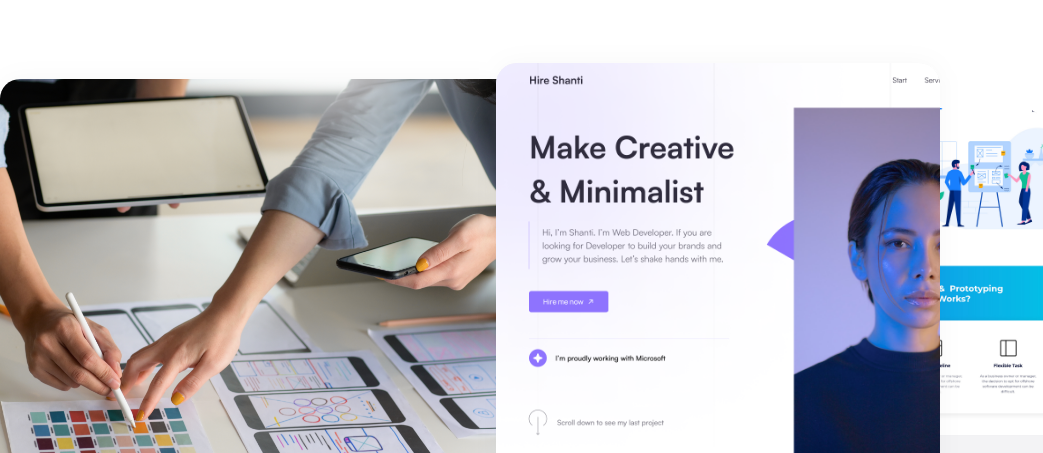 Hyperlink InfoSystemis a Canadian digital consulting firm with in-house teams focused on user experience (UX) and user interface (UI) strategy, design, and development. Hire UI/UX Developers in Calgary, Canada by contacting Hyperlink InfoSystem.
For the most part, our clients hire us as a UX and UI agency so that we can help them make products that users will love. However, we also get hired to help with things like growing teams, handling complex projects, fixing holes in the organizational structure, and other such day-to-day business needs.
As a result of the specialized nature of UI/UX design, our firm is often seen as a strategic partner by our clients. Our team has the technical know-how, creative capacity, management savvy, and operational leadership necessary to evolve into a cutting-edge, design-driven business.
Our methodology centers on forming a unified team consisting of both our company and the customer, agreeing upon a set of quality criteria, and outlining a set of ground rules to be adhered to throughout the design process.
To enable the client to produce high-quality design projects, we also examine the client's management model and organizational structure, as well as design concepts, task prioritization, and effective team development.
Delegating tasks and encouraging participation from all members of the user interface/user experience team is how leaders develop.
We form design teams to maximize communication and cooperation in an open setting that fosters design-related innovation. Since team members can empathize with the users, the research process (UX research) is unified and voices the users' opinions.
UI/UX Design Tools
Hyperlink InfoSystem only employs top-tier software and hardware in its product development processes.
This prototype tool is widely used. It is easy to create functional prototypes from design files. The capability to work together is a great aid to effective communication. Along with the documentation, designers may also make modifications and receive feedback.
Prototyping and wireframing are two of Sketch's many strong suits. To put it simply, it's a collection of icons, texts, and layer styles. Fluid resizing and snapping are two more characteristics. This efficient vector-based tool does not sacrifice clarity while saving time.
To put it simply, it's a prototype tool for the UI/UX department. Facilitates teamwork on a web browser. Framer's many features include collaborative editing, code sharing, and real-time feedback. This app's sharing features are quite user-friendly.
That's put to good use in the lab. To create project sitemaps using. It's like having an extra visual processing unit added to your head. It does more than tally and file thoughts; it also inspires brand-new concepts.
Adobe XD provides vector-based tools for making prototypes and mockups. In-sync communication between UI designers is possible. The tools may be used in many different areas, including online design, mobile design, gaming, and voice-over. It expedites the development process and yields memorable interactions.
When it comes to design and prototyping, Figma has you covered. It works well for prototyping, usability testing, and getting user input. Makes possible simultaneous interaction in real-time. Using the shrink function, designs may be scaled to fit any device.
The Benefits Of Hyperlink InfoSystem UI/UX Services
Rapid development employing an iterative "design thinking" framework.
Throughout the design process, the UX design team is constantly honing their craft without losing sight of the big picture.
Maintaining coherence when designing user experiences (UX).
Teams of experts, who are grouped according to user type, product teams, lines of business, and customer journeys, meet often and communicate to preserve unity across the whole user experience development process.
Providing A Comprehensive Service Is Our Top Priority
Producing and sharing resources like research, patterns, navigation models, etc. relies on everyone involved having a firm grasp on the project's overall scope and maintaining an open line of communication with one another at all times.
Development of career vision for designers.
Hyperlink InfoSystem provides its staff with a training program that improves their abilities on the job, which in turn keeps the company's designers inspired to produce excellent results.
Well-seasoned team that can immediately begin work.
Together, the client's product team and the UX/UI agency's team establish strategies and constitute the project's design team.
Working together autonomously.
Teams of UX and UI designers that work independently to produce excellent results. Hyperlink InfoSystem's devoted teams have an interdisciplinary mix of experts that work well together.
Development of a sense of empowerment and belonging
Members of the team contribute and participate at all stages of the product lifecycle (developing a unique understanding of the challenges).
Consensus and transmission of vision.
Keep the individuals who matter (stakeholders) on the same page and resist the urge to downplay the significance of ideas and design plans.
Design culture development and support.
Different techniques allow UI and UX design teams to work collaboratively, with information being exchanged and provided at any point in the user experience design process.
Designers are responsible for integrating business objectives, design, and technical development concerns, and they get assistance and advice from the team lead and product team.
Hire Canadian User Interface/User Experience Designers
Each UX/UI scenario calls for a unique set of skills and knowledge. Over the years, Hyperlink InfoSystem has analyzed and implemented methods and practices that maximize the efficiency of our customers' design processes, which has shown to be essential.
Achieving the digital transformation of companies and products with a positive user experience requires overcoming many obstacles, such as managing teams, developing a vision, overseeing operations, finding and cultivating talent, spreading company culture, selecting appropriate methods, encouraging expansion, etc. Partnering with a UX/UI firm that has a staff equipped to produce a high-quality user experience will help overcome all of these obstacles more swiftly (UX).
Hyperlink InfoSystem provides many approaches to aid in the development of businesses. Our Canada manufacturing facilities are staffed by in-house engineers. We also have departments devoted to cloud computing, the internet of things, and digital transformation in addition to those that specialize in creating mobile applications. Achieve success by attracting more customers when you Hire excellent UI/UX developers in Canada.
Latest Blogs
Explore the Latest Blogs on Trends and Technology.