Hire Dedicated Flutter Developers
Hire Dedicated Flutter App Developers team at your flexibility. Hire Full Time, Part Time, Hourly Basis.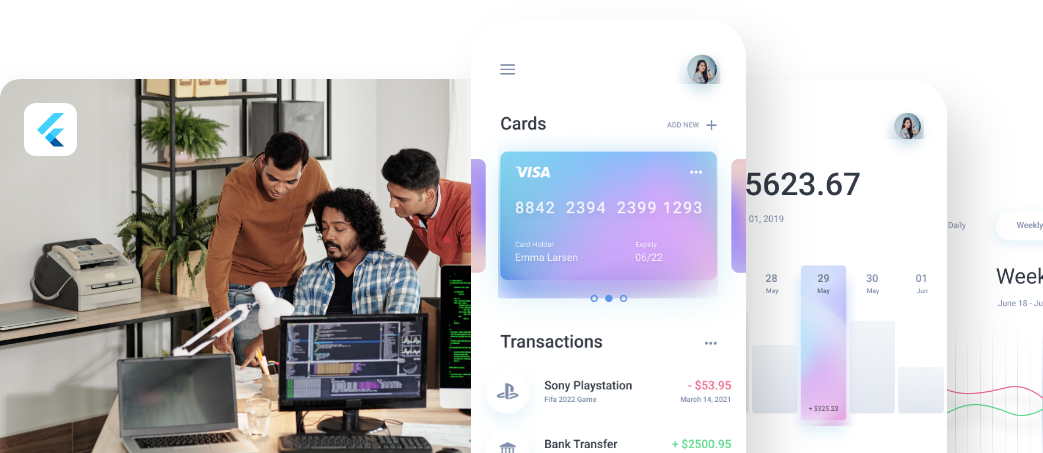 Hire Dedicated Flutter Developers in Canada
Flutter is one of the technologies that we use to create top-notch applications. Hyperlink InfoSystem is committed to creating cutting-edge Flutter apps that answer the needs of the modern market. Our team has years of experience using Flutter for software development. Astonishing users and expanding businesses: that's what we aim for when designing and developing mobile applications. Meet with our development team to hire dedicated Flutter developers.
We build apps with the user experience in mind, and this instrument allows for more creative freedom in the design process, which results in a more refined and detailed interface—ideal if you're going for a one-of-a-kind feel in your mobile app.
The primary benefit of using Flutter is that it enables you to develop or migrate your app for both iOS and Android while preserving the native look and feel of each system.
Hyperlink InfoSystem Offers A Wide Range Of Flutter App Development Services
We intend to use Flutter to create apps with a strong emphasis on the quality of the user's experience.
Support for Flutter-based apps.
Maintenance and update of Flutter apps.
The User Interface and User Experience Design.
Developing Flutter apps for both iOS and Android.
In our time at Hyperlink InfoSystem, we've put in a lot of time and effort learning how to use Flutter to create apps for various platforms. Our programs are enjoyable for the user because of their adaptable and expressive user interfaces.
Why Hyperlink InfoSystem Adores Using Flutter for App Development
Flutter makes applications cross-platform, meaning they can run on any computer, tablet, smartphone, smartwatch, or another screen. This provides users with a lot of freedom and saves developers a lot of time by eliminating the need to create separate versions of the program for each platform.
The ability to create applications with native-like performance and user experience fast and simply is what has caused Flutter to gain traction among developers across the globe. The ability to see the output as you make changes to the code is another strength.
As we can see, Flutter has been so popular that there are now many mobile apps available that were developed using its SDK. The use of Flutter for mobile app development has spread across a wide range of industries, including retail, logistics, and the Internet of Things. Alibaba, Google, Abbey Road Studios, and Tencent are just some of the companies that have built their applications on top of this platform.
Reasons To Hire Flutter Developers From Hyperlink InfoSystem
Agile and Fast Development
The live updates to your device or simulators are possible with the hot-reload function, which allows you to view the progress of the code in real-time.
We can make applications that function across several platforms, including iOS and Android, and that adjust to the size of the user's device.
A sizable Flutter community creates and distributes widgets for usage in apps. Widgets are a kind of application module that adds additional functionality to larger programs. Consequently, our team of developers can build Android and iOS apps with a high degree of aesthetic polish.
Flutter gives you everything you need to design beautiful, high-performance user interfaces, which is essential for every app.
When an app is built using Flutter, it runs as efficiently as if it had been developed with the native development tools of each supported platform.
Flutter is cross-platform thanks to its shared code base. Since the changes you make will be reflected on all platforms, code maintenance is simplified.
Stages Of Hiring Flutter Developers
You can't just go to a development team and ask them to develop an app for you without having an idea. Developing a dating app like Bumble or Tinder is simple; doing it well requires research into your intended users' demographics, hobbies, and desires.
You can then use that information to determine whether you have a minimal viable product (MVP). From there, calculated actions toward your objectives become possible.
At this point, a complete comprehension of the application's functioning has been attained. It is possible to create a high-quality user experience that increases client lifetime value by first creating a low-fidelity prototype.
The iterative process can begin after you have a working prototype and basic idea in place. It's common practice for developers to use an agile methodology to more quickly and effectively reach each milestone. Each component, server-side, API, and mobile app is meticulously coded.
Why You Should Hire Dedicated Flutter Developers
We at Hyperlink InfoSystem have been using Flutter for quite some time now to build cross-platform apps for both our use and the use of our customers. Beginning with version 0.5 of the beta, we have developed several apps for a wide range of audiences. Many of them can be found in both the Android Market and the iOS App Store.
Companies in a wide variety of industries, from consulting to tourism to manufacturing have all embraced digital transformation. Mobile application development is among the many assets these businesses have tapped to reap not only financial benefits from process automation and shorter customer service and delivery times but also increased visibility in their respective markets and a competitive edge. This can be achieved when you hire Flutter developers.
Latest Blogs
Explore the Latest Blogs on Trends and Technology.