Hire iPhone Developers
Contact a Hyperlink InfoSystem to get Dedicated iPhone App Developers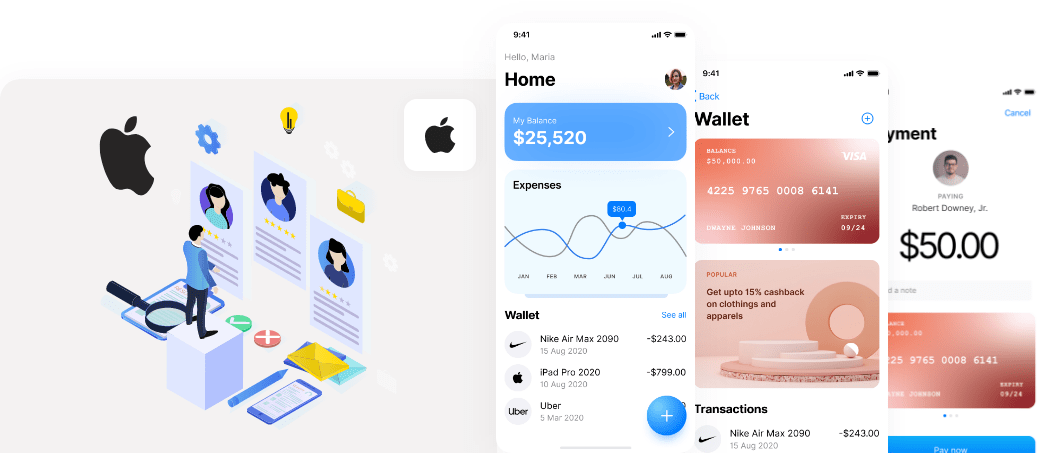 An iOS app is an application developed with a focus on the Apple mobile operating system, which is primarily designed for iPad and iPhone devices. All applications of this type are available from the Apple App Store.
Currently, relevant devices that run iOS are iPhone, iPad, and, somewhat behind, the iPod. Popular Apple devices such as the Apple Watch or Apple TV use watchOS or tvOS, for which iOS apps are available as extensions.
During development, it is therefore important to prioritize operation with the fingers as input means, since these are the most popular input method on the iPhone and iPad.
Since there is only one update every year and the range of devices using the iOS smaller compared to Android OS, it is easier to test how your app will perform on all iOS devices. The ease of testing makes it easier and faster to develop iOS apps.
Most of the users of iOS are tech-savvy and are open-minded. This creates an opportunity for innovative businesses. Unlike Android devices with many manufacturers, all iPhones have a certain level of similarities in the way they function.
Native iOS apps are developed using the Swift, Objective C, or C ++ programming languages. Since these programming languages ??are also used by Apple itself, you can achieve the same performance as Apple's system apps in app development. After all, these compilers and frameworks are specifically tailored to Apple devices.
Many (open source) frameworks are provided by the developer community. The functions shown in it, such as data management, analysis of user behavior, background downloads, connection to Microsoft Active Directory, or Bluetooth Smart Services, can, in many cases, be used free of charge in your project without having to write new code.
We rely on continuous integration, Git, code reviews, and unit tests for continuous monitoring of development progress and quality assurance. At Hyperlink InfoSystem, we help you deliver innovative and technically complex application projects, using the latest web and mobile application development technologies.
We have been developing applications, both web, and mobile and for wearables, for more than eight years, working with hundreds of small and medium-sized businesses and large enterprises in various sectors. We would love to hear how we can help you.
We have many years of experience in mobile application development in Canada, creating applications that allow new business models or improve existing ones. We support you in identifying the best solution based on your requirements and cost limitations, and we will provide you with a free estimate quickly.
Hire iPhone Developers in Canada
iOS mobile applications for iPhone and iPad devices require special attention thanks to the large share of the mobile device market that Apple still owns. The iOS Apps are developed under the IDE (Integrated Development Environment) known as Xcode, which must be installed on the MacOS operating system.
Iit is required to have programming knowledge in Apple's Swift language, which is now open source, for the development of iOS mobile applications. Swift is used to create applications for Mac, iOS, Apple TV, or Apple Watch. Ensuring integration with Objective C code.
Apple recommends a series of guidelines, to build iOS mobile applications that give you a good user experience with their design, that respond quickly to commands, that adapt to different screen sizes, and that use the battery of the devices as little as possible.
When publishing an iOS mobile application in the AppStore, the app is required to contain the following additional data:
An Info list file that contains information known as application metadata. Created automatically by XCode.
The hardware or feature requirements that the iOS mobile application needs to run must be declared.
You must have one or more icons to present it in the user applications window.
It must also have a starting image of the app, which is the image that is shown to when the application is just launched and or loading.
Processes That We Follow - Hire iPhone Developers
Analysis
Here our analysts take into account all your requirements for an app and the capabilities of mobile platforms. If a problem arises that prevents development, we will inform you about it and offer some alternatives.
Good planning is the essential factor of a successful app. Already in this phase, you can contact external agencies who will assist you with the planning with their know-how. If necessary, workshops lasting several hours can usually be booked, in which all the important factors of an app are worked out together, open questions are clarified, tips are given and solutions are found.
Design
The design team creates several models of what your mobile application might look like. At this stage, we try to convey information about your company to the future user of your mobile app through the visual content.
Development
This phase takes up most of our workflow. Here we use milestones to organize the development process using a minimum product approach.
Testing
This phase depends entirely on the type of your mobile app and its features. In the QA phase all functions contained in the technical requirements must be tested. With us, the test phase is carried out by developing QA managers (Quality Assurance Managers).
Verification
In this phase of mobile app development, we check that everything is up to your expectations. To do this, we use specifications in the requirements document and check whether it corresponds to the minimum product.
Completion
The final version is the stage of the mobile app development workflow. Here we sort all functionalities into groups and tell you what is included in each version. This is the best way to introduce you to all of the features you need. As a rule, the specialists at Hyperlink InfoSysytem group tasks according to their technical nature (functionality or error) or according to their scope.
Even after the product is released, the team monitors user behavior and comments in the market. This is how we find out how we can improve the app for your company even more.
Latest Blogs
Explore the Latest Blogs on Trends and Technology.