Hire Python Developers In Canada
Hire dedicated python developers from the top ranked and award winning company. Contact Hyperlink InfoSystem to hire python developers in canada.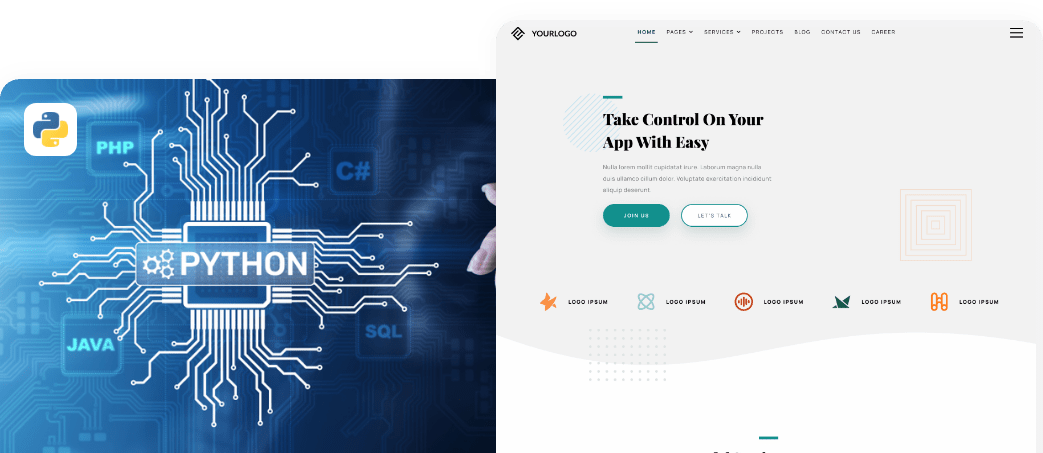 Rapid prototyping with Python for app development means you may start marketing, promoting, and showcasing your product to investors sooner, which is crucial when trying to raise capital. Python applications are superior to others because they incorporate data, analytics, and data science into their graphical user interfaces. Python is widely used in ML and AI applications; this makes it possible to add smart features like chatbots and voice recognition to your software. If you hire Python developers, you'll have a leg up on the competition.
When it comes to developing in Python, Hyperlink InfoSystem is the go-to firm due to its expertise, resources, and flexibility. Python is used in a wide variety of contexts, including but not limited to: web development, Machine Learning, content management system portals, and mobile application development. When it comes to robust and scalable web development, our team of Python specialists and project managers has over 11 years of expertise. We provide full-stack Python programming services, so you won't have to go elsewhere for anything from ideation to ongoing maintenance of your Python-based project.
Advantages of Hiring Python Developers In Canada
Multiparadigm. In other words, it can be used in a variety of contexts. This is because along with object-oriented programming, it also supports structural, functional, and imperative programming.
Direct syntax. Python's syntax is pretty simple, therefore it's not hard to comprehend any code written in it.
Simple instruction. In general, Python is considered one of the simplest languages to pick up.
Libraries. It has an immense capacity for the usage of libraries. These provide a great deal of flexibility to the program.
Interpreted language. Its interpreted nature makes for more rapid progress since the code can be read and modified by a human.
High level. Additionally, it's a high-level language, so it's not difficult to learn.
Many different availabletools. This programming language offers a wealth of features that are very useful to the developer.
Open-source and free. It doesn't cost anything to download or use, and it works with any OS. In addition, this has helped foster the growth of a sizable community that provides constant support for this particular programming language.
Variety of purposes:It has a wide range of applications from simple websites to complex AI systems and Data Science programs, so much is possible with this language.
Multi-platform. Since it works on all the major OSes, it is called a "multiplatform language."
Object-oriented. As an object-oriented language, it generates new objects to store information or perform new tasks.
Reasons To Hire Python Developers Remotely
When you employ our professional Python developers, you'll get exactly the bespoke Python software you need, no matter how specific your needs are.
To store and manage your material and add relevance to your systems, we create highly scalable CMS web applications in Python.
Maintaining the safety, performance, and dependability of your application necessitates a swift migration of data from older Python versions onto more modern ones.
Django Framework Development
Advanced Python web programming using the Django framework, with a focus on scientific computing, statistical analysis, and data science.
Machine Learning Solutions
Advanced Machine Learning software for mining data for actionable insights and optimizing operations.
Custom Python Programming
Python-based custom web development for creating dynamic programs in sectors as varied as banking, healthcare, the media, logistics, and more.
Python Mobile App Development
Python mobile app development that is both interactive and cutting-edge can provide large and medium-sized organizations, as well as those focused on serving their customers, a significant competitive advantage in the digital marketplace.
Why You Should Hire Python Developers From Hyperlink InfoSystem
If you're ready to take your company to the next level, hire Python developers remotely from us. When it comes to harnessing Python's potential in software development, we have all the cutting-edge methods necessary. The quality of our Python web app development services speaks for itself.
We build custom web apps and provide round-the-clock, in-depth communication and support.
Capable Business Applications
Intuitive and intuitive user interfaces are only the beginning of the powerhouse apps our talented programmers create.
Apps of the future that combine ML solution development with scientific computing, data science, statistics, and analytics.
Professional Python Programmers
Code quality is a priority for us, thus we make sure that our web app development is clear, straightforward, and efficient.
Global norms and recommendations are followed by our custom python programming services.
We design minimum viable products (MVPs) quickly in Python that are scalable, feature-rich, and dependable.
Hire Dedicated Python Developer In Canada
Hyperlink InfoSystem has been providing a wide variety of Python solutions for over ten years, from simple websites to cutting-edge, modern online applications. The promises made by Hyperlink InfoSystem have been fulfilled in full. The ideal language to bring your online and mobile app ideas to life, Python is an open-source, straightforward, and powerful object-oriented language.
The cutting-edge Python development web framework, programming language, and front-line tools used by Hyperlink InfoSystem ensure the delivery of top-notch websites, online applications, and mobile applications. Our programmers are well-versed in Django, one of the most popular and cutting-edge Python web development frameworks. The same applies to other frameworks, such as the Flask Python web app framework, the Zope framework, the Pyramid framework, etc. Meet with us to hire Python developers in Canada.
Frequently Asked Questions
The dedicated Python developers will work only for you to deliver outstanding results with the highest optimization. The team of Python developers at Hyperlink InfoSystem offers ample benefits like flexibility, cost-effectiveness, higher output, special skill sets and various others.
Hyperlink InfoSystem offers a very simple process to hire Python developers. Just provide project details and the technical expertise you need. The team of Python developers will begin working on your project based on your selection.
Yes, with a minimal development charge; you can test the technical and development skills of the Python developers before making a final move.
Yes, If you know the task to get done from the dedicated Python developer, then you can hire dedicated Python developers on an hourly or project/task base.
The cost estimation for dedicated Python developers varies based on various factors such as development team size, hiring model, the complexity of the web development, the type of solution, features and functionalities and many more.
Latest Blogs
Explore the Latest Blogs on Trends and Technology.