Hire Game Developers
Hire dedicated game developers from Hyperlink InfoSystem who are versatile enough to develop and deliver the most user-friendly gaming solutions for mobile, PC, Metaverse, and more.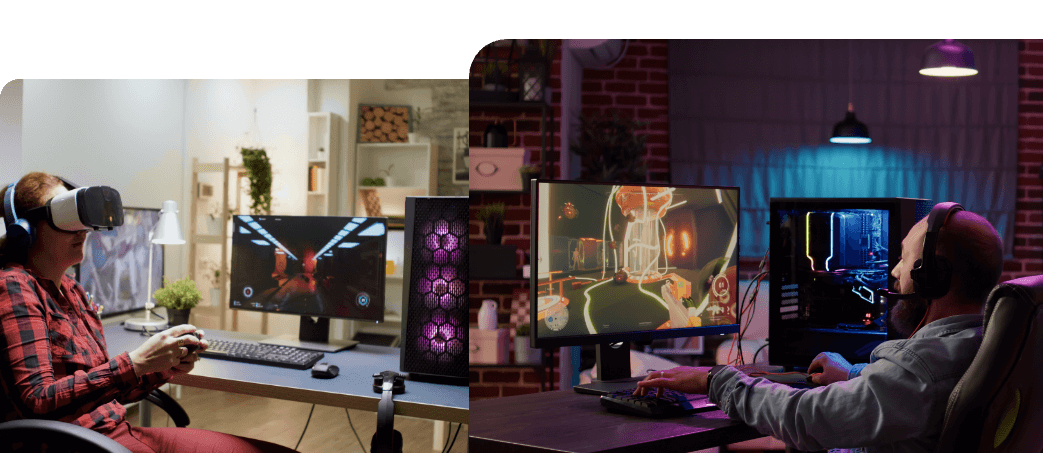 Hire Dedicated Game Developers in Canada
Games are a form of leisure-time entertainment, but they are also outstanding programs frequently attracting new users. Nowadays, whether on Android or iOS, a large portion of mobile applications are gaming-related. As a result of the increased demand for gaming applications; various game development companies are delivering feature-rich and user-friendly gaming solutions accessible to a wide range of target audiences. Being one of those top game development companies; Hyperlink InfoSystem can be one of the best options for you to hire game developers with extensive knowledge and expertise.
One of the reasons to choose a top game development company in Canada for game development is; every game development demands excellent design and development support to convert the concept into a working solution. Thus, it's important to work with a game developer from a top company. We are skilled at what we do.
For our prestigious clientele, we have created a variety of games, including action, racing, board, casual, and more. We think outside the box to showcase your transcendent user experience because creating a mobile game requires more than simply coding or programming.
Game developers at Hyperlink InfoSystem are skilled in carrying out gaming projects in a creative manner that end users will find enjoyable. Those are one of the few reasons for us being widely recognized as the best-leading game development company in Canada. With the help of our specialized game developers, you can create various types of games for different platforms.
Best Game Development Services - Hire Game Developers
Hire dedicated game developers to create a gaming solution from the scratch, upgrade an existing one, or get post-deployment support for an existing one. We offer all of these services with a specially formed team for each project.
Project Requirement Assessment
Based on the information provided by the client, we conduct idea analysis, research, and create game design documents, flow designs, and implementation plans. Before beginning further pre-production, production, and team formation tasks, we consult thoroughly with all parties.
Based on the game's theme and intended aesthetic, our team of game designers produces concept art and sketches. The duty of creating 2D & 3D assets like objects, characters, and environments based on the 3D art & sketches produced by the creative team is given to the asset production team, which consists of modelers, animators, rigger artists, etc.
Like many top game development companies, our game development team has experience with industry-leading game engines and technologies to build feature-rich gaming solutions for various types of gaming devices starting from mobile to Metaverse based. All games are thoroughly tested for quality assurance and device compatibility by the developer team's expert testers.
After-sale Support & Maintenance
After a game has been published, Hyperlink InfoSystem offers technical assistance and maintenance. Our team of game developers will make sure the gaming solution stays in trend and work on all hardware and operating systems as part of our support and maintenance services. According to gaming industry norms, the service offers everything from basic support packages to unique service-level agreements based on project needs.
Game Monetization Methods
We investigate, pinpoint, and put into action every strategy conceivable to maximize game monetization methods for your gaming solution. We build and set up in-app purchase bundles, integrate different ad networks, set up reward advertisements, etc., to make sure you have access to multiple revenue-generation options.
Benefits of Hiring Dedicated Game Developers
The increased usage of resources is given to speed up the completion of projects. At Hyperlink InfoSystem, our game developers make sure to deliver feature-rich gaming applications within deadlines with enhanced user experience.
Game developers at Hyperlink InfoSystem keep themselves familiarized with various game development tools, game engines, and many more. Hire game developer to develop scalable solutions to offer enhanced user experience to your target audience.
Game developers at Hyperlink InfoSystem hold knowledge about various game engines, game development tools and technologies, game development trends, and many more to offer best-in-class gaming solutions. Hire game developers Team from Hyperlink InfoSystem to get high-quality gaming solutions at a lower cost with a clear budget and development specifications.
There is no denying the fact that A motivated game development team produces a winning game. Hire Game developers from top Game development companies to take additional advantages such as effective collaboration, responsibility sharing, transparency, and the ability to quickly reach important decisions.
The process of developing a game is complicated all around. The team of Hyperlink InfoSysytem can make it more flexible for you. You can hire game developers on an hourly, project, or time and materials basis based on your preferences.
Services with a Specialties
Your unique game development requirements need nothing but the best. Hire game developers from one of the top game development companies, Hyperlink InfoSystem to make sure you have a high-quality solution. Our game developers are especially known for their best-in-class creations worldwide, such as mobile gaming applications, Web-based gaming solutions, and even Metaverse game development.
Why Should You Choose Hyperlink InfoSystem For Hire Game Developers
For organizations, outsourcing game development services has many benefits. They have access to qualified, skilled, and experienced game developers who can produce high-quality results, and the project is completed within the allotted time and budget.
Hire dedicated game developers from Hyperlink InfoSystem to make your dream come true. Our work is supported by many years of expertise in building games of all sizes and choosing the best teams for both specific game jobs and for the full-fledged construction of a game.
We provide a comprehensive spectrum of game development services to create compelling, player-centered games, whether it's a project for millions of players or a tiny internal gaming app. We encourage firms to use the newest technological advancements, such as AR, VR, MR, and Artificial Intelligence, to disrupt the industry and stay one step ahead of the competition. We provide a variety of game development services while shortening delivery times.
Frequently Asked Questions
Simply get in touch with us, and we'll discuss your project with you and how you may work with a game development team. We will then determine the kind of professionals you need and give you more information about our devoted teams and experience.
1) Experience: When you Hire game developers they must have some expertise in creating games, typically supported by a strong portfolio. 2) Technologies: Make sure game developers have access to the most recent software releases and have experience working with the technologies you require before hiring them. 3) Pipeline: for delivery In the video game development industry, where deadlines are frequently missed and teams are pressed for time, timely project delivery is crucial.
The game development cost estimation depends on various factors such as the type of gaming solution, the complexity of development, features & functionalities of the application, the game development team, the expertise of game developers, and many more. You can discuss your game development requirements with us to get an accurate cost estimation.
Games developers design, develop, and implement video games for PCs, consoles, and mobile devices. Their task is to code the gaming solutions based on the ideas and game design.
Latest Blogs
Explore the Latest Blogs on Trends and Technology.