Hire React Native App Developers in Canada
Hire Top React Native Developers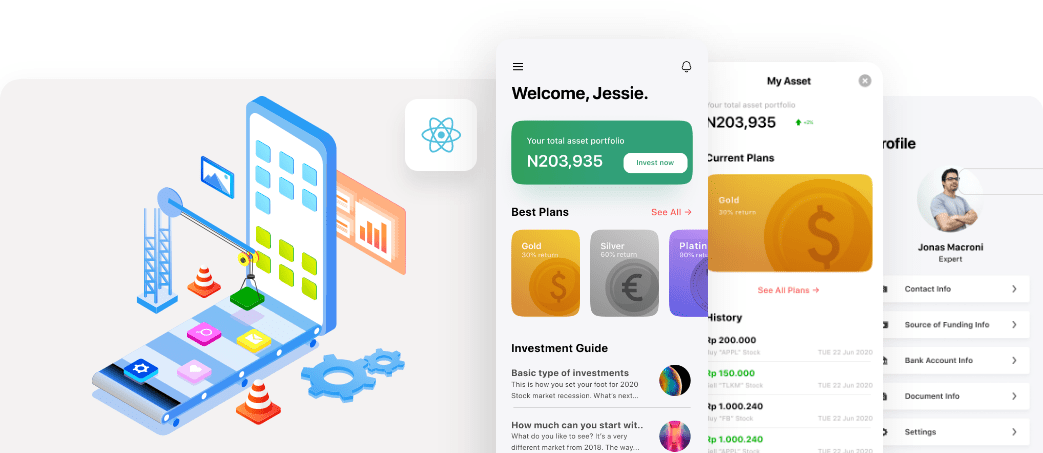 React Native is based on React, a popular JS library for developing web applications released in 2015 by Facebook. React Native, a very recent newcomer to the cross-platform tools market, embraces the "learn once, write everywhere" philosophy because the framework allows you to use good old JavaScript, CSS stylesheets and even Familiar HTML tags to create native images for iOS and Android.
The enormous popularity of React Native can be gauged from its market share. Statistics show that it turns out to be one of the biggest repositories on Github. These are the main reasons for the integration of React Native as a framework for application developers. Hyperlink InfoSystem is a top React Native development agency in Canada.
A Faster Development Cycle
React Native allows developers to build mobile apps much faster. It has gained the support of a large community of developers in recent years. As the project is open source, it offers many components to be used locally.
As a result, major React Native app developers can benefit from 35% shorter development time. Additionally, it covers both Android and iOS, creating a shared data layer on these platforms.
Cross-platform Compatibility
React Native had been introduced for iOS. Facebook realized its amazing features and capabilities and created its support for Android. Today, most of React Native's APIs are cross-platform. The same goes for developing an application with Flutter.
This indicates that developers can simultaneously build Android and iOS apps using a single code base. One can easily integrate the code to provide more platform specific authority for the application.
Companies Will Develop A Native Application
The "React Native" name is based on the fact that applications developed on this platform work like any native application. Native app developers have realized that React Native's popularity lies in its keyboard behavior, scrolling speeds, usability, and animations.
It allows to develop an interface composed of native widgets for flawless performance. Keeps even the most complex applications running smoothly by surpassing the performance of real native applications. React Native serves as a framework for developing the most robust applications.
Live Updates
One of the most significant benefits of integrating React Native into app development is its live update feature. Since it involves extensive JavaScript integration, developers can push necessary updates into users' phones. It is no longer necessary to go through the update cycle of the application store.
This allows end users to get updated versions of the application, which eliminates incompatibility issues with previous versions. The overall procedure becomes simple and streamlined, within the framework of React Native.
User Interface
As a business owner, you need to focus on the user experience of your apps. If users don't like the interface of your app, your efforts will be wasted. Reputable app developers integrate the React Native framework to develop an engaging interface. If your app has a rich interface, users will likely explore the features it offers.
React Native will shape the future of mobile app development with its flexible and diverse capabilities. You can consult with our team of mobile app developers established to develop hybrid apps as part of React Native. We ensure easy integration, low development costs, simplified maintenance and support for our customers. In the coming years, React Native is expected to further optimize the development of mobile applications.
Hire React Native App Developers in Canada from Hyperlink InfoSystem
When developing native apps, we use the technologies that are perfectly suited for each project. The different operating systems of the manufacturers, such as Android & iOS, are not compatible with each other:
Android
Most mobile devices use the Google operating system. Many mobile devices and smartphones, including Samsung, HTC, and Sony, use this operating system for their products. In the Play Store, apps are offered directly by Google that only run on Android systems. However, the individual manufacturers also mostly operate their own site in which they offer apps.
iOS
The Apple operating system is used on iPhones, iPads, and iPods. The operating system's rights are exclusive with Apple so that no other manufacturer can equip their devices with this operating system. The apps are only offered in the Apple app store.
Other Operating Systems
There are a few other operating systems that do not have a large market share. All of them have their own programming environment and their own stores in which apps are offered.
The Advantages Of The Native App
The biggest advantage of native apps is arguably their performance. Since they were specially developed for a certain operating system, most of the device parts can be exploited. Hybrid apps that have to serve multiple operating systems are of no consequence. Further advantages are the easier usability and easier access to certain functions that are part of the smartphone. A user can find their way around quickly and easily with a native app developed for iOS or Android, as the app was specially developed for this system. Access to functions such as cameras or GPS is often much easier. Other advantages, which are not quite as important, are the usually better visibility in the App Store and the need for an Internet connection. Since native apps are generally incredibly easy to use for end device users, they receive better ratings and are often better highlighted by the app stores. In addition, an internet connection is usually not required to use the apps with a native app. A hybrid app, on the other hand, almost always requires an internet connection.
The development of native mobile applications stands out for the specifics of its development. It is also ready to "boast" of a number of key advantages:
proper development. You can achieve high speed and sufficient performance, which increases the demand for use from users;
high security level;
a wide range of functionality is provided;
can be used without connecting to a network and Internet access;
a convenient and comfortable application is obtained, which will definitely be in high demand.
Excellent Learning curve
App store support
Intuitive UI
Works even offline
Huge back up
App Development on-the-fly
Aspect ratio
Apps work at speed
Categories Of Our Android And iOS App Development
Social Networking
Lifestyle
Productivity
News
Games
Entertainment
Utilities
Frequently Asked Questions
The dedicated React-native developers will work only for you to deliver outstanding results with the highest optimization. The team of React-native developers at Hyperlink InfoSystem offers ample benefits like flexibility, cost-effectiveness, higher output, special skill sets and various others.
Hyperlink InfoSystem offers a very simple process to hire React-native developers. Just provide project details and the technical expertise you need. The team of React-native developers will begin working on your project based on your selection.
Yes, with a minimal development charge; you can test the technical and development skills of the React-native developers before making a final move.
Yes, If you know the task to get done from the dedicated React-native developer, then you can hire dedicated React-native developers on an hourly or project/task base.
The cost estimation for dedicated React-Native developers varies based on various factors such as development team size, hiring model, the complexity of the web development, the type of solution, features and functionalities and many more.
Latest Blogs
Explore the Latest Blogs on Trends and Technology.