Hire WordPress Developers
Contact Top WordPress Developers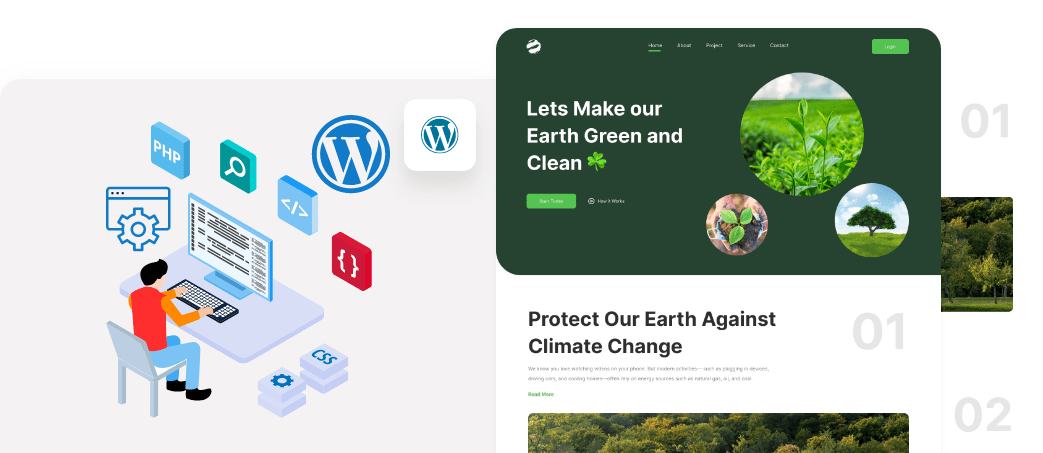 WordPress is a content management system perfect for creating any type of website or blog in a very simple way. There are other CMS, but WordPress is the most used in the world. It currently occupies 29% of the market share, which means that more than a quarter of the websites in the world are made with WordPress.
With WordPress, you can manage dynamic content in a very simple way. Each of them is connected to the database, but you don't even have to know this. You do everything from the administration panel itself so that you only see empty fields that you have to fill in, and that will appear as the content you have created. WordPress, at the user level, works through clicks and settings. You will not have to touch a line of code to create your websites.
WordPress doesn't cost money. You simply download it, install it, and work with it. You can use it for your own projects or create websites for clients. Obviously, if you want your website to be on the internet, you will need to hire a hosting and buy a domain, and a top WordPress development agency like Hyperlink InfoSystem can help you out.
Another important point that characterizes WordPress is the immense community that is voluntarily working behind it. They are programmers, designers, and implementers who give their free time to the tool improving its code, updating it, creating new functionalities. This ensures its continuity and gives Webmasters the confidence to use WordPress ahead of any other CMS.
WordPress is Open Source. WordPress license allows us to make the modifications we want to adapt it to our needs. Furthermore, this means that there is no company behind it. And therefore, you will never depend on a financial muscle that could be exhausted.
Hire a WordPress Developer
The importance of websites for businesses is obvious for everyone in this century. Only a backward thinking entrepreneur would consider website as a needless technology. Companies all around the world are continuously working on the websites to match the trends and to create positive image. Hiring capable developers with needed skills has been made easy since the establishment of Hyperlink InfoSystem in 2011. We are a top WordPress development agency and we are ready to work with you with on the development of excellent websites.
Develop Your E-commerce With WordPress
WordPressis actually a software that has characteristics similar to other e-commerce platforms:
Open-source: it follows the open-source philosophy, which allows access to source files for all who need it.
Free: it costs nothing. You can download and install it on your server or hosting plan without anyone charging you for it.
Multiplatform: it runs perfectly on Linux, Windows and Unix servers where PHP-MySQL is installed.
Multi-language: it offers hundreds of translations so you can have your virtual store in the mother tongue.
Thousands of Templates: it gives you access to thousands of templates to customize the design of your store for free.
Free plugins: it offers free plugins or modules to extend WordPress native functionalities.
Product Management: it allows you to catalog, classify, register, cancel and modify products that you are going to offer in your online store.
User Administration: it allows you to manage the users who manage the administrative portal of the online store.
Customer management: it offers the possibility of managing customers, their data and purchases.
Payment configuration: you can configure your online payment methods (PayPal, Credit Card) and offline (Bank transfer, etc.) according to your convenience.
Shipping tracking: there are many modules that allow you to track the shipment to see its status after purchase.
Stock control: it let you know how many products are left and have your customers notified at all times.
Ratings: it allows users to rate the purchase, the product and leave comments.
Statistics and reports: it includes marketing tools to generate reports of purchases, statistics, products, etc.
Discount Coupons: perfect to encourage purchases by offering juicy discounts, it includes a system for you to configure them easily.
Currency management: it allows you to sell in different types of currencies, as well as manage and apply taxes as you need.
Newsletters: it offers configuration and sending of newsletters to keep your customers informed of all the promotions that exist.
Advantages of Using WordPress For Your Website
Adaptable To Mobiles
Another benefit of using WordPress.org is that it constantly evolves, or rather is updated. This has allowed it to adapt to the new requirements of search engines such as Google. WordPress has all its functions in responsive mode and therefore the user interaction with your content is pleasant and dynamic.
Plugins For All Requirements
Whether your blog needs a contact form, a professional home animation, a video player in the posts or any other addition, you get it all with the plugins that WordPress offers. You will find tens of thousands of plugins from its central library to improve your blog and surpass your competition in terms of design and internal positioning.
Complete For On-Page And Off-Page SEO
SEO is the set of actions and tools that are implemented in a site to improve its positioning in search engines such as Google, Bing or Yahoo. These actions are highly dependent on the ease of the base platform. In this case, WordPress has been designed so that you can add all kinds of strategies and improve your positions based on content and other aspects.
Easy To Monetize
One of the main reasons you create a blog is to monetize it. Another benefit of using WordPress is that you can add advertising codes in any part of its interface that you will not have a problem with. You can even avoid touching some PHP code by downloading a plugin and only add the codes that you receive from the advertising company.
Once you have a certain number of visits, it is easy to make your WordPress website profitable. You can sell your products on the web, advertising spaces, do affiliate marketing, offer your services, online courses, etc.
Latest Blogs
Explore the Latest Blogs on Trends and Technology.