Hire Mobile App Developers
Hire dedicated mobile app developers to build custom mobile apps. Contact Hyperlink InfoSystem to get the best mobile app developers in Canada.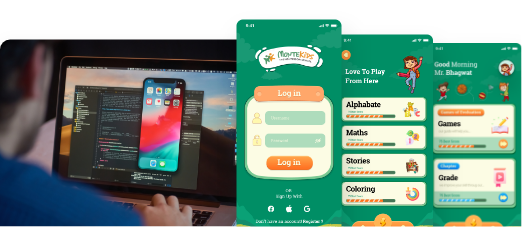 Hire Mobile App Developers in Canada
Hyperlink InfoSystem has been around for over ten years, and it is an application development company. Developing mobile apps in Calgary is essential. Hire app developers to get closer to your target audience.
We serve our clients and business partners from the time an idea is conceived through the project's publishing and promotion by providing cutting-edge mobility solutions using a unique approach that incorporates "end-to-end" methods.
Strategically involved in all stages of a project, we provide services to individuals, start-ups, and small, medium, and big businesses.
Discover Our Process For Hire App Developers
An application development team will be with you every step of the way, dedicated to making sure your project succeeds because of the expertise they bring to the table.
Our team works closely with each client to hone the project's goals, determine whether or not it's feasible, and provide a wealth of suggestions gleaned from our exposure to hundreds of live apps.
With the project's goals and parameters set in stone, we were able to design the project's structure, which includes creating a wireframe of the application with the end user in mind.
Right now is when you need to buckle down and start making progress on your app. Our group of software engineers and designers will take over the code and make the whole thing work.
Now is the perfect moment to release the app to the public. It is released to the public through the app stores, and its development in the market is tracked.
What Are The Benefits Of Hire Mobile App Developers
Regularly Keep In Touch With Your Customers
With PUSH notifications, you can make your brand a continual presence in the lives of your target audience members. The client who downloads a company's app indicates that they are open to more communication and are committed to the company's brand.
Enhance Navigability And Usability
While mobile-optimized or responsive websites are crucial for user experience, they still fall short of providing the rich functionality that applications provide. With the user's permission, apps can utilize their data to tailor their experience and make navigation more efficient.
The return obtained with the development of applications is clear and objective in numbers, as the company can reach new customers, increase the number of sales, demonstrate growth, and consequently increase its profits by having its application, which presents innovation, modernity, and a close relationship with its customer.
Possibility Of Providing A Differentiating Feature For The Customer
Investing in the creation of bespoke apps for your business can help you stand out from the competition by demonstrating that you value your customers' feedback and are responsive to their needs. Because of this, your company will stand out.
Establish Your Firm As A Leader In Innovation
If your firm invests in developing a mobile app to better serve its clients, whether to provide a new kind of service, facilitate online purchases, or implement an activity or marketing campaign, it will be perceived as a forward-thinking, technologically-savvy enterprise.
Get In On The Current Market Trend
Many smartphone users now feel that there is a dearth of applications available to suit all of their demands, making it a brilliant move to have your business included in an app store. Startups that put money into app development today will be in a prime position to expand their customer bases.
Use Application Development to Increase Customer Loyalty
Making an app that stays on the home screen of a customer's phone or tablet is a terrific way to stay top-of-mind and set your business apart from the competition. As you'll read about in the next section, keeping in touch with customers who have downloaded your app is a fantastic approach to fostering brand devotion.
Why You Should Hire App Developers for Your Business
With the expertise we've gained over the years, we've released several useful apps and inspiring case studies. We have extensive experience as application developers in the following domains and technologies:
E-commerce
Service Management and Procurement
Urban mobility and logistics.
Near Field Communication (NFC)
Fintech
Maps and Geo-Location
Production and processing industries
Hire Mobile App Developers From Hyperlink InfoSystem
We collaborate with our customers to develop customized solutions that are sure to satisfy their needs and those of their businesses. When the program is live, it functions as intended and benefits the company.
Whether it's a business-to-consumer or business-to-business project, a start-up's minimum viable product (MVP), or a tailored corporate solution, we always begin by learning about the client, their industry, their product, the difficulties they're trying to tackle, and the expectations of the end user.
Our team is dedicated to developing secure, confidential, and high-quality mobile apps for iOS and Android, as well as web-based systems, and providing ongoing support and maintenance for these applications. Attract more customers when you hire app developers to help you develop highly intuitive mobile apps.
Frequently Asked Questions
The mobile app developers will work only for you to deliver outstanding results with the highest optimization. The team of dedicated app developers at Hyperlink InfoSystem offers ample benefits like flexibility, cost-effectiveness, higher output, special skill sets and various others.
Hyperlink InfoSystem offers a very simple process to hire dedicated app developers. Just provide project details and the technical expertise you need. The developer begins working on your project based on your selection.
Yes, with a minimal development charge; you can test the technical and development skills of the developers before making a final move.
Yes, If you know the task to get done from the dedicated developers, then you can hire dedicated developers on an hourly or project/task base.
The cost estimation for dedicated app developers varies based on various factors such as team size, hiring model, the complexity of the web development, the type of solution, features and functionalities and many more.
Latest Blogs
Explore the Latest Blogs on Trends and Technology.