Hire Cross Platform Developers in Canada
Hire Top Cross Platform App Developers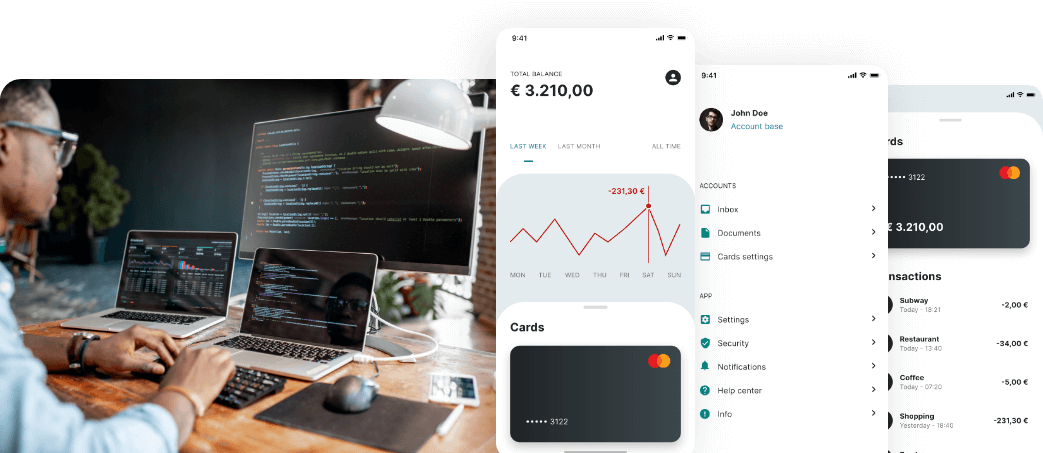 Depending on the nature of your project, sometimes developing a multiplatform application may be the most recommended option. It all depends on the objectives set for your app and what your target audience is. With the emergence of the latest hybrid technologies, creating an application simultaneously for several platforms has become a less complicated and risky task, so that many companies are taking advantage to launch their apps, for a larger number of audiences, achieving powerful and flexible results.
Trust Hyperlink InfoSystem to create your multiplatform application. You will have our team of app designers and developers, who work hand in hand with you so that you get the best possible results, adapted to your needs and those of the market. Our services are comprehensive, we cover all the phases of development of a mobile application with efficiency, quality and safety and in a responsible way. If you have an application project in your hands and you need a professional assessment, contact us. We will advise you without obligation. Our passion at Hyperlink InfoSystem leads us day after day to continually update ourselves on the "tools of the trade", to explore new horizons. A momentum that allows us to provide each customer with a cutting-edge service in mobile app development. In this way, we can provide every business with the technology it deserves.
The implementation of cross-platform applications will bring a series of advantages to the development of your business that should not be overlooked. Among other things, because the design and development of a cross-platform app can be carried out simultaneously for different devices, you can save time and volume of work dedicated to your projects, turning their development into a more flexible and efficient process.
By means of a cross-platform development, it is possible to solve malfunctions or update the functionalities and content in parallel to all platforms, thus saving a good part of your time.
Likewise, with a cross-platform application, you can target the entire app market worldwide, being able to develop this type of tools for emerging platforms in a simple and effective way. By being present on a large number of devices, the marketing campaigns that you plan to undertake will be able to reach a larger audience.
Focusing all efforts on targeting your projects to a single operating system might not have the same effect as a multi-device or cross-platform release. For this reason, you can reach an outstanding percentage of users due to the large number of currently existing devices and platforms (iOS and Android).
Hire Cross Platform Developers in Canada
Due to the variety of platforms and devices that determine the mobile market, cross-platform app development has proven to be the most economically viable solution. In contrast to native app development, code that was generated with a cross-platform development tool can be used for various platforms and devices. In this way, app programming with a cross-platform tool not only curbs programming costs, but also saves you the hassle of updating and managing your apps. Some of the tools we use are:
Xamarin
In Xamarin, the C# code base can be universally applied to multiple platforms. Nevertheless, in contrast to other frameworks, the tool allows developers to work with native IDEs, languages and APIs. In addition, the Git integration is an integral part of Xamarin Studio.
PhoneGap
Developed by the team behind Apache Cordova, this open source tool is equipped with a compiler, debugger and testing tools that are tightly interwoven with popular web technologies such as HTML, CSS3 and JavaScript. The rumors that PhoneGap is only suitable for simple apps and that PhoneGap apps hardly exploit the capabilities of the device have recently been proved wrong by the integration of a large selection of plugins such as the Image Capture Plugin, the Media Recorder Plugin, the Push Plugin and various others, cleared.
React Native
This open source platform uses a native user interface for Android and iOS based on Angular, TypeScript or JavaScript. Developers get access to native APIs via JavaScript and can recycle NPM, CocoaPods and Gradle packages. In this way they can develop feature-rich apps or improve existing features of apps.
Monocross
MonoCross supports the cross-platform development of apps with the help of C#, Microsoft .NET and the Mono Framework. Developers can secure the application, controller and model code across platforms while playing with the platform container and the view that represents the user interface to deliver a native experience across all key platforms. The tool also makes app porting easier than ever. In this way, companies can better cope with the rapid changes in platforms.
Kony App Platform
The low-code app development framework Kony App Platform is the right choice for companies that want to cope with the increasing demand for mobile applications in their home. Developers with JavaScript skills can use the platform to create both native and cross-platform apps. The biggest advantage of Kony App Platform is that developers can easily drag and drop the features they need from Kony Marketplace or the associated API library. Developers can rate the app and validate its API connectivity. In this way, the framework speeds up the development process.
Latest Blogs
Explore the Latest Blogs on Trends and Technology.