PHP Web App Development Company In Canada
We Develop Excellent Dynamic Web Pages With PHP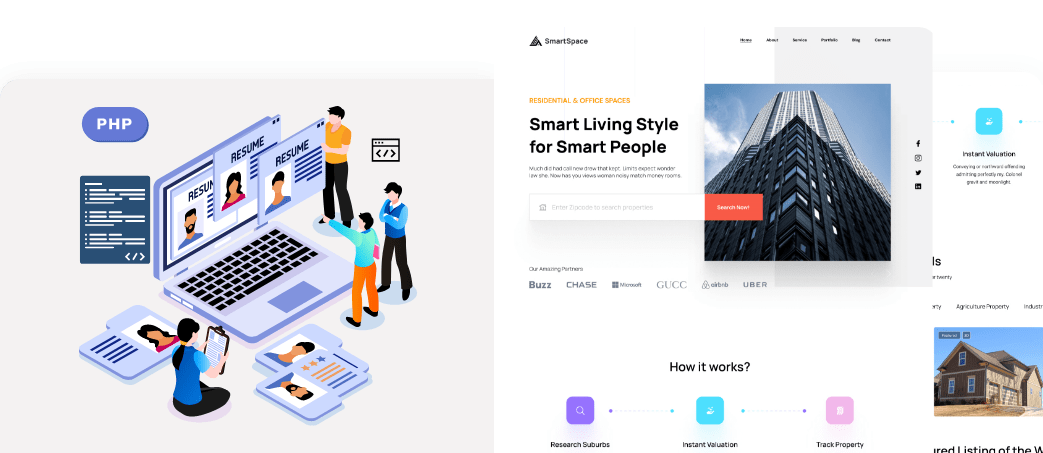 PHP is perhaps the most popular web programming language. It is used to improve web pages. With PHP, you can do things like creating login pages with username and password, review form details, create forums, image galleries, polls, and much more. If you've been to a web page that uses in PHP, the author has written some programming code to bring the old HTML to life.
PHP is known as a server-based language. This is because PHP does not run on your computer, but on the computer that visits the page. The results are delivered to you and displayed in your browser. Other programming languages ??that you may have heard are ASP, Python, and Perl.
The most popular explanation is that PHP comes from "Hypertext Pre-processor," but that would be HPP. Another alternative explanation is that the initials come from the early version of the program, which was called Personal Home Page Tools. At least there you have the letters "PHP" in the correct order. With that said, let's examine the reasons why it is a good idea to use PHP on your website.
1. Can Be Used With Any Programming Technique
Another benefit that makes PHP one of the best scripting languages is that developers can choose a specific methodology to program, whatever way they feel more comfortable with or with the methodologies they are used to using.
This is possible because PHP allows developers to write in a fairly manageable, structured, and orderly code; this is how large PHP projects have managed to be designed through a pattern called Model View Controller "MVC." This allows access to data and a totally separate treatment in independent components of the user interface and the control logic.
2. It Is Used On Millions Of Websites
This is something really important for programmers, since, if there are very few websites using a certain programming language, it means that you do not have the necessary trust of users on the Internet. But this is not the case with PHP; since its creation, it has been used in different sites that are currently renowned. Perhaps some of those websites would not have gotten this far if it weren't for the reliable technology of PHP.
3. Pre-Configured
More often than not, many hosting services have an "out of the box" PHP setup. This does not require any special configuration. Of course, if you need a high-security website, you can easily modify it.
4. Other Tools
If you need access to other web tools like Google Maps (which is always recommended for a business website), or any other, PHP makes them easy to access.
5. Extensions
PHP has multiple extensions and is extremely scalable. When you hire PHP developers, they make sure the results are measurable. This helps you calculate your return on investment and gives you a better position over the competition.
6. Fast
PHP, being very fast to develop, ensures that there is fast response time. When you hire PHP developers, their efficiency gives you an online solution that you've probably been looking for for a long time.
7. Bright Future
Although PHP is already well established, its future prospects are endless. The key point is that PHP is loosely written. This makes simple codes faster to develop. One has to use less energy in the design.
8. SFS
Stability, flexibility, and Speed are the main qualities that attract business owners to choose PHP.
9. Easy To Insert
An interesting quality is that PHP can be easily embedded in HTML. This makes it very easy to convert an existing static website to a new, more dynamic one.
10. Great Community
The PHP community is great. Due to its popularity, there are many PHP developers, PHP contributors, PHP users, and employers offering PHP jobs. If you are looking to hire a PHP developer, you are definitely not alone.
11. High Returns
PHP often allows people to create dynamic web pages. This ensures greater participation of visitors and, therefore, higher returns.
12. Support
PHP, as we mentioned before, is very popular. Therefore, there are countless references and guides available on the web. One can also find groups, forums, and support teams for PHP. This wealth of online support is available in multiple languages.
13. Multiplatform
PHP is cross-platform; therefore, it allows you to operate on various operating systems. It works great on LINUX, UNIX, and Windows. It also works effortlessly with Apache / MySQL.
14. Open-source
PHP is an open-source program; this means that it is available completely free. If you are planning to hire PHP developers and they have a background in C and Java, they will do excellent in PHP. This language is much simpler than the rest, so you can expect great results. You should contact us at Hyperlink InfoSystem for your PHP web development Company in Toronto, Canada..
Why You Should Contact Hyperlink Infosystem For Your IT Solutions
We Create Quality Code
High-quality code can be maintained for a long time and painlessly. Hyperlink InfoSystem, have a framework that enables our clients to save on code support, implementation of new features, and adaptation to new technologies.
We Test All Scenarios
We have fans of their craft who will not be able to fall asleep if there is not enough pixel in the corner of one screen in the application. We kill all bugs, test all scenarios. Our QA department will give an answer to any question in the format: "What happens if ...". To do this, they write special guides and checklists.
Understanding The Complex Scenario
We know how to do technically complex projects: services that interact with sensors and devices. With over eight years of experience developing mobile apps for small and medium enterprises as well as large organizations, we have developed app across multiple industries of varying complexities and functionalities.
Always In Touch
We care. We keep the client informed of the process: we agree on the documentation and layouts, include in all tasks, and give access to the bug tracker. We do not have situations when a manager has gone on vacation, and the customer does not understand what is happening on the project.
Relying On Research
Our analysts conduct market and product research. We choose the best solutions and offer our own. We agree with the client, and then we develop the app. After the launch, we do not abandon the client, but rather, we continue to support the app.
Process We Follow
1. Requirement Gathering
We analyze the requirements with the clients to understand the functionalities to combined into the app. This process allows us to form a development plan and transform the client's thoughts into an efficient and functional app.
2. UI/UX Design
Our developers use efficient UI trends to design apps that are not only pleasant to the eye but also intuitiveness and flexible. Our applications do not only complete the needs of our clients but also are simple and convenient to the end-users.
3. Prototype
We develop a preliminary visualization of what the mobile app would look like. This helps to generate an idea of the appearance and feel of the app, and we examine the users' reactions to the UI and UX designs.
4. Development
Our team of experts in Native, Hybrid, and Cross-Platform app development, using languages such as Swift, Kotlin, PhoneGap, Ionic, Xamarin, and more to produce high-quality mobile apps for the various operating systems.
5. Quality Assurance
We have a team of developers who carefully test every app to ensure that they provide an excellent user experience and meet the requirements of our clients. Apps developed by our development team are bug-free because they perform through a series of experiments before deployment.
6. Deployment
We follow the best practices when deploying our apps on different app stores, where they can be easily noticeable to considered users.
7. Support & Maintenance
All digital solutions need development. The deployment of an app is not the ultimate stage. Even Post-deployment, we work with our clients to offer maintenance and support.
Process We Follow
1. Requirement Gathering
We follow the first and foremost priority of gathering requirements, resources, and information to begin our project.
2. UI/UX Design
We create catchy and charming designs with the latest tools of designing to make it a best user-friendly experience.
3. Prototype
After designing, you will get your prototype, which will be sent ahead for the development process for the product.
4. Development
Development of mobile application/ web/blockchain started using latest tools and technology with transparency.
5. Quality Assurance
Hyperlink values quality and provides 100% bug free application with no compromisation in it.
6. Deployment
After trial and following all processes, your app is ready to launch on the App store or Play Store.
7. Support & Maintenance
Our company offers you all support and the team is always ready to answer every query after deployment.
Latest Blogs
Explore the Latest Blogs on Trends and Technology.