Hire Laravel Developers in Canada
Hire Dedicated Laravel Developers, Hyperlink InfoSystem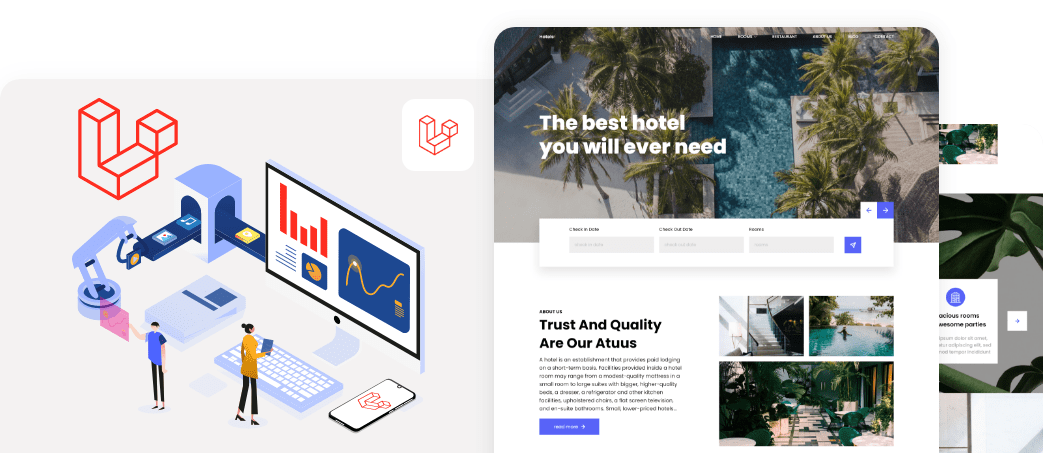 Laravel has now become a very popular framework that is used by software developers around the world. It offers simple and at the same time secure measures for authentication, has a robust feature set and spits out understandable, really elegant code. There are many features that's makes it one of the favorite PHP framework for web developers.
Here Are Some Of The Reasons To Hire a Laravel Developers
Customizable In Every Detail
A comprehensive option for customization is one of Laravel's strengths: During development, you can access predefined packages if desired, but you can adapt them in detail to what is required in your company. Hyperlink InfoSystem developers control exactly what structure the finished software will have.
Secure Authorization
Laravel provides an easy way to organize the logic behind authorization and authentication and to regulate access to important resources. If you operate a web application, you can be very sure that you will get access to certain resources - but no other person. Creating such a secure environment requires only moderate effort. In the end, this naturally has a positive effect on the price of your application.
Short Development Cycles
The large number of community and libraries with which Laravel is supplied shortens the development time. There is simply no need for developers to waste a lot of time on extremely fine-tuning business solutions. Even complex applications with countless features and an outstanding user experience can be implemented within a relatively short period of time - and this leads to faster monetization of your app and lower development costs on our part.
Notifications
Do you know a modern, successful company that refrains from effective communication internally and externally? We neither. With Laravel, developers are able to set up both local and internet-based services and send notifications through a wide variety of channels.
Cost Efficiency For Developers And Businesses
We cannot imagine that you are desperate to spend more money than necessary. Laravel shines here too: Thanks to the simple scalability and adaptability of the framework, it is not particularly difficult to keep the programming work to a minimum. A developer you pay to work with Laravel will likely be cheaper than someone who reaches out to the competition.
Easy Expansion
Long-term visions only come true in the software world if the basic framework of the application also plays a role. Laravel can be expanded without great effort, so that changes in the market or increased requirements of your users do not mean the end - just a new beginning to an expanded, grown tool that can be adapted to the changed needs with little work.
Here are some of the reasons why you need to contact a Laravel development agency for your web projects. Laravel have features that make the development of simple and complex web apps seamless. Top Laravel development agency in Canada such as Hyperlink InfoSystem can help you with your web projects.
Features Of Php Framework:
Powerful
Simple
Elegant
Resource efficient
Exceptional performance
Almost zero configuration requirements
Quality documentation
Not to impose a standard / method / programming style
Powerful
In addition to the MVC structure, Laravel provides as standard in everything you need to quickly produce a feature-rich website: validation of forms and data, sessions, security (XSS, CSRF, etc.), multi-language management, XML-RPC, database access, caching, pagination, encryption, compression, sending email, image manipulation.
Simplicity
Simplicity is omnipresent in Laravel: Whether in its structure with the principle of singularity of components (reduction of the functional perimeter of a component), in the code which is an exemplary readability or even in the display of views which does not require a template engine on you and relies on PHP's ability to extend HTML display.
Elegance
If giving a subjective definition of the elegance of the code is not easy. The notion of elegance can be compared to a combination of simplicity, modularity and performance.
And in this context, Laravel, by its simplicity, the modularity of its architecture and by the performances it offers can without too much difficulty be considered as an elegant framework.
Resource Saving
If we consider the memory size of the Framework or the loading time, Laravel appears to be a frugal Framework compared to its main competitors.
This is not a surprise if we consider that it is one of the objectives of the project which made several structure choices in this direction (Singularity of components, dynamic instantiation).
Excellent Documentation
Often ignored, the quality of the documentation is of particular importance in the case of a web framework. The documentation foe Laravel is excellently compiled to ensure easy understanding.
Exceptional Performance
Even if the benchmarks are always to be taken with hindsight, Laravel is regularly well placed in terms of performance. And if some little-known Frameworks like Siler, Tipsy (which is no longer supported) seem to offer better performance, they are far from having the maturity, functionality and user base of Laravel. If we compare Laravel with its main competitors, namely Laravel and Symfony (even Zend Framework), the result is clear in favor of Laravel.
Minimal Configuration
The promise of almost zero system requirements is kept by favoring conventions rather than configuration, a concept that had already been popularized in its time by Ruby On Rails from which Laravel openly draws inspiration. Concretely, if the table in your database corresponds to the name of the model class in lowercase in its plural form you do not have to do anything to make it work. If you want to change this convention, it is possible but you will then have to explicitly configure the associated table name.
Frequently Asked Questions
The dedicated Laravel developers will work only for you to deliver outstanding results with the highest optimization. The team of Laravel developers at Hyperlink InfoSystem offers ample benefits like flexibility, cost-effectiveness, higher output, special skill sets and various others.
Hyperlink InfoSystem offers a very simple process to hire Laravel developers. Just provide project details and the technical expertise you need. The team of Laravel developers will begin working on your project based on your selection.
Yes, with a minimal development charge; you can test the technical and development skills of the Laravel developers before making a final move.
Yes, If you know the task to get done from the dedicated Laravel developer, then you can hire dedicated Laravel developers on an hourly or project/task base.
The cost estimation for dedicated Laravel developers varies based on various factors such as development team size, hiring model, the complexity of the web development, the type of solution, features and functionalities and many more.
Latest Blogs
Explore the Latest Blogs on Trends and Technology.