Ionic App Development
We Develop Powerful Ionic Apps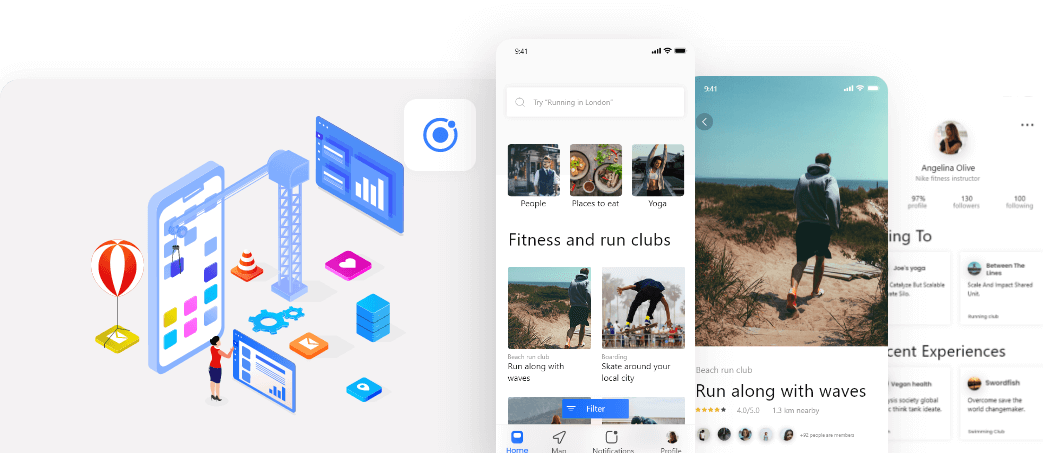 Ionic is the platform that facilitates the creation of mobile applications with web technologies for web developers. The Ionic template allows developers to create mobile apps on different platforms that can be installed on Android and iOS phones.
Create Mobile Applications With Ionic Framework
If you know how to build websites for mobile apps then you know how to build mobile apps. Ionic offers the best web and native application components for building highly interactive and progressive native web applications with native functions.
Features Of Ionic:
Free And Open Source Software
Ionic Framework is a 100% free and open-source project, licensed from MIT. It will always remain free to use, spurred on by a massive global community.
Cross-platform Development
Build native, progressive, and mobile web apps for every major app store, with a codebase. The ionic solutions work and look good everywhere.
Native Plugins For The Main Functions
Use over 120 functions for native devices such as Bluetooth, HealthKit, Touch Fingerprint Authentication and many more with Cordova add-ons, PhoneGap, and TypeScript extensions.
First-rate Documentation
Built with real-world application examples, component demos, and guides to get you up and running with mobile apps faster than ever.
Ionic, is the framework for creating mobile applications that allows you to create web applications on Android and iPhone for all sectors. And thanks to the continuity of the Ionic cross-platform platform, your app looks and feels right at home on any device. Hyperlink InfoSystem developers in Canada can help you design apps that work well on all devices.
High Performance
Speed ??is so important that you only notice it when it's not there. Ionic is designed to perform and perform best on the latest mobile devices using best practices such as efficient hardware transitions and optimized touch gestures. Trust us, you will be impressed.
Beautifully Designed
Clean, simple and functional. Ionic is designed to perform and look great on all of today's mobile devices and platforms. With the elements already prepared, the typography and the basic and extensible theme adapts to each platform.
Native And Optimized For The Web
Ionic emulates native app user interface guidelines and uses native SDKs, combining user interface standards and native app device functionality with all the power and flexibility of the open web. Ionic uses Cordova or Phonegap to deploy natively or runs in the browser as a progressive web application.
Why Use Ionic?
Ionic makes it easy to build hybrid apps using HTML5 due to its open source Framework and it's completely free too. Using Angular JS makes it perfect for developing highly interactive applications and it has a wide range of tools and services that make running Ionic quite simple.
Ionic comes with CLI (Command-Line Interface), which helps mobile developers build and test ionic applications on any platform. It allows users to scroll through thousands of lists without compromising their performance. Users can create their own applications, customize them for Android, iOS and deploy them.
Advantages Of The Ionic Framework
Multiplatform Utility
Ionic is cross-platform compatible and can be optimized for various mobile operating systems. Developing code is much easier and faster as Ionic easily integrates with Angular JS to configure the code structure. This leads to the development of new concepts, faster and with lower budgets.
User Friendly Interface
Ionic incorporates key concepts such as Javascript and CSS components to optimize user-friendly interfaces in any mobile application. Components such as navigation tabs, slide-out menu, buttons, lists, form inputs, pop-up windows, and prompts are very simple and elegant and easily customizable for a specific mobile application.
Ionic therefore creates engaging and interactive user interfaces in a remarkably short period of time.
Free And Open Source Framework
Since Ionic is open source, developers can customize different designs on various mobile operating systems without incurring large costs. Ionic codes CSS, JS and HTML components that reduce the need to rewrite it for a new mobile operating system. Ionic's easy integration with Angular JS makes it easy to create a better and easier code structure.
Developing applications on Windows, Android and iOS is thus faster and easier to do. The creation of Apps move quickly from development to market and this increases commercialization and creates awareness and popularity of the applications. Ionic helps save money, time and effort.
Possible And Easy Development Of Cross Mobile Applications
Developing an application quickly is essential in today's generation of mobile applications. The other concept is that application development must be compatible with all mobile devices.
Ionic has excelled at developing applications efficiently, using standard tools with a single coding base that saves money, time and effort and provides an integrated look and feel.
Based On Angular
It is based on compatibility with Angular JS which then extends the ease and functionality of the Angular framework to make creating mobile applications very easy. Angular JS shows us the favorite JavaScript framework in use, which is backed by Google.
Ionic App Development In Canada
Based in Canada, Hyperlink Infosystem is a leading I.T. solutions provider that specializes in app development. Our team is made of experienced developers who have undertaken tons of app development projects. We combine our creativity, experience, and attention to detail to make your project a success. We follow the best methods in developing, delivering, and sustaining complex app solutions. The whole team is at your disposal to advise you and guide you as best as possible towards solutions adapted to your needs.
Process We Follow
1. Requirement Gathering
We analyze the requirements with the clients to understand the functionalities to combined into the app. This process allows us to form a development plan and transform the client's thoughts into an efficient and functional app.
2. UI/UX Design
Our developers use efficient UI trends to design apps that are not only pleasant to the eye but also intuitiveness and flexible. Our applications do not only complete the needs of our clients but also are simple and convenient to the end-users.
3. Prototype
We develop a preliminary visualization of what the mobile app would look like. This helps to generate an idea of the appearance and feel of the app, and we examine the users' reactions to the UI and UX designs.
4. Development
Our team of experts in Native, Hybrid, and Cross-Platform app development, using languages such as Swift, Kotlin, PhoneGap, Ionic, Xamarin, and more to produce high-quality mobile apps for the various operating systems.
5. Quality Assurance
We have a team of developers who carefully test every app to ensure that they provide an excellent user experience and meet the requirements of our clients. Apps developed by our development team are bug-free because they perform through a series of experiments before deployment.
6. Deployment
We follow the best practices when deploying our apps on different app stores, where they can be easily noticeable to considered users.
7. Support & Maintenance
All digital solutions need development. The deployment of an app is not the ultimate stage. Even Post-deployment, we work with our clients to offer maintenance and support.
Process We Follow
1. Requirement Gathering
We follow the first and foremost priority of gathering requirements, resources, and information to begin our project.
2. UI/UX Design
We create catchy and charming designs with the latest tools of designing to make it a best user-friendly experience.
3. Prototype
After designing, you will get your prototype, which will be sent ahead for the development process for the product.
4. Development
Development of mobile application/ web/blockchain started using latest tools and technology with transparency.
5. Quality Assurance
Hyperlink values quality and provides 100% bug free application with no compromisation in it.
6. Deployment
After trial and following all processes, your app is ready to launch on the App store or Play Store.
7. Support & Maintenance
Our company offers you all support and the team is always ready to answer every query after deployment.
Latest Blogs
Explore the Latest Blogs on Trends and Technology.