Kotlin App Development
Hire Top Kotlin App Developers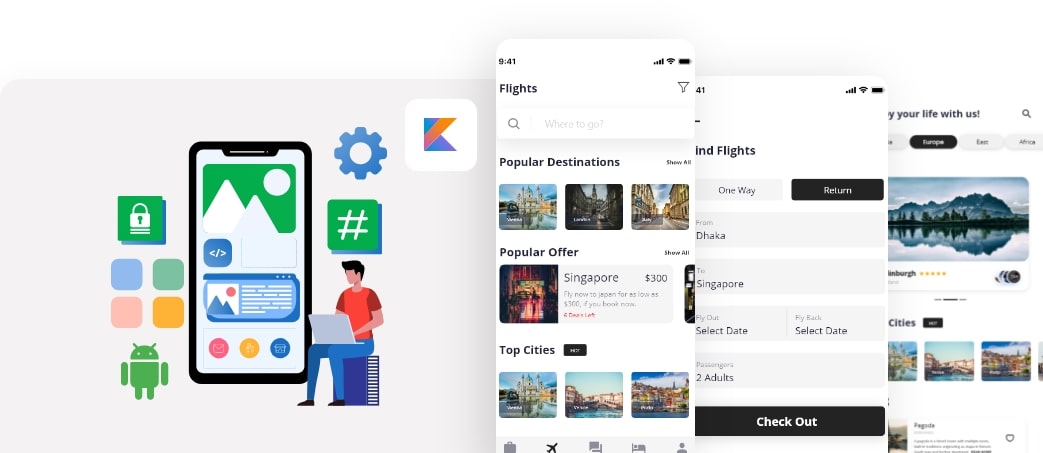 Kotlin is a functional programming language developed by the JetBrains team, which has been gaining weight since it officially became part of the Android language in 2017. This is because it compiles to JVM bytecode.
It should be noted that its use is extended to develop Backend applications. Great references in the development world such as Spring Framework, provides integration with Kotlin in its latest version, demonstrating their confidence and supporting this new programming language.
Why Develop Mobile Applications With Kotlin?
Kotlin has many features that have made more and more developers use it, but the main two are its security and interoperability.
Security
Kotlin is safe because its design prevents certain types of errors in a program. No programming language prevents all possible errors (especially logic errors), but Kotlin does a much better job than Java. It also offers the security of "Type Safety" in applications as it is a strongly typed language (static typing, compiler checks). However, it should be mentioned that Kotlin also has the ability to try to infer types.
On the other hand, Kotlin strives to eliminate possible NullPointerException errors from the code, which is a fairly common problem in Java programs. It accomplishes this because the Kotlin typing system tracks values ??that can and cannot be null and prohibits operations that can lead to a NullPointerException at run time. In this way, the NullPointerException cases in Kotlin are highly reduced.
Interoperability
Kotlin is very easy to get started with due to its interoperability with Java on Android. Thus, the learning curve required by previously knowledgeable Java programmers is reduced. This way, you can keep existing Java code and continue to use the various Java libraries that exist for Android. This allows you to progressively add Kotlin code to your project with the possibility of interacting with the existing Java code.
You can compile an arbitrary combination of Java and Kotlin source files, regardless of how they depend on each other. You can call Java language from Kotlin, and you can call Kotlin from Java language.
Kotlin classes and methods can be called the same way that normal Java classes and methods are called. In addition, it offers maximum flexibility to mix Java and Kotlin code anywhere in the project. You can also extend Java libraries. For example, you can insert Kotkin code into a standard Java library, and thus extend it with additional functions for more convenient use in Kotlin.
Type Inference¨
Kotlin may attempt to infer the types if they are not explicitly written in the code. Unlike Java, Kotlin does not require that you specify the type of each variable because it can be inferred from the context and code included in the expression. This reduces "boilerplate" code while maintaining the security of being able to use "Type Safety" that we would expect from a modern language.
Values ??and variables aren't the only places type inference can be used. It can also be used in closures where the type of parameter(s) can be inferred from the signature of the function. It can also be used in single line functions where the return value can be inferred from the expression in the function.
Google and Kotlin
In addition to the benefits it offers for its design as a language, also one of the main reasons that Kotlin is being used so much is the strong and open support that Google and the community of developers of android mobile applications have shown.
The Google I/O conferences of the year 2017 were also a sample of the great support that Google has towards Kotlin. In most of its videos uploaded to the Android Developers account on YouTube, it clearly shows code examples only in Kotlin. Google already announced its support for Kotlin as a first-class language for Android Development. Hyperlink InfoSystem can help you develop excellent mobile app with Kotlin.
Advantages
Kotlin is more abstract than Java. This is good because your developers spend more time on the actual technical problem and less time on secondary technical problems. That makes developing with Kotlin more efficient.
Kotlin is generally more readable and understandable than Java. This makes changing and editing code easier and, at the same time, there is less risk of creating bugs.
Kotlin eliminates the archenemy of every Java program: the dreaded null pointer exception. In Kotlin, the zero problem is already dealt with at compile time. i.e there are no null pointer exceptions in a running system. (Of course, only if the developer isn't grossly negligent or maliciously cheating)
Because Kotlin is easier to read and understand, it is easier to add new developers to the project.
The same Kotlin code can be used for other platforms besides Java. In particular, this includes JavaScript and native x86 code.
Why We Are Different
Relying On Research
Our analysts conduct market and product research. We choose the best solutions and offer our own. We agree with the client, and then we develop the app. After the launch, we do not abandon the client, but rather, we continue to support the app.
We Create Quality Code
High-quality code can be maintained for a long time and painlessly. Hyperlink InfoSystem, have a framework that enables our clients to save on code support, implementation of new features, and adaptation to new technologies.
We Test All Scenarios
We have fans of their craft who will not be able to fall asleep if there is not enough pixel in the corner of one screen in the application. We kill all bugs, test all scenarios. Our QA department will give an answer to any question in the format: "What happens if ...". To do this, they write special guides and checklists.
Understanding The Complex Scenario
We know how to do technically complex projects: services that interact with sensors and devices. With over eight years of experience developing mobile apps for small and medium enterprises as well as large organizations, we have developed app across multiple industries of varying complexities and functionalities.
Process We Follow
1. Requirement Gathering
We analyze the requirements with the clients to understand the functionalities to combined into the app. This process allows us to form a development plan and transform the client's thoughts into an efficient and functional app.
2. UI/UX Design
Our developers use efficient UI trends to design apps that are not only pleasant to the eye but also intuitiveness and flexible. Our applications do not only complete the needs of our clients but also are simple and convenient to the end-users.
3. Prototype
We develop a preliminary visualization of what the mobile app would look like. This helps to generate an idea of the appearance and feel of the app, and we examine the users' reactions to the UI and UX designs.
4. Development
Our team of experts in Native, Hybrid, and Cross-Platform app development, using languages such as Swift, Kotlin, PhoneGap, Ionic, Xamarin, and more to produce high-quality mobile apps for the various operating systems.
5. Quality Assurance
We have a team of developers who carefully test every app to ensure that they provide an excellent user experience and meet the requirements of our clients. Apps developed by our development team are bug-free because they perform through a series of experiments before deployment.
6. Deployment
We follow the best practices when deploying our apps on different app stores, where they can be easily noticeable to considered users.
7. Support & Maintenance
All digital solutions need development. The deployment of an app is not the ultimate stage. Even Post-deployment, we work with our clients to offer maintenance and support.
Process We Follow
1. Requirement Gathering
We follow the first and foremost priority of gathering requirements, resources, and information to begin our project.
2. UI/UX Design
We create catchy and charming designs with the latest tools of designing to make it a best user-friendly experience.
3. Prototype
After designing, you will get your prototype, which will be sent ahead for the development process for the product.
4. Development
Development of mobile application/ web/blockchain started using latest tools and technology with transparency.
5. Quality Assurance
Hyperlink values quality and provides 100% bug free application with no compromisation in it.
6. Deployment
After trial and following all processes, your app is ready to launch on the App store or Play Store.
7. Support & Maintenance
Our company offers you all support and the team is always ready to answer every query after deployment.
Latest Blogs
Explore the Latest Blogs on Trends and Technology.