Hire Web Developers in Canada
Hire dedicated web developers in Canada, Hyperlink InfoSystem is the best website development company in Toronto, Canada.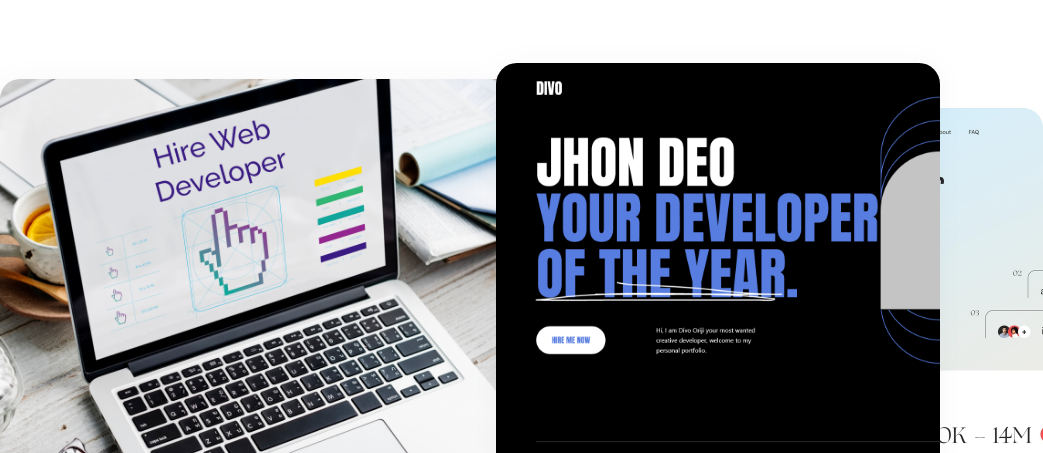 Hire Dedicated Web Developers in Canada
All phases of the web resource development life cycle must be completed for a successful website to be created. When everything is said and done, the end product will be a fully operational website. It will be uploaded to the server and included to search engine indexes. You should contact Hyperlink InfoSystem to hire web developers in Canada.
After deciding to have a website built for your company, you will sign a contract outlining the scope of work to be done. We'll instruct you in the ways of the chosen control system. You can either market your website on your own time or have Hyperlink InfoSystem do it for you.
When a project calls for customized strategies, a one-of-a-kind aesthetic, and the finest possible user experience (UX), turnkey website creation is the way to go. Your preferences will be taken into consideration. Upon completion, the website will be unique. With our help, you won't have to learn the hard way.
All of the works in the complex are included in the price of the service. We promise that there won't be any hidden fees for doing any extra work. Once we've decided to build a site using a turnkey methodology, we begin a detailed, phase-by-phase strategy for the whole undertaking. The resource's growth and incorporation might be improved with a well-planned sequence of activities.
The team at Hyperlink InfoSystem is trustworthy, and they will help you build a website that brings you money.
Reasons To Hire Web Developers From Hyperlink InfoSystem
SEO allows you to boost your organic traffic and your position in Google search results. Building a visually pleasing website is not enough. In today's competitive market, it is crucial to optimize your site for search engines if you want to attract visitors. You need a well-optimized website if you want to rank well on Google or other search engines. Including such things as meta titles, meta descriptions, titles, and content with a high density of targeted keywords is a part of this process. A website creation company has access to the tools necessary to investigate the search queries of your target demographic.
Your online strategy can also be developed by a website development firm. This covers everything from writing articles to social media to email marketing to reaching out to the media. One can contact their intended audience at any point in the sales process with the aid of an all-encompassing digital marketing plan. The web design firm you work with will look forward to the future and implement a methodical plan that will significantly expand your company.
The Internet is home to tens of millions of websites. Your company has to be able to differentiate itself from the competition so that it attracts and retains customers. The goal of hiring a professional designer is to have your website stand out from the crowd.
Web users' behaviors and preferences are well understood by professional designers and developers. It's crucial to have a well-organized website with a straightforward layout. And it has to be made in a manner that draws them in and keeps them there. People who use the internet don't appreciate having to look for things or be overwhelmed with flashing images and colors. Website design firms make sure your site is optimized for visitors in your target demographic.
Web designers not only know how to make your site seem professional, but they also know how to make your company look professional. They have a good eye for determining what combination of typeface, color, and image will best convey your message to a target audience.
Many people, particularly those who are always on the move, like using their mobile devices, such as smartphones and tablets, to access the internet. That's why your site must work with modern mobile devices. The web developer has the answers to all issues that may arise with mobile versions of websites. Your company's website should be user-friendly and fast to load on mobile devices, as well as adapt to different screen sizes and resolutions. Sites that take too long to load their content are the worst. If your audience doesn't find what they're looking for on your site, they'll go elsewhere.
Why It Profitable To Order A Website From Us
Your website will have a unique design.
Personal attention to each customer
Post-implementation project assistance
Fair pricing policy
Contract Completion Guaranteed
Why You Should Hire Web Developers For Your Business
The Hyperlink InfoSystem web development team has been in the business for years, during which time they have built and promoted many successful websites all over the globe. We create fully functional websites for our clients, whether they need an online shop, a business card site, a corporate portal, or a more involved web project, and we do it with competitive rates and excellent service. Contact us to hire dedicated web developers.
When a project calls for customized solutions and a unified strategy for execution, turnkey website development is the way to go. Our team of experts includes marketers, programmers, SEO experts, and designers, so you won't have to go elsewhere to find them.
Frequently Asked Questions
The web developers will work only for you to deliver outstanding results with the highest optimization. The team of web developers at Hyperlink InfoSystem offers ample benefits like flexibility, cost-effectiveness, higher output, special skill sets and various others.
Hyperlink InfoSystem offers a very simple process to hire web developers. Just provide project details and the technical expertise you need. The team of web developers will begin working on your project based on your selection.
Yes, with a minimal development charge; you can test the technical and development skills of the web developers before making a final move.
Yes, If you know the task to get done from the dedicated web developer, then you can hire dedicated web developers on an hourly or project/task base.
The cost estimation for hire web developers varies based on various factors such as development team size, hiring model, the complexity of the web development solutions, the type of solution, features and functionalities and many more.
Latest Blogs
Explore the Latest Blogs on Trends and Technology.