Hire Dedicated Swift App Developers in Canada
Are you looking for expert swift developers in the USA and Canada? Contact Hyperlink InfoSystem to get affordable pricing package as per your need.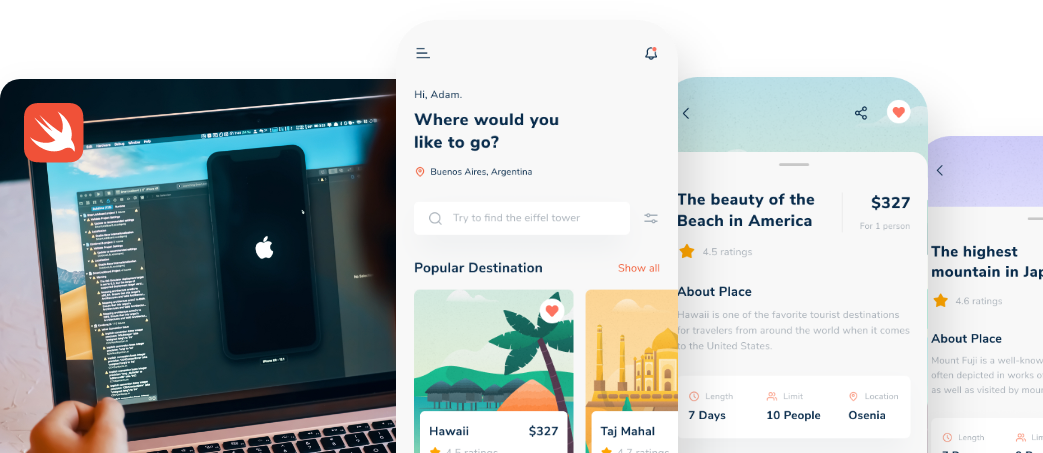 The programming language Swift is dependable and easy to learn. The lives of programmers have been vastly enhanced and simplified as a result. As a result, the codes are easier to understand and more robust. Swift's meteoric climb to prominence as a programming language is thus not unexpected. You can develop excellent iOS solutions when you hire Swift developers in Edmonton, Canada.
The mobile industry is still growing at an astounding rate. Google also gives mobile searches more weight. This demonstrates the enormous influence these gadgets have on the Internet.
Knowing the ideas and improvements provided by Swift might be helpful if you have the notion of building a mobile application. Swift features a clean and safe codebase and an intuitive user interface, both of which are supported by a set of tools that make programming simpler all around.
Elements For Building An App With Swift
A mobile app that can adapt to different screen sizes is a need. There is already a wide range of screen sizes and resolutions available, and this diversity is only expected to grow. Thus, your app's graphics must adjust to fit any screen size.
The simulator lets you see your app in portrait and landscape orientation on many iPhone and iPad models without actually launching the app on each device.
Different devices have different options for font size and line spacing. It's also possible to tailor your experience to the gadget you're using by adding or enlarging options.
Xcode, which supports the Swift programming language, lets you whip together a working version of your future app quickly. A prototype that illustrates your project's potential form before you write any code.
Using several transitions is one way to make your software stand out.
We can utilize Swift's Storyboard for visual management of the app's UI layout. This is accomplished without the need for any coding.
What Does A Developer Of The Swift Language Do?
Today's Swift language is used almost exclusively by Swift developers for their programming needs. On the other hand, if they are also well-versed in earlier versions of Objective-C, it will work in their favor while looking for work. In their daily work lives, Swift developers perform things like:
The use of libraries and frameworks in development
Putting out the completed product on the App Store;
Frequent revisions to the project to address issues and incorporate user feedback;
Writing technical documentation for the project.
Mobile app design following Apple's standards for iOS;
Writing program code;
Conducting tests;
Configuring iTunes Connect;
Configuring Application Programming Interface;
Similar to other IT professionals, Swift Developers need to actively seek out and implement solutions to issues, effectively communicate with clients, and take criticism in stride. If a developer doesn't know how to work well with others, they won't go far in their profession.
Our Selection Process
Swift allows developers to rapidly create highly dynamic and simple-to-use apps by including functional and logical aspects that shorten the time required to create mobile applications.
Swift doesn't provide much wiggle space. Through its language design, it prevents a wide variety of errors that might otherwise cause slow performance or even application failure. Swift offers the necessary levels of quality assurance in today's highly competitive app industry.
Improved quality and performance are the results of Swift's usage of dynamic libraries for data storage. Business apps are often dense with data, which decreases their efficiency and hence reduces user engagement.
By entering the app market, businesses who have opted to partner with Swift have completed a digital transition. Successful applications are the end outcome.
Our Solutions In Swift Development
For businesses of all sizes, from startups to multinational corporations, we provide cutting-edge Swift app development services.
No of the size or complexity of your objectives, our tried and true methods of delivery will guarantee timely completion. If your company needs to help developing mobile or web apps using Apple's Swift language, we provide the industry's top Swift development services.
We are a Swift development business that can manage any project using the language, whether it's the integration of Swift into an existing app or the creation of brand-new software from the ground up.
When businesses use our Swift programming solutions, they see increases in efficiency, savings, and happy clients.
Hire Swift Developers From Hyperlink InfoSystem
A high-level language for creating iOS applications, Swift has gained popularity in a short amount of time. You may rely on this open-source software's efficacy and ease of use. Its style of creating code gives an engaging and interactive environment for engineers.
You can hire a leading Swift development company in Canada when you contact our development team. Swift's code is designed to be safe and can provide fast, reliable software for Apple devices like phones, watches, TVs, and PCs. This programming effort intends to become the greatest language available for iOS app development that can grow to cloud app development.
Latest Blogs
Explore the Latest Blogs on Trends and Technology.