Casual Game Development
A Novel Idea To Stand Out In The Saturated Market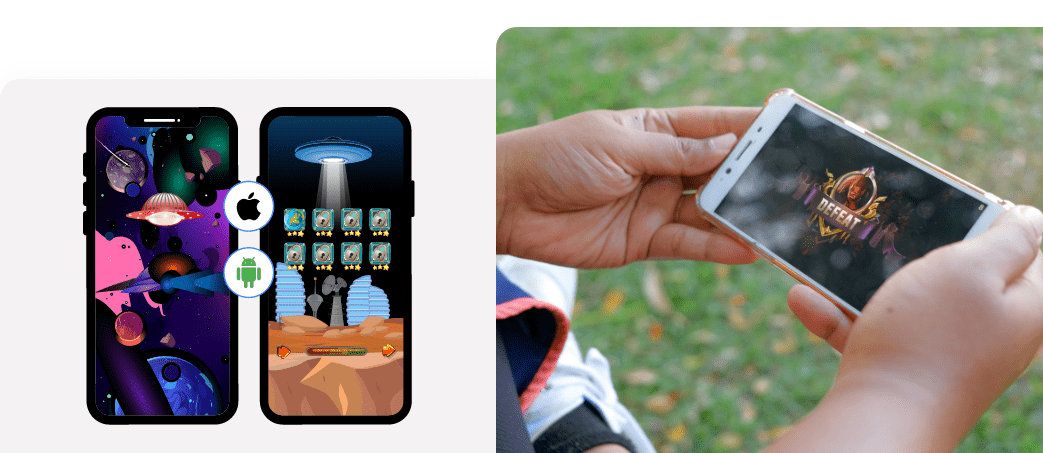 The success of casual games is in their simplicity, playability and creativity. Many succeed without the need for millionaire investments for their development. The most important thing in these cases is a novel idea, which is a challenge in this saturated market. Although the most purist gamers despise them, there is no doubt that casual games have streamlined the market and are a golden opportunity for those who desire to own an excellent mobile game.
Casual games are games that are developed for a very wide audience irrespective of the gender, age, or location. They are not designed for a specific niche. Our developers at Hyperlink InfoSystem can assist you with amazing Casual game development.
Models For Casual Games:
Charge for use. This is the traditional model, where the user pays a certain amount of money to download and use a game. It is worth noting that game is the category of mobile apps in which users are more willing to pay for their use (compared to news readers for example, where few users are willing to pay to use them).
Advertising. Placing ads within games can generate good income. This type of business model is only viable for the most popular games, with millions of users.
Freemium. The freemium model consists of offering a free version of a game to "hook" users, and offering another paid version with additional capabilities (more levels, customization possibilities, etc.).
Virtual goods. Another variant of the freemium model is for users to make in-game purchases to purchase virtual goods that they can use within a game to improve performance.
Tips For Creating Successful Casual Games
Keep It Simple
Make sure that the game is relatively easy to learn to play, but also challenging to become an expert. The necessary instructions should be minimal, maybe a few sentences at most.
Make It Intuitive
The user interface and controls should be as standardized as possible. Don't impose a learning curve on your users because you reduce their chances of enjoying it.
Reward your players. Keep your players interested and involved in the gaming experience. For example, in an action game, you can offer a new weapon or special power every 30 seconds for the first few minutes, and then reduce the frequency of those offers.
Make it interesting to play it again. Design your game in such a way that it is fun to play repeatedly, try to keep users coming back for more. You can do this by offering alternate game paths and different weapons.
Focus On The Important Aspects
Avoid spending a lot of time and resources on things that the user is very likely to ignore after having seen once. For example, don't spend a lot of time on an animation for the intro, instead spend it to improve the core aspects of the game.
Try early and often. Get your game tested by unknown people who belong to your target audience, and do so at different intervals during the development of your game. It helps to be able to watch these people play the game for the first time, without instructions.
Get To Know Us
Understanding The Complex Scenario
We know how to do technically complex projects: services that interact with sensors and devices. With over eight years of experience developing mobile apps for small and medium enterprises as well as large organizations, we have developed app across multiple industries of varying complexities and functionalities.
We Create Quality Code
High-quality code can be maintained for a long time and painlessly. Hyperlink InfoSysytem has a framework that enables our clients to save on code support, implement new features, and adapt to new technologies.
Relying On Research
Our analysts conduct market and product research. We choose the best solutions and offer our own. We agree with the client, and then we develop the app. After the launch, we do not abandon the client, but we continue to support the app.
We Test All Scenarios
We have fans of their craft who will not fall asleep if there is not enough pixel in the corner of one screen in the application. We kill all bugs, test all scenarios. Our QA department will answer any question in the format: "What happens if ...". To do this, they write special guides and checklists.
Our Mobile Game Development Services
Our simple game development service is accompanied by another game product that we can offer you at a fraction of the cost. We offer you 100% effective overall results and with the dedication, talent and rich experience of our team.
Our team also offers other types of game development services including AR, VR and WebGL game development as well as modern mobile games, traditional browser games and the most popular Facebook games.
Whatever your idea is, Hyperlink InfoSystem will appreciate hearing, discussing, and implementing it in a timely manner and at the affordable cost of your budget. We rely on experts with in-depth knowledge in this field as well as largely creative designers who take care of every important and small detail of the game plot, the characters, the graphics and the presentations of the surroundings.
You can be rest assured that Hyperlink InfoSystem is efficiently designing this group of entertainment products to the highest quality, developing games that could be some of the most famous and widely played online.
We guarantee personal access to every single customer, project or company that tries to increase the retention rate of the end product, which increases your income, your image and your reputation at the highest level.
The mobile game development process for Hyperlink InfoSystem's world-class player service includes:
iOS or Android development and deployment
Optimization functions for mobile devices
2D and 3D graphics
Porting
Synchronous and asynchronous multiplayer
Social characteristics
Pre-production of the game
Web services for the backend area of ??games - data management and analysis, traffic analysis, self-system monitoring, crash warnings, push notifications, analysis of advertising expenditure, research of player behavior, management of virtual services, promotions and marketing campaigns as well as full customer support
Game updates and upgrades
Process We Follow
1. Requirement Gathering
We analyze the requirements with the clients to understand the functionalities to combined into the app. This process allows us to form a development plan and transform the client's thoughts into an efficient and functional app.
2. UI/UX Design
Our developers use efficient UI trends to design apps that are not only pleasant to the eye but also intuitiveness and flexible. Our applications do not only complete the needs of our clients but also are simple and convenient to the end-users.
3. Prototype
We develop a preliminary visualization of what the mobile app would look like. This helps to generate an idea of the appearance and feel of the app, and we examine the users' reactions to the UI and UX designs.
4. Development
Our team of experts in Native, Hybrid, and Cross-Platform app development, using languages such as Swift, Kotlin, PhoneGap, Ionic, Xamarin, and more to produce high-quality mobile apps for the various operating systems.
5. Quality Assurance
We have a team of developers who carefully test every app to ensure that they provide an excellent user experience and meet the requirements of our clients. Apps developed by our development team are bug-free because they perform through a series of experiments before deployment.
6. Deployment
We follow the best practices when deploying our apps on different app stores, where they can be easily noticeable to considered users.
7. Support & Maintenance
All digital solutions need development. The deployment of an app is not the ultimate stage. Even Post-deployment, we work with our clients to offer maintenance and support.
Process We Follow
1. Requirement Gathering
We follow the first and foremost priority of gathering requirements, resources, and information to begin our project.
2. UI/UX Design
We create catchy and charming designs with the latest tools of designing to make it a best user-friendly experience.
3. Prototype
After designing, you will get your prototype, which will be sent ahead for the development process for the product.
4. Development
Development of mobile application/ web/blockchain started using latest tools and technology with transparency.
5. Quality Assurance
Hyperlink values quality and provides 100% bug free application with no compromisation in it.
6. Deployment
After trial and following all processes, your app is ready to launch on the App store or Play Store.
7. Support & Maintenance
Our company offers you all support and the team is always ready to answer every query after deployment.
Latest Blogs
Explore the Latest Blogs on Trends and Technology.