Virtual Reality App Development
Virtual Reality: When Fantasy Become Reality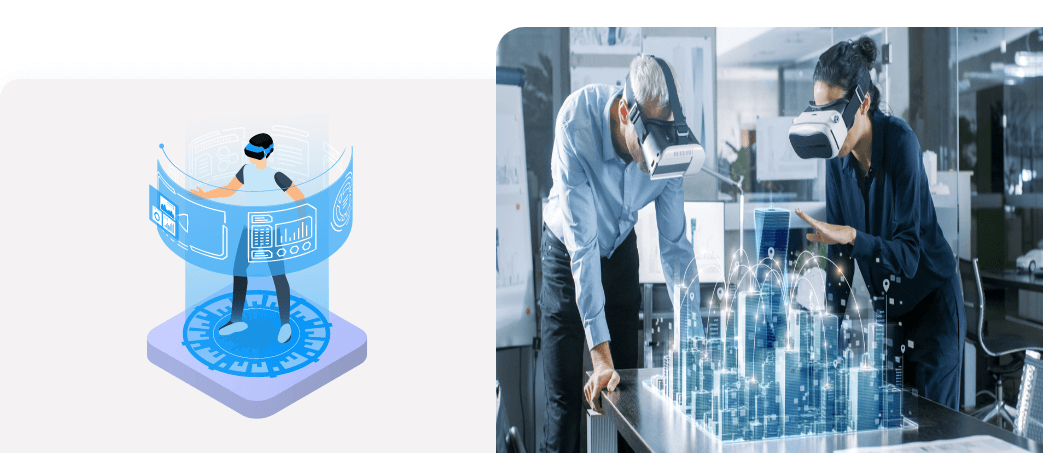 Virtual Reality allows the virtualization of resource and time consuming processes. As already included in the term "virtual reality", this describes a virtual form of the real world.
This virtual form of the real world is generated by digital devices. These can be, for example, 360 ° films, computer graphics (CGI) -based content rendered in real time, and mixed forms of the two aforementioned display modes.
Basically, the virtualization of all processes taking place in the company that can be mapped in virtual worlds and thereby reduce the repeated use of human resources is possible.
These primarily include application scenarios in which the users are involved in the respective events in a virtual scenario instead of the real experience on site.
This ranges from education and training scenarios to product and support courses that are experienced in a gamified virtual reality instead of in the real world.
Activation Through Engagement - Inspire Customers With Virtual Reality
Virtual Reality offers immense potential, especially in the area of ??marketing - immersive customer activation through lasting, impressive brand experiences, increased multiple usage rates and exponential growth in the area of ??recommendation marketing / net promoter score.
These core elements make virtual reality experiences in the commercial sector a component in the marketing mix that should not be underestimated.
How does this happen? The immersion factor is primarily useful - i.e. the level of detail of the fidelity, which makes it possible to completely immerse yourself in an application and to be almost indistinguishable from reality.
The phenomenon called agency of the ability to act analogously to real worlds is a central component of immersive technologies. In interaction with sensors that transmit your own head and hand movements into the virtual world, as well as a gripping concept, a feeling of presence can be created: The feeling of being in a different location than the actual location in reality against better knowledge - for example in your company's production hall. Hyperlink InfoSystem can help you develop a virtual reality app development project for your business.
Features Of Virtual Reality
A virtual environment is a simulation generated through the use of computers. It is dynamic, interactive, and three-dimensional; It has a high graphic, acoustic, and tactile type, oriented towards the visual representation of complex situations and variables. During this simulation, the user perceives certain stimuli that appear to be real. These perceptions immerse us in different, highly interactive environments of totally artificial origin. Depending on the degree of immersion of the user, two types of VR can be defined.
Types Of Virtual Reality
Immersive virtual reality. It allows people to perceive being within the artificially generated three-dimensional virtual environment. Computer systems create these three-dimensional environments, and the participation of the user is carried out through the use of various devices, such as VR glasses, suits, gloves, and accessories. They allow capturing the position and movements that the person performs with their body, later to be represented in the virtual reality environment.
Non-immersive virtual reality. Also known as virtual desktop reality. It is a kind of navigation in which only a computer or mobile device is used. This virtual reality type is widely spread and accepted; it works by representing an unreal environment in a window's space on a computer or mobile device. It is one of the most economical forms of virtual reality and is used in many video games that are currently marketed.
Some Virtual Reality Utilities
Currently there are several fields where the advantages of virtual scenarios are made good use:
Health
Development of new medical procedures.
Complex surgical practices and other types of medical interventions.
Psychological treatments for the cure of various phobias.
Application of relaxation methods and for pain treatment.
Education
Training through the use of simulators such as flight simulators for those who aspire to be pilots.
Learning and practicing different procedures and complex situations.
Leisure And Entertainment
Improves the experience of realism in the use of video games.
3D Movie Generation
Simulators of realities in theme parks.
Architecture
Design of buildings, structures and interiors through the use of different applications of visual environments to reduce development times and costs.
Military
Training of pilots, astronauts and soldiers in general.
Evaluation of possible responses from new devices.
Trade
Product and service layout.
Virtual visits in order to improve the user experience.
Industry
Use of CAD type tools (computer-aided design).
Possibility of analyzing, simulating and fine-tuning products and services to be developed before they are materially created, with obvious cost savings.
Advantages Of Virtual Reality App Development
Learn to manipulate objects without the need for their physical availability.
Benefits for people with certain disabilities and reduced mobility.
Training in dangerous situations.
Allow a thorough examination of facts and processes.
Enable model testing in the layout stage.
Testing and fine-tuning of new procedures.
Simulations of guidelines for action in various fields such as medicine, security forces and bodies, architecture and aviation.
Visualization from different environments with 360º perspectives.
Experts In Mobile Application Development
We are experts in the development of mobile applications. We develop custom apps for the main market platforms: iPhone, iPad, and Android. Through a personalized analysis, we study your needs in order to achieve the highest possible quality while minimizing the time and cost of developing your application. If you are looking for a company specialized in the development of mobile applications, do not hesitate to contact us: we are your best choice.
iOS App Development
Android App Development
Cross-platform App Development
Mobile Game Development
AR App Development
VR App development
What We Work On
One of our specialties as a company is the development of apps for all kinds of needs. We trust in new technologies and in their ability to help us understand a business, expand it, and even lead it to success. Nowadays, businesses are increasingly moving around the online world, and that is why we believe that all companies should have mobile applications since that introduces them to a new era and gives them the possibility of being more successful. To meet this objective, we are 100% involved in the cases of our clients to help them achieve the maximum benefit through their mobile applications.
Process We Follow
1. Requirement Gathering
We analyze the requirements with the clients to understand the functionalities to combined into the app. This process allows us to form a development plan and transform the client's thoughts into an efficient and functional app.
2. UI/UX Design
Our developers use efficient UI trends to design apps that are not only pleasant to the eye but also intuitiveness and flexible. Our applications do not only complete the needs of our clients but also are simple and convenient to the end-users.
3. Prototype
We develop a preliminary visualization of what the mobile app would look like. This helps to generate an idea of the appearance and feel of the app, and we examine the users' reactions to the UI and UX designs.
4. Development
Our team of experts in Native, Hybrid, and Cross-Platform app development, using languages such as Swift, Kotlin, PhoneGap, Ionic, Xamarin, and more to produce high-quality mobile apps for the various operating systems.
5. Quality Assurance
We have a team of developers who carefully test every app to ensure that they provide an excellent user experience and meet the requirements of our clients. Apps developed by our development team are bug-free because they perform through a series of experiments before deployment.
6. Deployment
We follow the best practices when deploying our apps on different app stores, where they can be easily noticeable to considered users.
7. Support & Maintenance
All digital solutions need development. The deployment of an app is not the ultimate stage. Even Post-deployment, we work with our clients to offer maintenance and support.
Process We Follow
1. Requirement Gathering
We follow the first and foremost priority of gathering requirements, resources, and information to begin our project.
2. UI/UX Design
We create catchy and charming designs with the latest tools of designing to make it a best user-friendly experience.
3. Prototype
After designing, you will get your prototype, which will be sent ahead for the development process for the product.
4. Development
Development of mobile application/ web/blockchain started using latest tools and technology with transparency.
5. Quality Assurance
Hyperlink values quality and provides 100% bug free application with no compromisation in it.
6. Deployment
After trial and following all processes, your app is ready to launch on the App store or Play Store.
7. Support & Maintenance
Our company offers you all support and the team is always ready to answer every query after deployment.
Latest Blogs
Explore the Latest Blogs on Trends and Technology.