Hire Blackberry App Developers in Canada
Attract More Clients With Blackberry App Development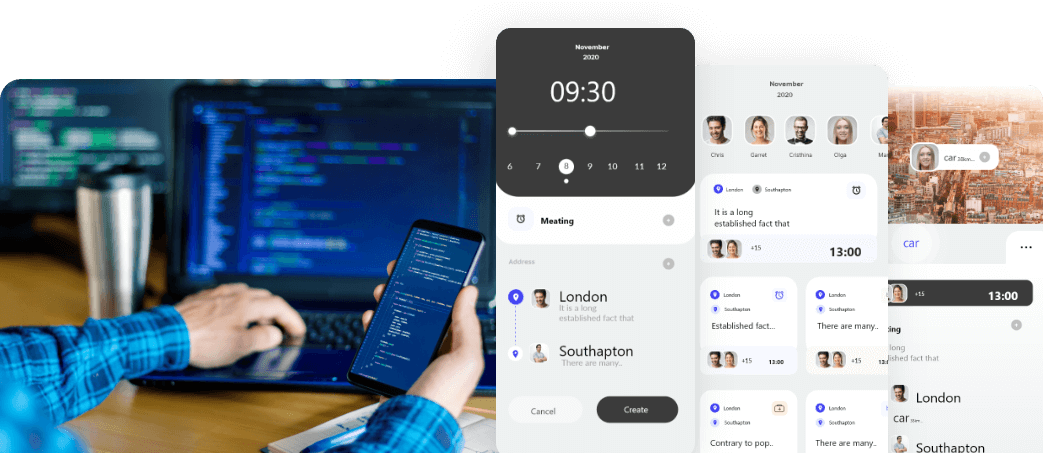 BlackBerry was once synonymous with "business phone", the phone that every businessman had in his hands. Although the brand faded in the face of the rise of iOS and Android phones. But the Canadian firm does not want to remain with its hands crossed and will try to recover its user base who are dedicated to business.
Touch keyboards are not accurate, especially on smartphones with small screens. And this is where the BlackBerry stands out, its physical QWERTY keyboard prevents mistakes and speeds up the typing process, especially with practice. In addition, behind the keyboard, the device has a touch sensitive layer. What allows you to perform some gestures by simply sliding your finger on the keys, as if it were an extension of the touch screen. With this, you can slide your finger back to delete a word. And on web pages, this option allows you to scroll up and down with your thumb on the keys.
The BlackBerry Assistant is the company's answer to Siri, Google Now, and Cortana. It is the virtual assistant that allows you to perform all kinds of actions "without using your hands." There are two ways to activate this device, entering the application through the main menu or pressing the button that is located between the volume keys. Once activated, you can record notes, get directions, set a reminder, and even send an email. In total, the BlackBerry Assistant supports commands in 19 categories.
If there is an efficient use of the network for sending data, not only the battery will benefit, but also the pocket. BlackBerry compresses the data packets that are sent from the phone. This, coupled with other services such as email filtering and header-only downloading, means that users with limited data plans can have a non-negligible savings on their mobile Internet costs.
Hyperlink InfoSystem is a mobile app development company that specializes in developing efficient Black berry apps. Hyperlink InfoSystem is one of the leading mobile application development companies in Canada offering tailored mobile solutions. With a knack for designing and developing mobile applications on all leading platforms, we also specialize in custom mobile application development, game development, mobile application portability, QA and testing, support and Maintenance, Upgrade and Migration, Integration, UI and UX Design, Native App Development, and Enterprise Mobility to list just a few.
Contact Hyperlink Infosystem To Hire Blackberry App Developers in Canada
The only drawback of the mobile app is that the services of app builders are not cheap. But with a well-thought-out professional approach, it quickly pays off and has significant advantages over even an adapted or responsive website. Let's take a closer look at the benefits of applications.
Ideal For Smartphones
If you have ever tried to access a store's website from your smartphone, you immediately noticed how inconvenient it is to use it—tiny print, pages that do not fit the screen. You have to zoom in and move the page, getting lost with the necessary details now and then. The mobile application is fully adapted to the smartphone screen size - this is the main advantage of the application for the client. Moreover, only a mobile device allows some application functions (for example, push notifications, calls, geolocation) to work.
Marketing Channel
More than 50% of Internet users use it via mobile devices. And if a person installs your application on his smartphone, he is interested in buying your goods. That is, having a mobile application, you work only with the target audience. Now your client always has your application icon on the desktop. There is one click left before the purchase.
Communication With The Client 24/7
The application has constant access to the client. Personalized push notifications can be used to keep in touch with a potential customer. The main thing is the right quantity of messages you push. Notifications must be essential and useful.
Constant Business Control
Many mobile applications provide a variety of analytic functions. So you can see data on the number of buyers and the number of purchases, costs and profits, data on purchased goods, and their price. This saves managers from additional processing of all this data on their own. Ready-made numbers are always at hand in the application.
User Interaction
Applications allow you to establish personal contact with the client. These can be notifications about nearby offices or branches, about ongoing promotions and discounts, feedback channels, and even user groups' creation to communicate with each other. A mobile app is an indispensable solution for fast, repetitive, and location-based actions.
Offline Work Mode
Modern versions of applications can work even without Internet access. This is especially important where communication is poorly picked up, and Internet access is unstable or completely absent. If a person urgently needs to make an online purchase somewhere out of town, and the site does not load pictures or does not load at all, then the mobile application will save the situation. After the last online access, data on goods and prices, and their photos were saved.
Payment Via Apple And Google Play
Today, all payment data can be stored on a smartphone without fear of theft. It doesn't matter what platform the client's phone has - Apple or Google Play. When the device has a fingerprint sensor or code or pattern, losing a bank card becomes a more serious problem than losing a phone. The user can purchase one click through the mobile application without routinely entering the card number, expiration date, and CVV code. This is especially important when the card is not at hand, or the matter is very urgent.
Hyperlink InfoSystem is a top app development agency that creates all categories of apps such as messaging apps, eCommerce apps, social media apps, enterprise apps, on-demand apps, and other types.
Frequently Asked Questions
The dedicated blackberry app developers will work only for you to deliver outstanding results with the highest optimization. The team of dedicated blackberry app developers at Hyperlink InfoSystem offers ample benefits like flexibility, cost-effectiveness, higher output, special skill sets and various others.
Hyperlink InfoSystem offers a very simple process to hire dedicated Blackberry app developers. Just provide project details and the technical expertise you need. The developer begins working on your project based on your selection.
Yes, with a minimal development charge; you can test the technical and app development skills of the Blackberry app developers before making a final move.
Yes, If you know the task to get done from the dedicated Blackberry app developer, then you can hire a Blackberry developer on an hourly or project/task base.
The cost estimation for dedicated Blackberry app developers varies based on various factors such as app development team size, hiring model, the complexity of the app development, the type of solution, features and functionalities and many more.
Latest Blogs
Explore the Latest Blogs on Trends and Technology.