Bigcommerce Development Company
Top Bigcommerce Developer In Toronto, Canada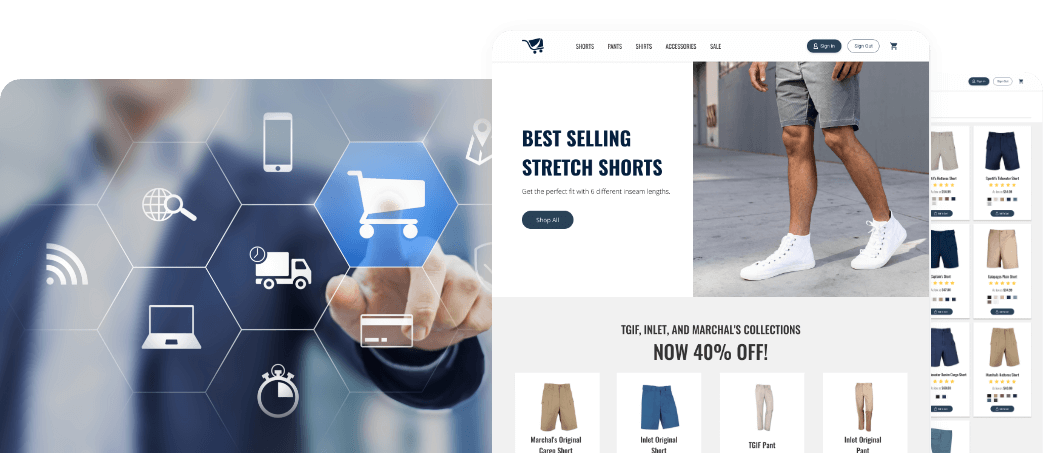 Created in 2009 and oriented towards the creation of e-commerce sites as its name suggests, Bigcommerce is today one of the best suited and easiest solutions for small and medium-sized businesses. With millions of transactions recorded via the solution, Bigcommerce is experiencing very strong growth in adoption and obtains significant credibility through various references
Bigcommerce Features
Zoom on the basic options: adding a product and creating a catalog on Bigcommerce. The interface for adding a product and category is very complete through its different sections. In the 'Details' tab, you can specify all the parameters of your product: name, price, corresponding category, weight, a description of the product, delivery method / costs and product availability. Other additional fields can be created in 'Custom Fields'. In 'Inventory', it is possible to define a stock tracking of the added product. Other advanced features are interesting such as the one linked to 'Google Shopping' which allows you to program the appearance of the product directly on the famous price comparison. Finally, an integrated kit of essential tools is another real asset. Unlike many other e-commerce solutions, from the creation of your site, Bigcommerce provides you with additional modules directly integrated into the software, namely the "Built-in tools". Included in the price of your package, they will be really essential for you to set up, analyze or manage your business. These advanced tools in particular allow the implementation and monitoring of web marketing actions on your site:
Promotion rules: functionality allowing you to create to define a first type of promotional offers in the form of rules.
Banners: tool for adding promotional links and images through your e-commerce site.
Coupons: tool for adding a promo code such as percentage discounts, free shipping or an amount in € on the total amount of the order with a minimum purchase.
Abandoned cart recovery: this advanced feature is available from the Silver plan and allows you to retarget by email any prospect who has abandoned your conversion tunnel without going as far as placing an order. In other words, you can automatically reconnect by e-mail, via coupons for example, with users who left your payment path without carrying out transactions - i.e. for more than 70% of the carts - to encourage them to convert - 15% of them on average would convert in this case according to Bigcommerce.
Analytics: the analytics solution seems fairly basic but allows for simple monitoring and in 'Real Time' of its activity (number of orders placed, visits, turnover generated, etc.), a fairly detailed analysis of the conversion tunnel (number of abandoned orders, turnover remaining in the basket, etc.) or even consumers (percentage of new consumers, etc.)
Project Flow
Project Preparation
In the first phase of a project, after the customer has contacted us for the first time, we internally assign the incoming request according to the requirements in the team.
Our contact person will then get in touch with you and, after consultation, will accompany the project until it has successfully completed the development process.
Analysis And Conception
Here we develop an understanding of what goals the finished product pursues, what problems it solves, what core functionality it has, and what the customer's business and future users expect. We do this through an in-depth, fundamental analysis of your business.
After completing the analysis, we create an initial idea of the project in order to make the most appropriate decisions together with the customer on the basis of the collected data and technical expertise.
Functionality
On the basis of the first concept, we start to determine the functional requirements of the project. At this point in time, we are not yet fully planning the project, as it will inevitably change in the course of development.
For this reason, we determine the core functionality of the project and start developing as soon as the customers are ready to go. With this agile approach, we can identify the best solutions and consider how best to implement them.
Agile Development Process
Agile methodology means constant work and improvement of the product as well as a quick reaction to changes on the part of customer requirements or other problems. We use continuous business analysis as the basis of project development to simplify the change process and find the best solutions based on what we have and how it works.
UX Process
We ensure that our products not only serve the customer's business purposes but are also intuitive, simple, and convenient for the end-user.
Design
An appealing design for users of our products must be pleasing, but above all, fulfill the main purpose - intuitiveness and consistency.
Quality Control
We carefully test each build to ensure that the intermediate results are also usable products.
Clean Code
We write clean and future-oriented code, taking into account the requirements of the product in terms of scalability and fast response times.
Support And Maintenance
Software solutions are products that always need improvement. The release is just a starting point for a new phase in development. During this phase, we adjust our pace and the way we work together to offer our customers post-release support for further improvements.
Hyperlink Infosystem Is A Leading Bigcommerce Development Agency In Canada
Based in Canada, Hyperlink Infosystem is a leading I.T. solutions provider that specializes in Bigcommerce development. Our team is made of experienced developers who have undertaken tons of Bigcommerce development projects. We combine our creativity, experience, and attention to detail to make your project a success. We follow the best methods in developing, delivering, and sustaining complex web solutions. The whole team is at your disposal to advise you and guide you as best as possible towards solutions adapted to your needs.
Process We Follow
1. Requirement Gathering
We analyze the requirements with the clients to understand the functionalities to combined into the app. This process allows us to form a development plan and transform the client's thoughts into an efficient and functional app.
2. UI/UX Design
Our developers use efficient UI trends to design apps that are not only pleasant to the eye but also intuitiveness and flexible. Our applications do not only complete the needs of our clients but also are simple and convenient to the end-users.
3. Prototype
We develop a preliminary visualization of what the mobile app would look like. This helps to generate an idea of the appearance and feel of the app, and we examine the users' reactions to the UI and UX designs.
4. Development
Our team of experts in Native, Hybrid, and Cross-Platform app development, using languages such as Swift, Kotlin, PhoneGap, Ionic, Xamarin, and more to produce high-quality mobile apps for the various operating systems.
5. Quality Assurance
We have a team of developers who carefully test every app to ensure that they provide an excellent user experience and meet the requirements of our clients. Apps developed by our development team are bug-free because they perform through a series of experiments before deployment.
6. Deployment
We follow the best practices when deploying our apps on different app stores, where they can be easily noticeable to considered users.
7. Support & Maintenance
All digital solutions need development. The deployment of an app is not the ultimate stage. Even Post-deployment, we work with our clients to offer maintenance and support.
Process We Follow
1. Requirement Gathering
We follow the first and foremost priority of gathering requirements, resources, and information to begin our project.
2. UI/UX Design
We create catchy and charming designs with the latest tools of designing to make it a best user-friendly experience.
3. Prototype
After designing, you will get your prototype, which will be sent ahead for the development process for the product.
4. Development
Development of mobile application/ web/blockchain started using latest tools and technology with transparency.
5. Quality Assurance
Hyperlink values quality and provides 100% bug free application with no compromisation in it.
6. Deployment
After trial and following all processes, your app is ready to launch on the App store or Play Store.
7. Support & Maintenance
Our company offers you all support and the team is always ready to answer every query after deployment.
Latest Blogs
Explore the Latest Blogs on Trends and Technology.