Hire Scala Developers
Top Scala Development Agency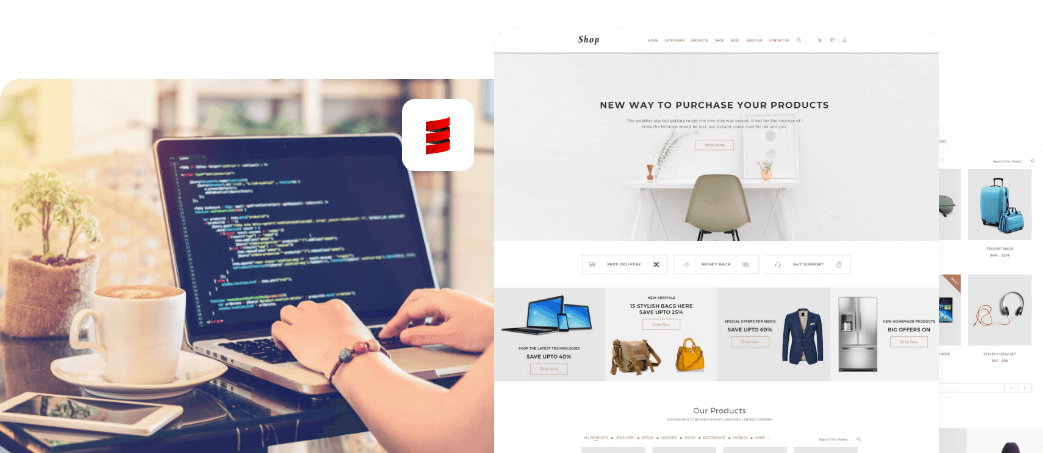 Scala is a general purpose language. It has been designed to be concise and many people say that it was created to fill in the flaws of Java. The source of your code is intended to be compiled by Java bytecode to allow the resulting code to work on the Java VM.
Also, as its name suggests, Scala is an acronym for scalable language, designed to grow with demand. Furthermore, it is a safe typing language that incorporates object oriented and functional programming in an extremely concise, logical and powerful language.
In the world of software development, Scala is considered a high-end language, and has a reputation for being a complex language to learn by a junior developer. Few developers in the world know how to (really) work with Scala and very few companies use it. One of such companies is Hyperlink InfoSystem and we are one of the leading Scala development agencies. Its adoption is growing and big companies like LinkedIn, Twitter and The Guardian use it for their database.
Reasons To Hire Scala Developers For Your Next Project:
Scalability
Scala is derived from the combination of Scalable and Language. So you can already get an idea about how strong this point is in this language. Scalability is the possibility of growing a business or project without having to re-invest in infrastructure. Thus, Scala is a language to facilitate the growth of development teams as much as possible.
Functional
Scala is also a functional language. Computing can be distributed across the cores in a multicore server and across the servers in a data center. This makes Scala a great choice for multi-core CPUs and Cloud computing distributed workloads. This is essential for Big Data analysis scenarios.
Object Oriented
Like Java, Scala is also an object-oriented language. Developers coming from Java and other object-oriented languages can apply similar design patterns with Scala, and take advantage of powerful object-oriented features like traits and mixin-based structure.
Static Typing
Scala is equipped with a typing system that statically forces abstractions to be used in a consistent and safe way. This typing detects and prevents many types of application errors when compiling. At the same time, it has a sophisticated type inference system, which gives the possibility of freeing developers from having to write redundant typing information into the program.
Extendable
Scala contains a unique combination of language mechanisms that makes it easy to add new language constructs in library form, or create DSL.
Productive
Thanks to its type inference system and other features, Scala is a concise language, giving developers the possibility to reduce the size of source code by a factor of 2 or 3 compared to Java. Scala brings with it a rich set of developer tools, which, to give you an idea, result in productivity similar to that of languages like Ruby or Python.
Interoperability With Java
Scala is compiled directly to Java bytecode, running on the Java Virtual Machine, taking advantage of the power and maturity of the JVM, its garbage collector, and well-understood deployment techniques. By taking advantage of this, there is hardly any impact on the project's progress. Team operations won't see the difference.
Developers will continue to work with their tools, but writing code that is shorter, faster, more scalable and correct.
Contact Us At Hyperlink InfoSystem To Develop Excellent Mobile App
The only drawback of the mobile app is that the services of app builders are not cheap. But with a well-thought-out professional approach, it quickly pays off and has significant advantages over even an adapted or responsive website. Let's take a closer look at the benefits of applications.
Ideal For Smartphones
If you have ever tried to access a store's website from your smartphone, you immediately noticed how inconvenient it is to use it—tiny print, pages that do not fit the screen. You have to zoom in and move the page, getting lost with the necessary details now and then. The mobile application is fully adapted to the smartphone screen size - this is the main advantage of the application for the client. Moreover, only a mobile device allows some application functions (for example, push notifications, calls, geolocation) to work.
Marketing Channel
More than 50% of Internet users use it via mobile devices. And if a person installs your application on his smartphone, he is interested in buying your goods. That is, having a mobile application, you work only with the target audience. Now your client always has your application icon on the desktop. There is one click left before the purchase.
Communication With The Client 24/7
The application has constant access to the client. Personalized push notifications can be used to keep in touch with a potential customer. The main thing is the right quantity of messages you push. Notifications must be essential and useful.
Constant Business Control
Many mobile applications provide a variety of analytic functions. So you can see data on the number of buyers and the number of purchases, costs and profits, data on purchased goods, and their price. This saves managers from additional processing of all this data on their own. Ready-made numbers are always at hand in the application.
User Interaction
Applications allow you to establish personal contact with the client. These can be notifications about nearby offices or branches, about ongoing promotions and discounts, feedback channels, and even user groups' creation to communicate with each other. A mobile app is an indispensable solution for fast, repetitive, and location-based actions.
Offline Work Mode
Modern versions of applications can work even without Internet access. This is especially important where communication is poorly picked up, and Internet access is unstable or completely absent. If a person urgently needs to make an online purchase somewhere out of town, and the site does not load pictures or does not load at all, then the mobile application will save the situation. After the last online access, data on goods and prices, and their photos were saved.
Hyperlink InfoSystem is a top app development agency that creates all categories of apps such as messaging apps, eCommerce apps, social media apps, enterprise apps, on-demand apps, and other types.
Frequently Asked Questions
The dedicated Scala developers will work only for you to deliver outstanding results with the highest optimization. The team of Scala developers at Hyperlink InfoSystem offers ample benefits like flexibility, cost-effectiveness, higher output, special skill sets and various others.
Hyperlink InfoSystem offers a very simple process to hire Scala developers. Just provide project details and the technical expertise you need. The team of Scala developers will begin working on your project based on your selection.
Yes, with a minimal development charge; you can test the technical and development skills of the Zend developers before making a final move.
Yes, If you know the task to get done from the dedicated Scala developer, then you can hire dedicated Scala developers on an hourly or project/task base.
The cost estimation for dedicated Scala developers varies based on various factors such as development team size, hiring model, the complexity of the web app development, the type of solution, features and functionalities and many more.
Latest Blogs
Explore the Latest Blogs on Trends and Technology.