Hire Django Developers In Canada
Hire Django developers from top Django development service provider company in Toronto, Canada. Hire us now!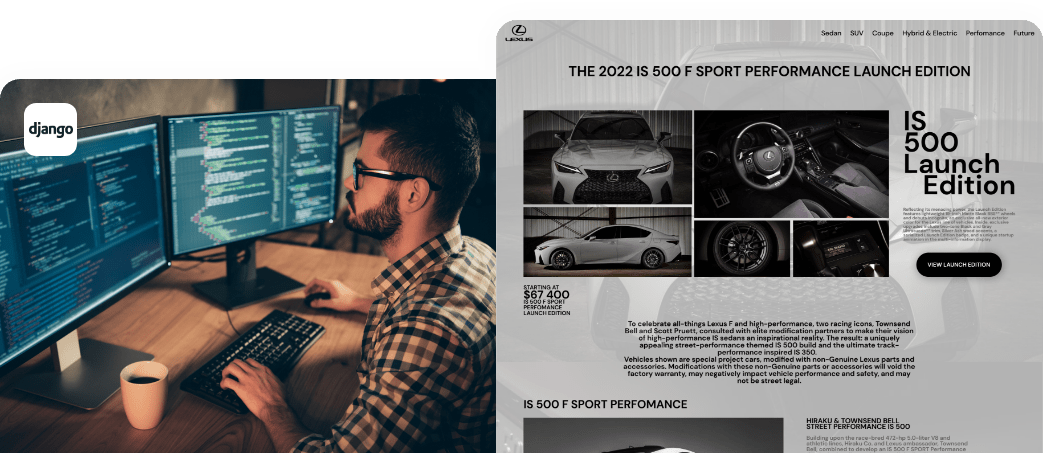 Hyperlink InfoSystem is an established Django development firm staffed by experts in both Python and Django. You can count on us to provide top-notch, scalable Django applications that will wow both you and your clients. Our ability to take on a diverse variety of projects and complete them is a direct consequence of the breadth of our Django development services. Hire top Django developers in Victoria, Canada to develop excellent I.T solutions.
Though we specialize in app development, our Django development services cover a wide range of needs. We provide Django e-commerce business and application testing, as well as consulting services based on our extensive experience in Python programming for your company.
The Django Services We Provide
Cloud Server Architecture
Django and Python Consulting
APIs Integration and Development
Django E-Commerce Solutions
Backend Technologies Development
Django Quality Assurance
Django App Design & Development
Developing Websites with Django
The Benefits AndValue Of Django Framework Development To Companies
Like Python, Django enables scalable web development. If you're a business looking to take use of Python's web development skills, you should consider integrating Django.
In addition, the development system is customizable, so programmers aren't stuck with a rigid set of tools and can instead tailor it to their needs. Django also has a large and growing community of programmers.
As a result of its comprehensive documentation, both inexperienced and seasoned programmers will be able to work through any issue that can crop up during development.
On July 15, 2005, the first version of Django development was made available. The Django Software Foundation has released consistent updates to the framework since it was launched.
Django's comprehensive admin interface simplifies management for startups and other small enterprises. Django is great because it removes the learning curve associated with building a web application. A thriving international community backs Django development.
Django supportsseveral languages.
Many businesses nowadays aim for international success by expanding their product range to other regions. Django developers need to make linguistic adjustments to produce websites and web applications that function in any nation.
Security is Django's strongest suit as a web development framework. By design, the framework provides a high level of protection for user information.
Cross-site scripting, request forgery, clickjacking, SQL injection, and other common security threats all have dedicated components. Due to its regular updates, the framework is perfect for use in secure FinTech and HealthTech applications.
Well-Known Companies Already Using Django
Django is widely used by small and big websites alike because of its popularity among Internet giants. Some of the most popular websites today were built using Django because of its speed, adaptability, and user-friendliness:
The Washington Post: Django was designed to run an online newspaper, so it's not surprising that the Washington Post would use it to handle its massive traffic. Django is not just used by online magazines.
Dropbox: As a cloud-based file storage service, Dropbox must have robust capabilities. Django is what makes Dropbox so useful; it allows users to easily share and sync files with one another, and it can grow as their needs do.
Mozilla:This is a widely used web application that has been translated from PHP to Python for use with Django. It has been upgraded to better handle high volumes of users and API calls.
Instagram: Instagram is one of the most well-known social networking platforms and is responsible for a large number of media data and user interactions. Django simplifies website deployment, upgrades, and upkeep. New features and problem fixes can be made rapidly with little effort.
Spotify: Spotify is a media library chock-full of information that lets consumers listen to music online without ads or membership. Machine learning is one of the most powerful technological tools, and Spotify employs it. Python is a great choice since it is both a versatile and robust language. It is a robust and flexible mobile app that has been developed using the Django framework.
Reasons To Choose Django As Your Development Framework
The "batteries included" slogan perfectly describes Django's web development services. The Django framework is an integral part of the technological stacks of Instagram, YouTube, and many other industry leaders. When it comes to developing dynamic solutions for the web, Django is your next-door neighbor.
Web development using Django is robust and extensible. Django-based applications can scale to unprecedented levels of use.
Django is useful for rapidly developing scalable apps. When it comes to getting their goods out to consumers quickly, entrepreneurs can benefit greatly from the services of a bespoke Django web development firm.
We should all be writing our code in Python, and Django is the greatest framework for creating Python-based apps. There are also huge possibilities for Django in the field of Data Science.
Python and Django allow for in-development configuration changes. There is no need to use the default setting while creating code.
Working with Hyperlink InfoSystem
Many international companies have put their faith in us because of our expertise in Python and Django web development. Simply put, we can provide you with the Django platform you need since we are familiar with Django solutions. If we didn't take a strategic approach, we wouldn't be able to provide such excellent service.
Hire top Django developers in Victoria, Canada to develop excellent I.T solutions. We at Hyperlink InfoSystem approach each project with the same dedication to achieving operational excellence throughout the entire development lifecycle. Because of this, we can provide you with the finest Django product available. For this reason, we have established a rigorous recruiting procedure that allows us to discover the most qualified technical expertise in the market to work on your Django project so that we can provide the best possible outcome.
Latest Blogs
Explore the Latest Blogs on Trends and Technology.