Smart Contracts Development
An Easy, Secure And Efficient Way To Transact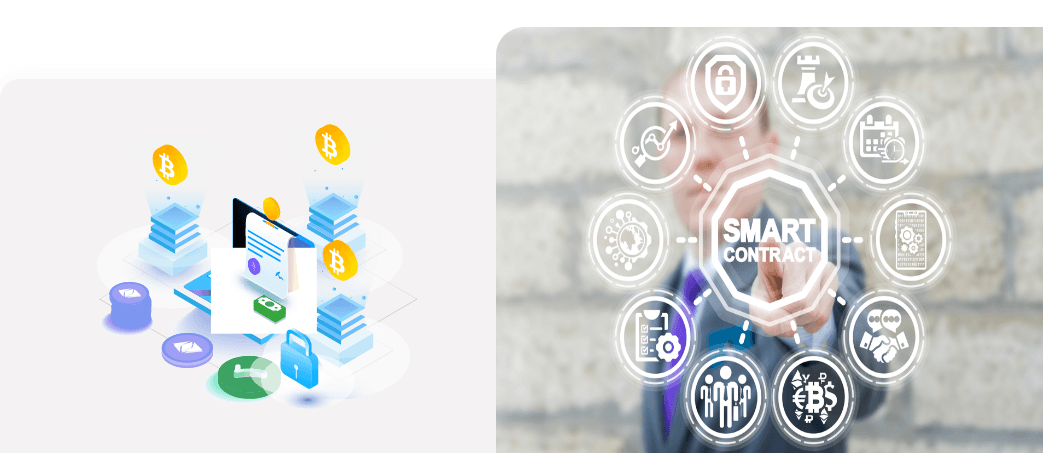 Contracts are a complicated business. They are time-consuming, expensive and burn important resources. Automatic blockchain contracts, so-called smart contracts, are currently revolutionizing digital contracts.
Smart contracts are legally valid contracts that are concluded in real-time and with the highest security requirements. The technology behind it all is blockchain, which makes hacking or counterfeiting virtually impossible. If you want to hack a blockchain, you would have to own more than 50 percent of the entire internet, which is practically impossible. This new type of contract monitors itself and can trigger various actions.
How Smart Contracts Work
A smart contract is a program that runs on a blockchain and executes simple if-then rules. The developers define conditions and actions in advance, which are then carried out automatically.
The smart contracts benefit from the blockchain's transparency, irreversibility and traceability. Since these programs are based on a blockchain, no intermediary can influence the processing. Rather, all transactions take place on the blockchain - this reduces costs. Thanks to the decentralization, smart contracts work independently and have no time delays.
Within the distributed ledger, these digital contracts are treated as a separate account including a public address, without this account actually having one - and therefore nobody owns the private key. External access is excluded after creation. The contents of the contract are to be defined in the form of actions and conditions so that the account can execute these automatically. This allows it to connect to and interact with other accounts.
Benefits Of Smart Contracts
Smart contracts based on a blockchain have some advantages which include:
Reliability: If a smart contract has been programmed correctly, difficulties in interpreting the terms of the contract are almost impossible. This also prevents the loss of documents.
Security: If smart contracts are programmed on the basis of a blockchain, they are safe from hackers using cryptographic encryption methods. Nobody can change the negotiated contract terms afterward.
Efficiency: Programming a smart contract takes less time than corresponding bureaucratic processing. This saves contract partners time and money.
Independence: Smart contracts save third parties such as lawyers, notaries and bankers. The unchangeable blockchain is used to verify a contract. For this reason, the principle "Code is law" applies. The program code of a contract alone decides whether the contract conditions have been correctly fulfilled or not.
Smart Contracts Examples
Supply chains: Supply chains for goods usually consist of several parties. From the consumer, the retailer, the wholesaler, the company, the supplier and the producer, digital contracts based on the blockchain can offer all parties involved a common contractual basis. All parties involved can then follow in real-time at which stage the offered product is currently.
Health care: patient data could be mapped in a digital contract for the patient as well as for doctors and insurance companies. For each party, it would be possible to see all the data at a glance. Patients could also decide individually which information they want to disclose.
Real estate: Digital contracts can not only regulate tenancies but also make it easier to buy or sell real estate.
Governments: Governments could hold elections through digital contracts. The basis for this could be a contract that is concluded between the respective government and all citizens of the country. This would not only allow the government to see who voted, but citizens would also have the advantage of being able to vote with one click.
Licensing: Software licenses, for example, can be efficiently assigned using digital contracts. In this way, software developers could stipulate in the contract that the software automatically deactivates itself if it is accessed by unauthorized persons.
We Can Help You Develop Smart Contract
Hyperlink Infosystem is a leading I.T. solutions provider that specializes in smart contract development. Our team is made of experienced developers who have undertaken tons of smart contract development projects. We combine our creativity, experience, and attention to detail to make your project a success. We follow the best methods in developing, delivering, and sustaining complex app solutions. The whole team is at your disposal to advise you and guide you as best as possible towards solutions adapted to your needs.
Features Of Smart Contracts
A smart contract is characterized by being self-executing. This means that it cannot be stopped once it is executed. They also have the features of immutability. This means that it cannot be modified, deleted or censored.
The elimination of intermediaries to carry out the Smart Contract function is similar to the fact that these programs seem like "adhesion" contracts (those that are prepared by a single party and do not allow modification or partial acceptances of its conditions once accepted by the other party). The party that accepts it adheres to its integrity without questioning. A very common example of adhesion contract is the contract that we sign when we open an account in a bank. In the case of the Smart Contract, these are executed automatically when the variables established through programming are fulfilled, with respect to a certain operation. Smart contract is a programming instruction that generates results if the combination of variables previously established through the corresponding programming occurs, taking into account the conditions established in the code.
In other words, a smart contract is a computer protocol whose purpose is to facilitate, verify or digitally enforce the negotiation or fulfillment of a contract through code. By their nature, smart contracts allow credible transactions to be carried out without the intervention of third parties. Our developers are available to assist you with smart contract development projects.
If you intend to develop excellent I.T solutions using smart contracts technology, you should contact a top blockchain development agency. With several years of experience in developing and deploying blockchain technology for individuals, businesses and organizations, Hyperlink InfoSystem is an excellent position to develop your projects without any hassle.
Which Blockchains Support Smart Contracts?
Bitcoin
Ethereum
NXT
Waves
Ripple
Namecoin
EOS
Process We Follow
1. Requirement Gathering
We analyze the requirements with the clients to understand the functionalities to combined into the app. This process allows us to form a development plan and transform the client's thoughts into an efficient and functional app.
2. UI/UX Design
Our developers use efficient UI trends to design apps that are not only pleasant to the eye but also intuitiveness and flexible. Our applications do not only complete the needs of our clients but also are simple and convenient to the end-users.
3. Prototype
We develop a preliminary visualization of what the mobile app would look like. This helps to generate an idea of the appearance and feel of the app, and we examine the users' reactions to the UI and UX designs.
4. Development
Our team of experts in Native, Hybrid, and Cross-Platform app development, using languages such as Swift, Kotlin, PhoneGap, Ionic, Xamarin, and more to produce high-quality mobile apps for the various operating systems.
5. Quality Assurance
We have a team of developers who carefully test every app to ensure that they provide an excellent user experience and meet the requirements of our clients. Apps developed by our development team are bug-free because they perform through a series of experiments before deployment.
6. Deployment
We follow the best practices when deploying our apps on different app stores, where they can be easily noticeable to considered users.
7. Support & Maintenance
All digital solutions need development. The deployment of an app is not the ultimate stage. Even Post-deployment, we work with our clients to offer maintenance and support.
Process We Follow
1. Requirement Gathering
We follow the first and foremost priority of gathering requirements, resources, and information to begin our project.
2. UI/UX Design
We create catchy and charming designs with the latest tools of designing to make it a best user-friendly experience.
3. Prototype
After designing, you will get your prototype, which will be sent ahead for the development process for the product.
4. Development
Development of mobile application/ web/blockchain started using latest tools and technology with transparency.
5. Quality Assurance
Hyperlink values quality and provides 100% bug free application with no compromisation in it.
6. Deployment
After trial and following all processes, your app is ready to launch on the App store or Play Store.
7. Support & Maintenance
Our company offers you all support and the team is always ready to answer every query after deployment.
Latest Blogs
Explore the Latest Blogs on Trends and Technology.