Hire Dedicated Ionic App Developers in Canada
Hyperlink InfoSystem provides the best ionic developers in canada. Contact us to get top and skilled team of developers.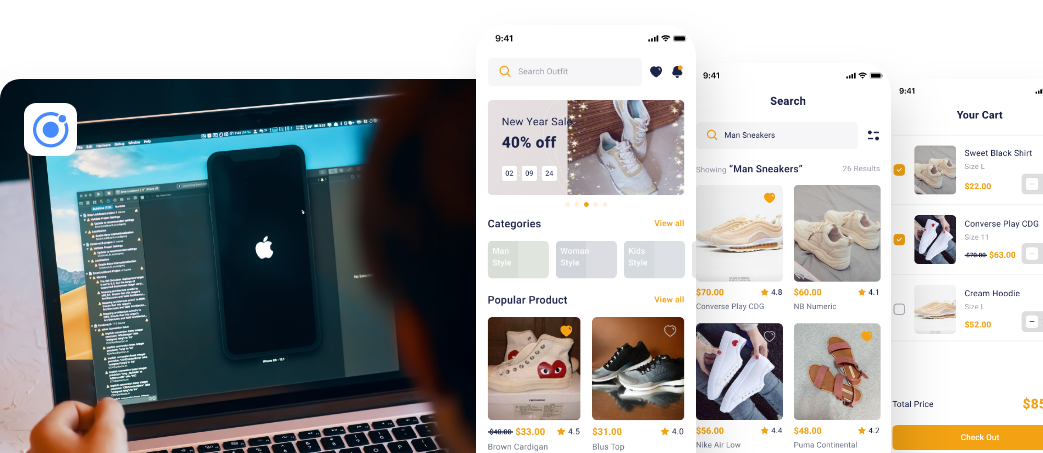 When it comes to enterprise-grade hybrid mobile app development environments, Ionic is among the most popular options. It's a free, open-source software development kit framework. Ionic is a popular framework built on top of JavaScript, HTML5, CSS3, Apache Cordova, and Angular, and it has seen explosive growth in popularity recently. Hire Ionic developers in Victoria, Canada to develop hybrid apps.
Ionic, an open-source framework, has won the hearts of developers and entrepreneurs thanks to its extensive feature set. The members of the Ionic team are steadfast in their commitment to simplifying the process of creating mobile apps for both iOS and Android.
Building cutting-edge web and mobile applications with Ionic is considerably simpler and quicker than with alternative native app development approaches. Learning numerous languages in this way is an asset to any expanding profession.
Features Of Ionic
Completely based on AngularJS
In the world of online and mobile app development, Angular is king. Angular offers several HTML extensions that come in helpful for developers. When you pair Ionic with Angular, you have a wealth of tools for building a beautiful application. Angular JS gives an appropriate solution with the Ionic framework.
The ionic framework allows hundreds of plugins for development. It offers a Cordova plugin that allows designers to give access to diverse components. By integrating these parts, you can give your program some nifty new capabilities. With Ionic, programmers can make use of these add-ons to build the best mobile app possible.
Provide a powerful extension
You are licensed to utilize several plugins and are supported by Ionic to handle complicated business needs. Using these add-ons, you can make your mobile and web app future-proof. You are free to include as many streamlined functions as you see fit.
Platform independent framework
Ionic can give a native-looking experience on any platform. The code is already optimized for mobile web components, so no changes are required there. Ionic's integration with Angular's powerful framework helps to reduce development expenses to a minimum.
Creating mobile apps that run on many operating systems
The many mobile phone options all run on various software platforms. If we are designing a mobile application, it must be compatible with multiple operating systems. With Ionic, developers can build applications with a consistent look and feel across all mobile devices since they all use the same codebase.
Mobile app development is made easier with Ionic's pre-built CSS and JS components. The default design covers most components, but you can add extra functionality to the existing CSS classes as required.
Ionic: Why You Should Use It to Build Your Next App
Creating a mobile application strives to give a unique user experience to clients. The evolution of hybrid mobile apps facilitates the establishment of a solid bond between a brand and its clients and the simplification of operational processes.
Using Ionic to build mobile apps is a cost-effective strategy. You will just need to work on a single hybrid application to deploy your framework on different operating systems. This means you can save money that would have been spent on developing separate applications for each platform.
Ionic applications allow you to improve the quality of service you deliver to your users. How users engage with your apps will determine the effectiveness of your marketing strategies. The abundance of features makes products more enjoyable to use and helps firms attract more clients.
Businesses will certainly succeed if they design an Ionic app to maximize efficiency.
And since the developer can monitor and verify each component using Ionic View, there is no room for error in the app's design. It's a foolproof method for honing programs and getting the best possible outcomes.
Finally, Ionic's hybrid design makes it simple to reach your demographic on their preferred mobile platform. Your application's adoption rate among users will rise, leading to more consumers and more revenue and profits.
Our Ionic Development Solutions
Apps for monitoring sales teams and field workers, including GPS and attendance tracking.
Multiplatform mobile application design and development with a focus on entertainment and multimedia.
Small and medium-sized businesses (SMEs) and multinational corporations (MNCs) alike are increasingly investing in location-based mobile application development.
Design and development of Ionic mobile apps Platforms for electronic commerce that take full use of the features offered by various mobile operating systems.
The Benefits Of Using Ionic In Your Project.
Sleek and offering a great user experience, the Ionic app is a powerful tool for reaching a wide range of business objectives. To sum up, here are the major reasons why you should use Ionic to build your next project.
Available on a wide range of browser-enabled devices.
Development and implementation everywhere.
Native look and feel with a sleek user interface.
Low-cost, open-source development environment.
A plethora of available options and straightforward personalization.
Create Your Ionic App Development With Experts
When it comes to creating Ionic apps, Hyperlink InfoSystem is at the forefront. You can create cross-platform mobile applications with the help of this tool's many capabilities. There is a reduction in development time, effort, and expense for the team.
High-quality, interactive UI apps can be created with a solid understanding of Angular and JavaScript. However, there are moments when its pace and performance fall short of those of more conventional development. Hire Ionic developers in Victoria, Canada for the development of excellent cross-platform apps.
Latest Blogs
Explore the Latest Blogs on Trends and Technology.