Android App Development Company
Get In Touch With A Leading Android App Development Company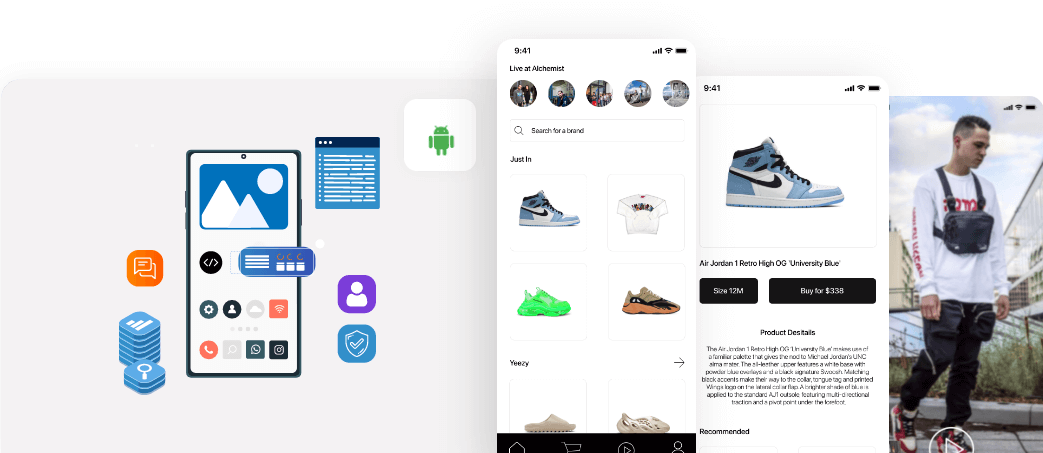 Advantages Of Android App Development
An Open Source Operating System:
This is one of the biggest advantages of the Android operating system. As the source code is open to anyone, developers and device manufacturers can easily access the source code and make necessary changes based on hardware compatibility if needed. This makes the operating system highly customizable and search-oriented. Even Google can take suggestions and comments from developers, testers, and device manufacturers and use those inputs to improve the Android operating system.
Compatibility And A Flexible Offer:
The main reason Android dominates the mobile app market is its ability to perform flawlessly on more devices than its competition. There are more devices compatible with Android apps than devices compatible with iOS apps. The reason is that an Android device is used by more people because of its increased rate of accessibility.
An Efficient Service:
The Android operating system offers the possibility of running multiple applications at the same time. So that you can easily perform many tasks at the same time with Android devices. The App Store concept makes it easier for users to use software ranging from games to office applications without having to travel on the Internet. Not to mention the advantageous ability of this system to synchronize with the phone in cases where devices can be changed. Google Play is also able to detect the type of version of the Android operating system that the device is running, thus retrieving only the apps that are compatible with the device. This benefits the user as there is no wasted time with widespread market research.
Easy And Affordable Application Development:
App development is extremely easy and affordable for Android. You can easily develop your own app and list it on the Play Store without having to pay hefty development costs. App placement is not chargeable and you have the option to develop as many apps as you want and list them on the Android Play Store. There is no limit or restriction on the number of apps you develop and publish to the Android Marketplace. This means that you can save a lot of money and continue to develop your own apps on the Android platform.
Social Media Optimization:
Social media are now an integral part of everyday internet users, famous bloggers, e-commerce site launchers, and any online business. And Android is known to be best suited for developing social media apps. A business mobile app, for example, needs to integrate social media functionality, as it is one of the most influential forms of marketing in recent times.
Develop Android Applications In Canada
If you need a partner for the development of the Android app, you're in the right place. Our Android developers are ready to create the app that best suits your needs! Only in this way can you keep up with innovation and, at the same time, grow your business.
Our working methodology in the development of Android applications foresees continuous support in the design phase, a phase that will be necessary to best realize your idea. Our projects, in fact, always follow a preliminary analysis that precedes the actual development. A phase in which we will take note of all your requests so as to offer you the most suitable and functional technology for your needs. After a market analysis and some tests, we will proceed with the actual app development. All this work is done to ensure the creation of original and innovative applications that are able to give concrete advantages to your business. In short, we offer experience and expertise gained in the field of Android application development, putting it at the service of your projects, following you from the embryonic stage up to the after-release assistance.
The development work on Android can be carried out by various web agencies. But imagine making your Android app the way you imagined it, in the finest detail. A work of personalization that not all realities can guarantee, especially those who limit themselves to doing the work, mostly disinterested in updating their professional skills.
Our passion, on the other hand, leads us day after day to continually update ourselves on the "tools of the trade", to explore new horizons.
A momentum that allows us to provide each customer with a cutting-edge service in app development. In this way, we can provide every business with the technology it deserves.
Features Of Android App Development
Functioning Without Internet Connectivity
Hyperlink InfoSystem can provide you with great Android native and hybrid mobile applications that can function without internet connectivity.
User Feedback
Integrating a feedback mechanism enables us to know how the users feel about the app. This helps us know the aspects to improve on and most importantly, makes the application a success.
Cloud Computing
With this, a single application can be successfully linked with several others in the cloud if needed. This will only make your app more useful since it will have access to greater data and resources.
Payments Integration
We choose the safest and most secure payment platforms to integrate into our mobile applications.
Social Media Integration
The amount of data that is generated on social media is massive. If your business wants to take advantage of this opportunity, we are best suited to provide it for you.
Highly Optimized
Our applications are well-optimized to perform excellently on various Android devices by different manufacturers.
Simple Registration And Login
With our years of experience, we've come to realize that users are opposed to filling out long forms. We create simple forms for registration and login.
Great User Interface
Creating stunning and intuitive user interfaces in mobile apps is a no-brainer. This is one of the major determinants of the success of an application. All the successful applications have easy-to-use user interfaces.
Excellent User Experience
We ensure that users are satisfied with all our apps. That is why we are a leading Android app development company in Canada.
Hyperlink InfoSystem is a top Android app development company that creates all forms of Android apps such as messaging apps, e-commerce apps, social media apps, enterprise apps, on-demand apps and all other forms.
Process We Follow
1. Requirement Gathering
We analyze the requirements with the clients to understand the functionalities to combined into the app. This process allows us to form a development plan and transform the client's thoughts into an efficient and functional app.
2. UI/UX Design
Our developers use efficient UI trends to design apps that are not only pleasant to the eye but also intuitiveness and flexible. Our applications do not only complete the needs of our clients but also are simple and convenient to the end-users.
3. Prototype
We develop a preliminary visualization of what the mobile app would look like. This helps to generate an idea of the appearance and feel of the app, and we examine the users' reactions to the UI and UX designs.
4. Development
Our team of experts in Native, Hybrid, and Cross-Platform app development, using languages such as Swift, Kotlin, PhoneGap, Ionic, Xamarin, and more to produce high-quality mobile apps for the various operating systems.
5. Quality Assurance
We have a team of developers who carefully test every app to ensure that they provide an excellent user experience and meet the requirements of our clients. Apps developed by our development team are bug-free because they perform through a series of experiments before deployment.
6. Deployment
We follow the best practices when deploying our apps on different app stores, where they can be easily noticeable to considered users.
7. Support & Maintenance
All digital solutions need development. The deployment of an app is not the ultimate stage. Even Post-deployment, we work with our clients to offer maintenance and support.
Process We Follow
1. Requirement Gathering
We follow the first and foremost priority of gathering requirements, resources, and information to begin our project.
2. UI/UX Design
We create catchy and charming designs with the latest tools of designing to make it a best user-friendly experience.
3. Prototype
After designing, you will get your prototype, which will be sent ahead for the development process for the product.
4. Development
Development of mobile application/ web/blockchain started using latest tools and technology with transparency.
5. Quality Assurance
Hyperlink values quality and provides 100% bug free application with no compromisation in it.
6. Deployment
After trial and following all processes, your app is ready to launch on the App store or Play Store.
7. Support & Maintenance
Our company offers you all support and the team is always ready to answer every query after deployment.
Latest Blogs
Explore the Latest Blogs on Trends and Technology.