Top AngularJS Developers for Hire In Canada
Hire Angularjs Developers from top Angularjs development company in Toronto, Canada. Hire Now!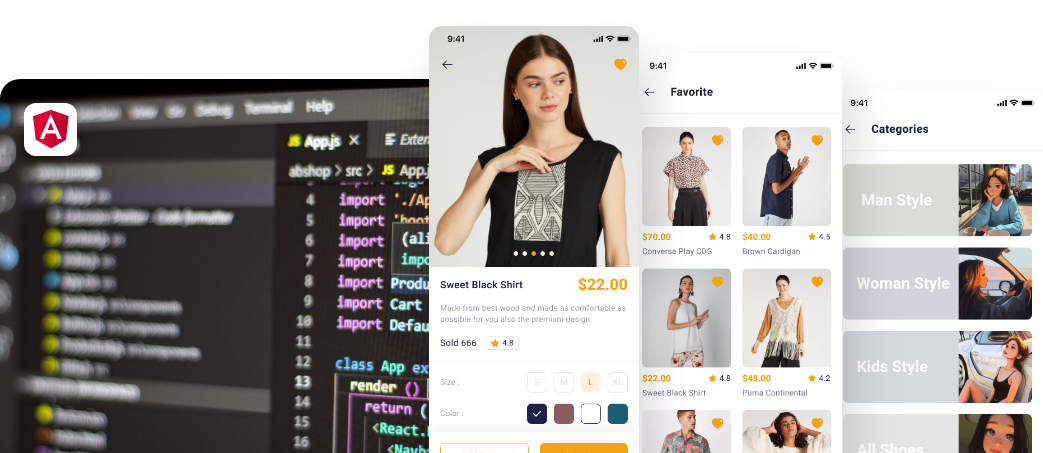 Angular is a free and open-source front-end framework that facilitates the creation of dynamic websites and advanced apps. It has firmly established itself as the preeminent front-end platform. To create robust and time-tested single-page apps, this framework is up to the task. You should expect excellent solutions when you hire AngularJS developers in Calgary, Canada.
Using dependency injection and data binding, Angular reduces the amount of boilerplate code that developers must create. It has wonderful features like bidirectional binding, modularization, templates, AJAX handling, etc., and is often referred to as a SPA.
Angular supports using HTML as a foundation template language, enabling programmers to expand the syntax of HTML to accurately and simply represent application parts in a few of lines of code.
AngularJS Framework is used by many major organizations for website development. These include Upwork, PayPal, and The Guardian, to name a few. Furthermore, several additional organizations employ AngularJS as part of the MEAN Stack.
AngularJS's Unique Features
The following are some of AngularJS's most notable characteristics, which combine to make it a formidable framework.
MVC(Model-View-Controller): The framework is built on the well-known MVC architecture pattern. All contemporary online apps make advantage of this design pattern. The design relies on segmenting the stack into three distinct layers: business logic, data, and display. When things are broken up into their respective parts, they become more manageable.
Write less code: Reduce the amount of JavaScript needed to create an application by using DOM manipulation. However, Angular drastically reduces the amount of code required for DOM manipulation.
Prepared unit tests: Angular's creators at Google have created a testing framework called "Karma" to facilitate the creation of unit tests for AngularJS apps.
Data Model Binding: You can tie data to HTML controls without having to create any custom code using data model binding. Adding a few lines of code is all that's needed for Angular to do this.
Benefits Of AngularJS Development
AngularJS Development is a reliable framework since code can be reused.
If a property is not initialized in Production, Angular provides features like enhanced error handling.
Angular CLI has a low learning curve, is beginner-friendly, and offers cutting-edge testing resources and streamlined command execution.
The TypeScript language is used in Angular, which is a superset of JavaScript.
It's a free and public web application framework.
AngularJS's MVC architecture makes it simple to create complex web apps from the ground up.
The applications work well on both iOS and Android.
It's the quickest method to create complex HTML-based web apps, including Single Page Applications.
With AngularJS, developers can build shortcodesand have access to really helpful tools.
AngularJS's dependency injection and data binding capabilities reduce the need for custom programming.
Angular provides in-built navigation components, form controls, data tables, layouts, and popups that adhere to the material design philosophy.
It is possible to use filters with the Angular JS Extensions.
Contains reusable components.
What TopAngularJS Software Development Must Have
Strategic AngularJS Solutions
With our assistance, you'll be able to take your concept to the next level and finally realize all of your dreams. Our comprehensive AngularJS app development services include a cost-effective strategy for any concept, whether you're a start-up, enterprise, or new firm, rather than making large expenditures in a plan with no direction. Step.
Experts AngularJS Programmers
Every member of our AngularJS development team is up-to-date on the latest industry developments. Together, our AngularJS specialists and your company can guarantee the highest quality web application development to match your specific needs.
Knowledge of AngularJS development is a must.
We want to be one of the top AngularJS development firms by providing a whole spectrum of services related to this cutting-edge JavaScript framework, from e-commerce to interactive social apps and even enterprise-level software. We help you take advantage of the AngularJS framework, which has been used in over a thousand online and mobile app development projects so that you can fulfill all of your unique requirements.
On-time, High-Quality Service
To keep providing reliable AngularJS development services, we verify each stage of a web or mobile app as thoroughly as possible. We provide specialized quality assurance (QA) staff to each project, mostly during development, to guarantee bug-free, high-quality development supported by a pre-release system check that keeps your schedule under tight management.
Contact A Top AngularJS Development Company
As a result of its rapid rise to prominence, AngularJS is now the de facto standard framework for building complex online applications. This is because of the enormous value it provides to programmers. When it comes to AngularJS, Hyperlink InfoSystem is at the top of the industry.
When it comes to developing apps for both internal and external usage, Angular is the preferred framework for several major companies. Contact us to hire top AngularJS developers in Calgary, Canada. Angular is an excellent framework for front-end development, and it is increasingly being utilized for the creation of enterprise-level online applications. It's safe to say that Angular is a web application framework of the future, thanks to its many useful features and wide range of support.
Latest Blogs
Explore the Latest Blogs on Trends and Technology.