Hire Certified Data Scientists in Toronto, Canada
Looking to hire a data scientist? Meet with our development team to hire data scientists in Canada.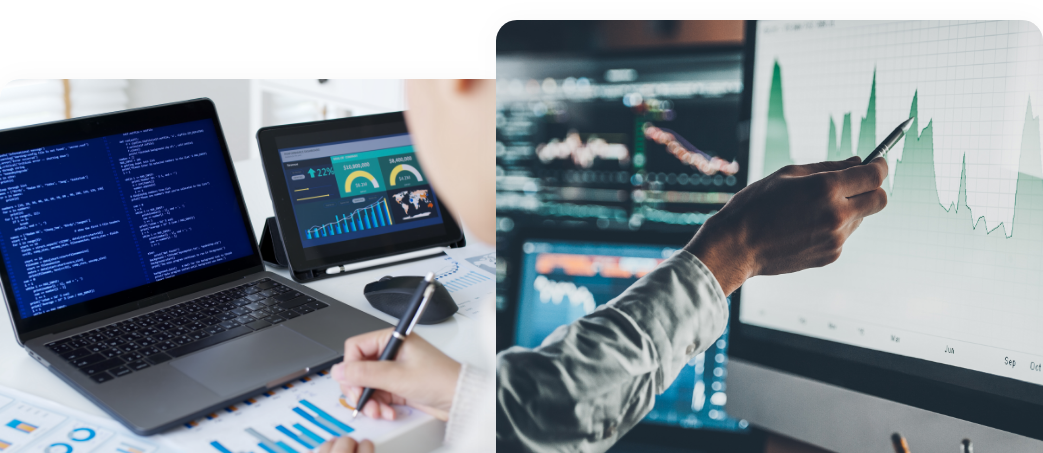 Our data scientists are problem solvers who like the challenge of creating industrialized answers to difficult problems. Data science is difficult because it relies on ever-evolving methods and cutting-edge tools. Our staff remains current on these developments, maintaining a keen eye for the evolving requirements of the company. Meet with our development team to hire data scientists in Canada.
Our Data Science team can assist you in resolving complex issues by using our knowledge of machine learning, our highly experienced and driven data professionals, our innovative collaborative approach, and our "product first" mentality.
Hyperlink InfoSystem uses state-of-the-art big data and business intelligence solutions to assist its customers to get useful insights from a wide variety of real-time, massive datasets. We help businesses bring together large volumes of data from many sources—structured, semi-structured, and unstructured data—into a unified setting where it can be utilized to analyze and anticipate the emergence of new market possibilities.
The Roles And Responsibilities Of Data Scientists
Data scientists and analysts are employed by businesses to compare and contrast internal corporate data with information gathered from the internet.
The organization's strategic and operational decisions will benefit greatly from this data-based cross-referencing. It is the data scientist's responsibility to guarantee:
· A suggested plan for how the necessary changes, outsourcing, or internalization should be made to the data.
· Information storage facility layout.
· A study of the information at hand.
· Action and compensation within the intended system.
Our Concept
Analyze the state of your company and its performance to pinpoint important objectives and upcoming obstacles.
To accomplish predetermined objectives, it is necessary to compile data in a variety of formats from a wide range of sources.
First, you need to determine the overall data quality and then weed out any bad data sets so you can organize the data for analysis.
Create algorithms for data analysis to improve decision-making in business.
Organizational Incorporation
To expand your options, implement analytical algorithms into your production setting.
Verification of the results
Maintain a steady cycle of algorithm evaluation and tweaking based on the results.
Sectors Where We Have a Presence
To save costs and better control energy demand from end users, it is necessary to analyze the massive volumes of data provided by smart meters and grid equipment.
The use of data analytics and predictive analytics to maximize crop yields on working lands and extend the useful life of farm machinery.
Use the data at your disposal to improve building efficiency and anticipate power outages and system breakdowns.
Better traffic management, optimized routes, and fleet performance analysis can be achieved by combining real-time data with historical data and with the assistance of intelligent algorithms.
Productive data processing and advanced analytical technologies are used to provide cutting-edge, data-driven automotive solutions.
Leverage cutting-edge data solutions to fortify financial processes, forestall losses, and computerized support for customers.
Use the hidden knowledge in your data to make more relevant offers, boost your conversion rates, and streamline your back-office processes.
Better engage customers and enhance network services by combining data from call detail records, network equipment, server logs, and other sources.
Data Science Tools
SQL, Python, R, Java, and a slew of open-source initiatives like Hive and TensorFlow are just some of the technologies used by data science teams. Data extraction, cleansing, and algorithmic analysis using statistical and machine learning techniques are only some of the many uses for these instruments. Tools often used in data science include:
Data preparation, machine learning projects, and predictive analytics models are all areas that RapidMiner's data science platform can help teams with.
Matplotlib is a free and open-source Python library that can be used to create many types of visualizations, including those that are animated and interactive.
Microsoft's Excel, a spreadsheet program, is one of the most popular BI tools out there. For smaller data sets, however, Excel can be helpful for data scientists as well.
DataRobot is an automated machine learning platform used to create, deploy, and manage AI Instances.
BigML is a machine learning platform that facilitates the development and distribution of datasets and models.
Kime is an open-source system designed for data analysis, reporting, and integration.
Apache Spark is a unified analytics engine designed to process large datasets. It can be used for data preparation, modeling, and evaluation.
Salesforce has acquired Tableau, a leading data visualization platform.
TensorFlow, an open-source machine-learning package created by Google and distributed under the Apache 2.0 License. TensorFlow is used in the training of deep neural networks.
Hire A Top Data Scientist
Our data scientists have tackled a wide range of difficult problems in fields as diverse as supply chain management and customer service, including the prediction of call volume in call centers, the automation of responses to customer requests, the identification of consumer trends in the realms of beauty and luxury, and the aiding of physicians in the detection of cancer cells in X-rays.
Engineers with strong technical backgroundscan expand their commercial acumen and learn the intricacies of a wide variety of sectors by taking a job with Hyperlink InfoSystem. All of our data scientists work directly with our clients to promote adoption and incorporate business logic into our clever AI products; they are also responsible for creating customized solutions to meet highly specific business difficulties. You can solve the problems with your enterprise-generated data when you hire data scientists in Montreal, Canada by contacting us.
Latest Blogs
Explore the Latest Blogs on Trends and Technology.