Hire Magento Developers in Canada
Content Management For Your E-commerce Website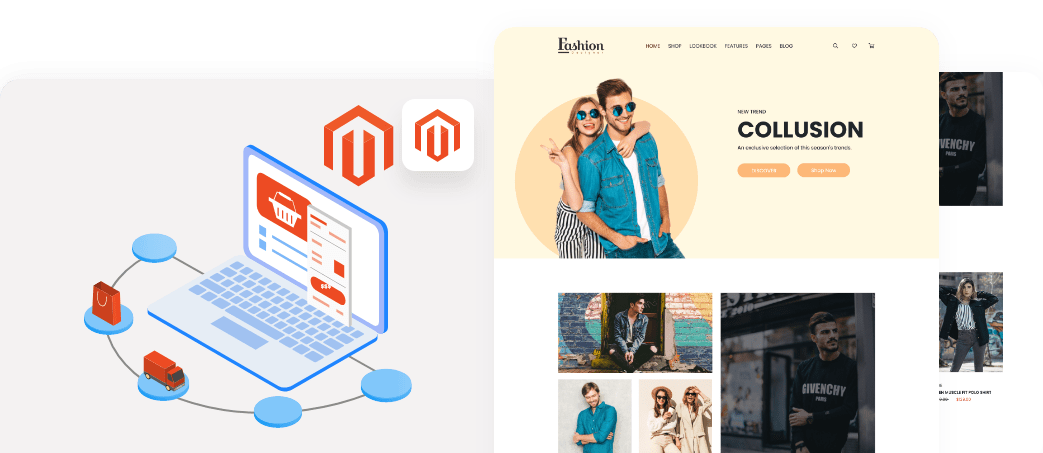 Magento is a content management system specifically for e-commerce. It offers you the possibility of managing your online store, creating categories, sections, products, shopping cart, among other functions.
This e-commerce platform in the cloud, stands out, according to its developers, for how friendly it is in terms of search engine optimization, content management, catalogs, payment processes, inventories, orders, security, loyalty and customer service, among others.
It is characterized by being an open source platform. Its creators did it with the aim of being a software to develop online stores. One of the characteristics of Magento is that it offers you the opportunity to quickly create an online store, optimized, for any type of device.
It has interactive layouts that adapt to the way you want the menu, checkout, images, and other features to be displayed. This regardless of the device on which your e-commerce is visited. One of the advantages that Magento offers you is the possibility of adapting any theme, personalizing it and also offers advantages from SEO. You have the ability to create business accounts, where users can make quick purchases, create catalogs and personalized prices, among other features, which offer the possibility of long-term customer loyalty, based on this content management system.
Magento has great potential, is scalable and has open source for B2C and B2B experiences. Some of the disadvantages that you can find are: it requires hosting and acquiring plugins or extensions for some companies can be expensive, although there are always free options.
One of the best aspects of Magento as a platform for Ecommerce, is that, it has been designed as an application that can be used by someone with little development knowledge. Remember that with an online store, there are many aspects that need to be configured in such a way that how well they are carried out depends on the vision you have for business.
However, when a more personalized functionality is required, it is where a more complex programming is needed, but even so you can find a large number of tutorials and online support to make the correct configuration. Magento is a platform that is easy to install, plus additional designs and plugins can be added. Not only that, the open source technology offers e-commerce solutions that are scalable and flexible.
Just as other e-commerce platforms have limited options for payment methods, quite the opposite happens with Magento. Apart from the typical ones such as PayPal or Virtual POS, this e-commerce platform goes a little further and gives the possibility of executing Google Checkout or placing an order through Amazon.
Hyperlink InfoSystem has a rich portfolio of e-commerce website development. We are a leading agency in Magento development in Canada. Our developers follow the right approach during development. With the important role that technology plays in our life, companies, irrespective of their size should contact us for efficient e-commerce website that is customized to their needs.
Contact Hyperlink InfoSystem to Hire Magento Developers in Canada
Magento is actually a software that has characteristics similar to other e-commerce platforms:
Open-source: it follows the open-source philosophy, which allows access to source files for all who need it.
Free: it costs nothing. You can download and install it on your server or hosting plan without anyone charging you for it.
Multiplatform: it runs perfectly on Linux, Windows and Unix servers where PHP-MySQL is installed.
Multi-language: it offers hundreds of translations so you can have your virtual store in the mother tongue.
Thousands of Templates: it gives you access to thousands of templates to customize the design of your store for free.
Free plugins: it offers free plugins or modules to extend Magento's native functionalities.
Product Management: it allows you to catalog, classify, register, cancel and modify products that you are going to offer in your online store.
User Administration: it allows you to manage the users who manage the administrative portal of the online store.
Customer management: it offers the possibility of managing customers, their data and purchases.
Payment configuration: you can configure your online payment methods (PayPal, Credit Card) and offline (Bank transfer, etc.) according to your convenience.
Shipping tracking: there are many modules that allow you to track the shipment to see its status after purchase.
Stock control: it let you know how many products are left and have your customers notified at all times.
Ratings: it allows users to rate the purchase, the product and leave comments.
Statistics and reports: it includes marketing tools to generate reports of purchases, statistics, products, etc.
Discount Coupons: perfect to encourage purchases by offering juicy discounts, it includes a system for you to configure them easily.
Currency management: it allows you to sell in different types of currencies, as well as manage and apply taxes as you need.
Newsletters: it offers configuration and sending of newsletters to keep your customers informed of all the promotions that exist.
Latest Blogs
Explore the Latest Blogs on Trends and Technology.