CS Cart Development
Create Amazing E-commerce Solutions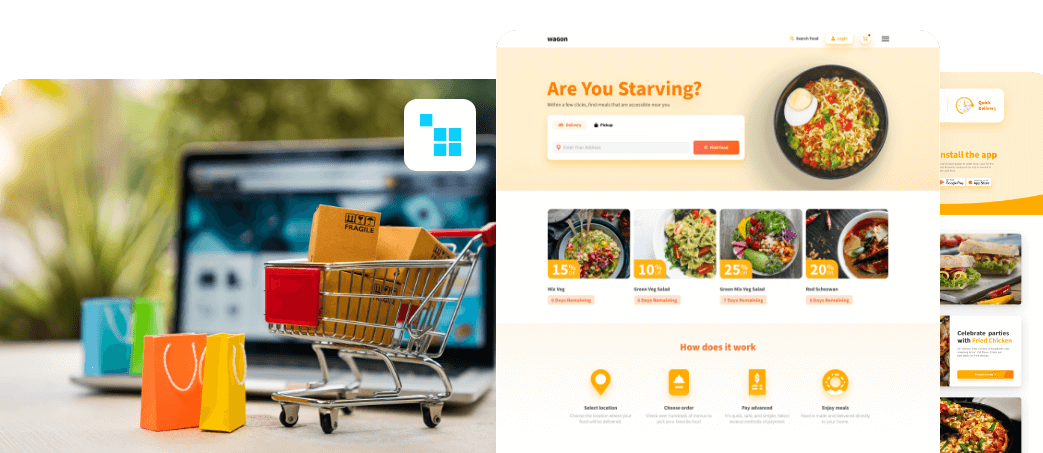 CS Cart is a shopping cart management software for e-commerce. CS Cart helps create websites from scratch. The tool has a control panel equipped with multiple state-of-the-art possibilities for effective store management. CS Cart comes with built-in themes and layout editors that allow you to make sophisticated, personalized and innovative e-shops.
CS Cart Functionalities
Multiple languages and currencies.
Templates and themes for store customization.
Multiple means of payment and shipments.
Marketing and promotion tools.
Features Of CS Cart
CS Cart allows us to create professional web platforms, with multiple functionalities and personalized designs to adapt such websites to the needs of our business. Like any good content manager, a correct configuration is necessary, so that everything works properly and we achieve the objectives that we have set for ourselves with our website, blog, etc.
From this point, we find multiple features that can be advantageous when it comes to positioning our website against the competition. Some of them are:
Content Management
When talking about managing the content of a website in general, CS Cart offers a large number of options when it comes to creating, publishing, organizing, etc. The options for configuring menus and creating pages or sections are extensive. Therefore, it is ideal that with the passage of time we include more and more content. When it comes to managing content, it is also worth noting how easy it is to carry out any task, even for inexperienced users.
Learning Process
Learning to use CS Cart is quite simple. It has standard templates and functionalities, which allow you to design a website from scratch and learn intuitively over time. In general, the standardization of these elements makes it a CMS with a very stable code.
Configuration Options
In addition to all these standard elements and features that apply to the entire website, CS Cart has several options for making individualized settings to create different pages within site. In this sense, you can use different templates within the platform and create different spaces with designs according to the content you have created.
Users Management
Those online businesses that need to create different types of access, be it for members of the work team or client areas, find in CS Cart the perfect solution. This functionality comes standard, integrated into the core of CS Cart and allows you practically unlimited customization so that you can create the access levels that are necessary.
Hyperlink InfoSystem Is A Leading CS Cart Development Company In Canada
Based in Canada, Hyperlink Infosystem is a leading I.T. solutions provider that specializes in CS Cart development. Our team is made of experienced developers who have undertaken tons of CS Cart development projects. We combine our creativity, experience, and attention to detail to make your project a success. We follow the best methods in developing, delivering, and sustaining complex web solutions. The whole team is at your disposal to advise you and guide you as best as possible towards solutions adapted to your needs.
What Are We Different?
Relying On Research
Our analysts conduct market and product research. We choose the best solutions and offer our own. We agree with the client, and then we develop the solution. After the launch, we do not abandon the client, but rather, we continue to support the app.
We Create Quality Code
High-quality code can be maintained for a long time and painlessly. Hyperlink InfoSysytem, have a framework that enables our clients to save on code support, implementation of new features, and adaptation to new technologies.
We Test All Scenarios
We have fans of their craft who will not be able to fall asleep if there is not enough pixel in the corner of one screen in the application. We kill all bugs, test all scenarios. Our QA department will give an answer to any question in the format: "What happens if ...". To do this, they write special guides and checklists.
Understanding The Complex Scenario
We know how to do technically complex projects: services that interact with sensors and devices. With over eight years of experience developing mobile apps for small and medium enterprises as well as large organizations, we have developed app across multiple industries of varying complexities and functionalities.
Always In Touch
We care. We keep the client informed of the process: we agree on the documentation and layouts, include in all tasks, and give access to the bug tracker. We do not have situations when a manager has gone on vacation, and the customer does not understand what is happening on the project.
Develop Top Mobile App With Hyperlink InfoSystem
Hyperlink InfoSystem works hard on building mobile apps using the latest UX and UI industry trends and best practices, creating MVPs for startups, and delivering thoroughly tested and ready-to-launch mobile apps for iOS and Android. We turn your vision and ambitious ideas into a mobile application that makes a difference. We have a solid strategy, impressive design, and excellent user experience.
At Hyperlink InfoSystem, we help you deliver innovative and technically complex application projects, using the latest web and mobile application development technologies.
We have been developing applications, both web, and mobile and for wearables, for more than eight years, working with hundreds of small and medium-sized businesses and large enterprises in various sectors. We would love to hear how we can help you.
We have many years of experience in mobile application development in Canada, creating applications that allow new business models or improve existing ones. We support you in identifying the best solution based on your requirements and cost limitations, and we will provide you with a free estimate quickly.
Process We Follow
1. Requirement Gathering
We analyze the requirements with the clients to understand the functionalities to combined into the app. This process allows us to form a development plan and transform the client's thoughts into an efficient and functional app.
2. UI/UX Design
Our developers use efficient UI trends to design apps that are not only pleasant to the eye but also intuitiveness and flexible. Our applications do not only complete the needs of our clients but also are simple and convenient to the end-users.
3. Prototype
We develop a preliminary visualization of what the mobile app would look like. This helps to generate an idea of the appearance and feel of the app, and we examine the users' reactions to the UI and UX designs.
4. Development
Our team of experts in Native, Hybrid, and Cross-Platform app development, using languages such as Swift, Kotlin, PhoneGap, Ionic, Xamarin, and more to produce high-quality mobile apps for the various operating systems.
5. Quality Assurance
We have a team of developers who carefully test every app to ensure that they provide an excellent user experience and meet the requirements of our clients. Apps developed by our development team are bug-free because they perform through a series of experiments before deployment.
6. Deployment
We follow the best practices when deploying our apps on different app stores, where they can be easily noticeable to considered users.
7. Support & Maintenance
All digital solutions need development. The deployment of an app is not the ultimate stage. Even Post-deployment, we work with our clients to offer maintenance and support.
Process We Follow
1. Requirement Gathering
We follow the first and foremost priority of gathering requirements, resources, and information to begin our project.
2. UI/UX Design
We create catchy and charming designs with the latest tools of designing to make it a best user-friendly experience.
3. Prototype
After designing, you will get your prototype, which will be sent ahead for the development process for the product.
4. Development
Development of mobile application/ web/blockchain started using latest tools and technology with transparency.
5. Quality Assurance
Hyperlink values quality and provides 100% bug free application with no compromisation in it.
6. Deployment
After trial and following all processes, your app is ready to launch on the App store or Play Store.
7. Support & Maintenance
Our company offers you all support and the team is always ready to answer every query after deployment.
Latest Blogs
Explore the Latest Blogs on Trends and Technology.