Hire Software Developers
Hyperlink InfoSystem is the software development company, Hire software developers in Canada today.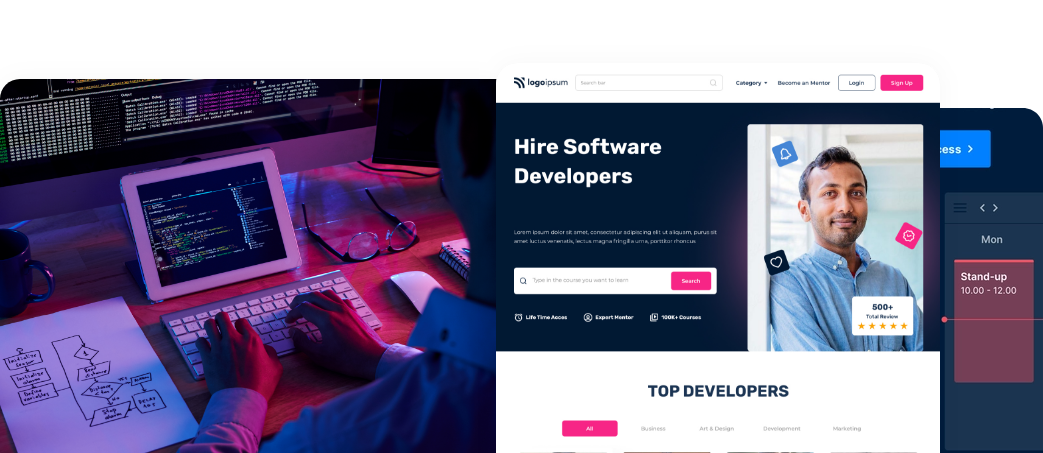 Hire Dedicated Software Developers
Whether you're a well-established multinational or a fledgling start-up, the strength of your brand rests on the excellence of your digital offerings.The appropriate professionals working on the right goods are essential to preserving and enhancing this excellence. Hyperlink InfoSystem is a leading software development firm. When it comes to technical know-how, we have the versatility and experience you need for your projects. Hire dedicated software developers in Canada by contacting us.
Individual software development might make it challenging to strike a balance between quality, originality, and cost. We have spent many years managing projects and developing custom software solutions, and now we focus only on improving upon pre-existing setups using tailored interfaces.
Benefits Of Hiring Software Developers
If you want your firm to expand quickly, you need to ensure that all of your business apps use the same data and workflows. Significant financial savings and enhanced corporate efficiency are only two of the many advantages of such a layout.
An integrated system helps speed up the introduction of new locations, markets, product lines, and sales channels by standardizing ordering and accounting procedures.The ability to upsell and cross-sell to existing customers is bolstered by increased openness.
The ability to change and create new solutions
Regular business users may leverage their functional knowledge to swiftly execute process improvements that enhance processes and apps' performance. As a result, IT is free to concentrate on key projects and new ideas that will benefit the company.
Effectiveness in all areas of the company's processes
You may save money on labor costs and free up employees for more valuable work by automating routine tasks like order management, fulfillment, invoicing, collections, expenditure approvals, and financial consolidation.
Significantly enhanced overall perspective
The ability to make well-informed judgments quickly depends on having access to accurate information in real-time. Employees are better able to make quick, well-informed choices when they have instantaneous access to information from almost anywhere, without spending time or effort extracting data from disparate sources and compiling it into a single cohesive whole.
Savings in Both IT Time and Money
Costs are decreased across the board and IT is freed up to focus on other initiatives, including company expansion and process optimization, when it no longer has to spend time and money on acquiring, installing, maintaining, and integrating different systems.
Why You Should Hire Software Developers For Your Business
Send us your fully-formed technical idea for your next project, and we'll have it available for you to use in only 24 hours.
If you don't know how much it will cost to create, we can assist you to decide the best technical approach to get the desired features and results.
You can count on our assistance if you've decided that an agile development methodology is the best fit for your project.
We can provide you with the best of both worlds thanks to our internally managed agile approach, which allows us to exactly calculate and estimate the forthcoming stages of the project.
Do the words "agile fixed price" seem contradictory to you? It need not be that way!Our unique agile fixed-price technique safeguards time-to-market targets and budget constraints while removing the possibility of "white elephant" projects. Send us an email if you're curious.
Here Are A Few Of The Development Tools We Use
Trying to find a robust and feature-rich text editor? Do Atom. Windows, macOS, and Linux, among others, all support it. Almost any configuration may be made without editing any files.
Through its customizable autocomplete functionality, it facilitates rapid and efficient coding. Because of its minimalist design, Atom's UI makes it easy to see all of your open projects at once.
Expression Studio is a fantastic resource if you're a developer who has trouble with design. It's a high-quality design program that lets you do anything you want with your creations.
Get the most out of your imagination with Expression Web + SuperPreview, Expression Blend, SketchFlow, Expression Encoder Pro, and Expression Design. Expression Studio is well-liked because of its ability to rapidly prototype and design workflow and user interfaces that are both adaptable and intuitive.
When it comes to PHP programming, CodeLobster is a must-have. There are several helpful tools built right in, such as an intelligent autocomplete function, an HTML inspector, DOM components, code highlighting, etc. In addition to WordPress, Drupal, Joomla, and Magento, CodeLobster also works with many more CMS options. General, it simplifies PHP programming.
Cloud9 is a cloud-based IDE that lets you create, execute, and debug your code from any web browser. Numerous widely used programming languages, including C, C++, PHP, Ruby, Perl, Python, JavaScript, and Node.js, are supported.
You may clone your whole development environment and make use of the built-in terminal to execute commands on Cloud9. As well to the usual suspects like clever auto-completion and a robust debugger, it provides a wide variety of Runners for developers to choose from, including Ruby, Python, and PHP/Apache.
Reasons To Hire Dedicated Software Developers Team From Hyperlink InfoSystem
When compared to alternatives, bespoke software solutions are often less expensive since they don't need adjustments to a standard design. Last but not least, bespoke software may be easily upgraded and altered to meet the evolving requirements of a business. All of these factors highlight the importance of taking into account the needs of the company itself when making IT choices.
Numerous company owners fail to see the many advantages of investing in bespoke software. The custom technology at Hyperlink InfoSystem allows us to learn about your company's inner workings and develop robust programs that serve your every demand. By doing this, we can improve the effectiveness of our operations, reduce the amount of time spent on manual data input, boost the accessibility of vital data across departments, and restrict access to private information only to those who need it. Hire software developers to get ahead of your competitors.
Frequently Asked Questions
The software developers will work only for you to deliver outstanding results with the highest optimization. The team of software developers at Hyperlink InfoSystem offers ample benefits like flexibility, cost-effectiveness, higher output, special skill sets and various others.
Hyperlink InfoSystem offers a very simple process to hire software developers. Just provide project details and the technical expertise you need. The team of dedicated software developers will begin working on your project based on your selection.
Yes, with a minimal development charge; you can test the technical and development skills of the dedicated software developers before making a final move.
Yes, If you know the task to get done from the dedicated software developer, then you can hire dedicated software developers on an hourly or project/task base.
The cost estimation for dedicated software developers varies based on various factors such as development team size, hiring model, the complexity of the web development, the type of solution, features and functionalities and many more.
Latest Blogs
Explore the Latest Blogs on Trends and Technology.