Custom Software Development Company In Canada
Are you looking for a top software development company in Canada? Hire dedicated software developers in canada. Contact Us!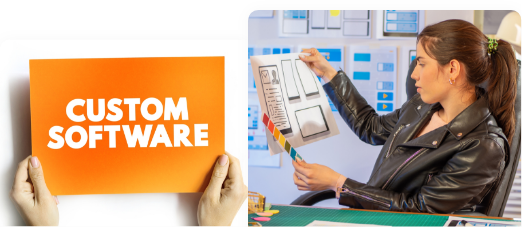 Customized software is a piece of digital assistance that has been developed according to the client's requirements, taking into consideration the client's unique qualities. Companies and organizations develop tailor-made software since it is their customers that handle the bulk of the data. Hyperlink InfoSystem is a leading custom software development company in Ottawa, Canada.
Customized software for project and financial management is a valuable asset for many public and international agencies. In that manner, they will be in charge of their business and can potentially boost all aspects of it.
Steps To Developing Excellent Software
Following these steps, we'll design a unique app just for you.
As a result, we can provide you with the most accurate estimate possible for your bespoke development by zeroing in on the specific issues you want to address via systematization.
We will draft a schedule and scope of work along with a budget based on the needs we originally identified.
Increasing productivity through planning the system's layout and UI, as well as dividing up team responsibilities.
Development With Agile Methodology
We started working in cycles called "sprints" to create jobs and features with a defined timeline and regular testing.
Implementation of 3 Work Environments
Three stages: development (timeline), pre-production (customer reviews and approves the version), and production (live user in the client's AWS account).
Approval Of Processes By The Client
In case your software's development, scope, or design needs tweaking, you will be in constant touch with the project's "product owner."
Any post-release problem fixes are on the house. Furthermore, specialized maintenance services might be contracted.
Custom Software Features
Custom software orders are developed after careful consideration of each company's unique requirements and industry. In certain niches of business, off-the-shelf applications already exist, and with a little tweaking, they may serve your organization just fine. Standardized computer assistance, however, can occasionally lead to more issues than it solves. This is the case when the customer chooses to have something made just for them.
The following are some considerations to make before outsourcing software development:
It's a custom-made solution for your computer. This product must be perfect in every way for the business.
High levels of optimization can be expected since unnecessary steps will be cut out.
Its deployment can be staggered over time.
It can change as quickly as the business does. As the company's future unfolds, we can choose to expand or contract specific characteristics.
Advantages of Custom Software
Businesses can't grow without first automating their management procedures using computers. Many more businesses, however, wonder, "How can we achieve this?" and "What is our best course of action?" To accomplish this, it is necessary to understand the benefits of individualized software:
It's beneficial to the company as a whole since it anticipates potential issues and offers tailored solutions.
Adjustments can be made without too much hassle. Combines well with the expansion of the firm.
It develops over time. The software engineers are the ones who will be in charge of briefing our workers on how to use the system properly.
It works well with the client's existing technical setups.
Since they are tailor-made, they can easily accommodate the unique needs of your business.
Why You Should Work With Us As A Bespoke Software Development Firms
The availability of a comprehensive user manual and comprehensive program instruction.
Customizable service plan availability.
Support for incorporating third-party apps, databases, and services as required.
Password protection and access based on user roles.
Constant guidance and alterations are provided.
An iterative process that allows us to react swiftly to your feedback.
Ability to expand the system as needed.
A user interface that is both intuitive and straightforward.
Talk To The Best Tailor-Made Software Development Firm
Does the software or online application you use fail to satisfy the unique demands of your organization or is there no technical instrument to computerize your processes? If so, we can assist you in promoting your concept or organization via digital transformation by developing a unique application using cloud technology that precisely fulfills your requirements.This is how you can effectively take charge of the most important processes or systems in your organization and move toward your goals.
Put your business plan into action or resolve your management issues. As a software development firm, we can provide advice and carry out bespoke development that is better suited to your business's operations by using the industry's most cutting-edge development processes and languages.
Our years of practice have allowed us to hone our processes to the point where we can advise customers on the optimal strategy and tailor-make solutions for each project. We are a leading custom software development company in Ottawa, Canada.
Hourly
For short-term project or need a specialized service, hire our skilled UI/UX Designers on an hourly basis.
Hire Now
We sign NDA for all our projects.
Monthly
For rather precise, limited budget, less time and long-term partnership, consider a source of UI/UX Designers on a monthly basis.
Hire Now
We sign NDA for all our projects.
Quarterly
If you need constant support or guidance and expecting your target audience and project requirements may change then hire UI/UX Designers on a quarterly basis.
Hire Now
We sign NDA for all our projects.
Process We Follow
1. Requirement Gathering
We analyze the requirements with the clients to understand the functionalities to combined into the app. This process allows us to form a development plan and transform the client's thoughts into an efficient and functional app.
2. UI/UX Design
Our developers use efficient UI trends to design apps that are not only pleasant to the eye but also intuitiveness and flexible. Our applications do not only complete the needs of our clients but also are simple and convenient to the end-users.
3. Prototype
We develop a preliminary visualization of what the mobile app would look like. This helps to generate an idea of the appearance and feel of the app, and we examine the users' reactions to the UI and UX designs.
4. Development
Our team of experts in Native, Hybrid, and Cross-Platform app development, using languages such as Swift, Kotlin, PhoneGap, Ionic, Xamarin, and more to produce high-quality mobile apps for the various operating systems.
5. Quality Assurance
We have a team of developers who carefully test every app to ensure that they provide an excellent user experience and meet the requirements of our clients. Apps developed by our development team are bug-free because they perform through a series of experiments before deployment.
6. Deployment
We follow the best practices when deploying our apps on different app stores, where they can be easily noticeable to considered users.
7. Support & Maintenance
All digital solutions need development. The deployment of an app is not the ultimate stage. Even Post-deployment, we work with our clients to offer maintenance and support.
Process We Follow
1. Requirement Gathering
We follow the first and foremost priority of gathering requirements, resources, and information to begin our project.
2. UI/UX Design
We create catchy and charming designs with the latest tools of designing to make it a best user-friendly experience.
3. Prototype
After designing, you will get your prototype, which will be sent ahead for the development process for the product.
4. Development
Development of mobile application/ web/blockchain started using latest tools and technology with transparency.
5. Quality Assurance
Hyperlink values quality and provides 100% bug free application with no compromisation in it.
6. Deployment
After trial and following all processes, your app is ready to launch on the App store or Play Store.
7. Support & Maintenance
Our company offers you all support and the team is always ready to answer every query after deployment.
Latest Blogs
Explore the Latest Blogs on Trends and Technology.