Hire Joomla Developers in Canada
Hire Dedicated Joomla Developers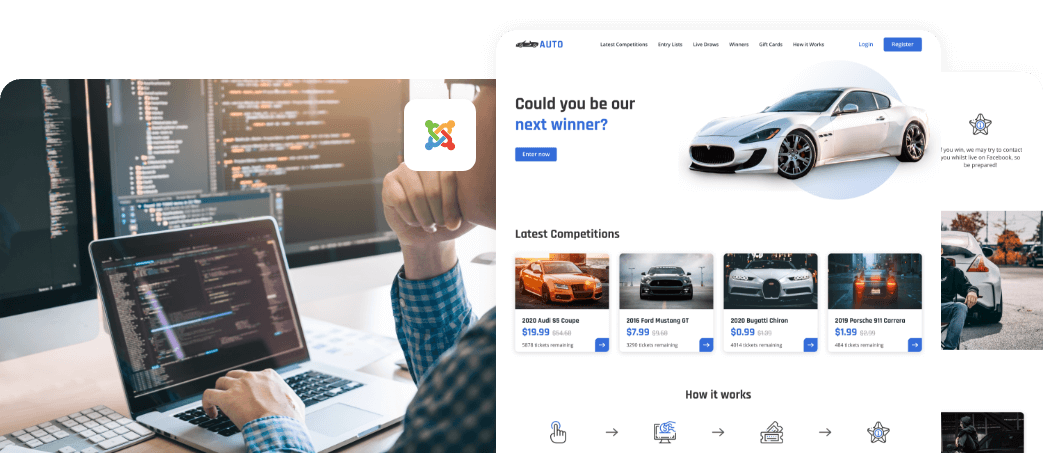 Joomla is a web page content manager developed by an international community of creative and expert programmers who contribute to the development of one of the best open source software for building web pages.
This CMS has won many awards and ranks No. 2 in the ranking of the most used content managers in the world, with millions of downloads. The platform serves to build, organize, manage and publish content on the web, and is used by small and medium-sized companies, governments, non-profit organizations and large organizations to the world!
Its versatility stands out, as it is an excellent option both for small entrepreneurs, local companies, bloggers who want to take a serious presence on the Internet, as well as for large companies that require a robust, secure web application with specific functionalities.
Joomla is programmed in PHP (Hypertext Pre Processor) and SQL (Structured Query Language). For its correct operation, it uses relational databases, specifically MySQL. Both PHP and MySql are open source programs: a software development model based on open collaboration. It focuses more on the practical benefits (access to source code) than on the ethical or freedom issues that are so prominent in free software. For many, the term "free" refers to the fact of acquiring software for free, but more than that, freedom refers to being able to modify the source code of the program without license restrictions, as many software companies lock up their code, hiding it, and restricting the rights to themselves.
Based on this same open-source philosophy, we can also affirm that Joomla will run better in datacenters whose platforms are Linux / Unix and whose HTTP servers are Apache. With this, we are not going to say that Joomla does not work on Windows platforms with IIS servers (Internet Information Server, from Microsoft), but that it does so with all its power and functionality on Unix / Apache platforms.
Hyperlink InfoSystem is a top Joomla development company in Canada. We develop an understanding of the goal of the web project, the problems it solves, its core functionalities, and what the customer's business and future users expect. We do this through an in-depth, fundamental analysis of your business.
When talking about managing the content of a website in general, Joomla offers a large number of options when it comes to creating, publishing, organizing, etc. The options for configuring menus and creating pages or sections are extensive. Therefore, it is ideal that with the passage of time, we include more and more content. When it comes to managing content, it is also worth noting how easy it is to carry out any task, even for inexperienced users.
Joomla Features
Joomla is equipped with excellent features compared to other CMS. Some of which are:
The Great Flexibility
Extendable definitions of any content and their structuring make it possible to create very different applications, from company presentations to completely individual information systems.
Strongly Suited For Community Sites
Due to the sophisticated rights system and the various functions for communication between users, Joomla is ideally suited for sites with social interaction (Web 2.0).
A particular strength are the particularly adaptable modeling options for user groups, authorizations and assigned content. In addition to its own functionality, Joomla has excellent options for seamless integration of all common social network services.
Powerful CMS - Framework
The framework creates modules that are compatible with one another and enables flexible, individual extensions. Data, business logic and presentation level are neatly separated from one another. Individual extensions fit seamlessly into the overall system.
Multilingualism
Joomla makes it possible to provide all content and administration menus in multiple languages. The structure and links are retained, different automatic assignments of web addresses (URLs) to languages are possible - unlike other systems in which content has to be copied and practically the entire structure has to be maintained several times.
High Security
Joomla achieves a recognized high level of security. For example, Joomla is approved as a platform for government websites. Among other things, websites of governments and websites of large companies with high user traffic were created worldwide with Joomla.
Scalability
This is another advantage of using Joomla over WordPress. Currently, Joomla is compatible with the most active sites globally, such as Twitter, The Economist, or Weather. Its scalability allows it to be able to handle regular traffic spikes or a large volume of visitors. Joomla offers plenty of configuration options and enables short response times even for very large websites.
Strong Developer Community
Joomla is supported by a uniquely active and large developer community that is second to none. This makes Joomla particularly innovative and powerful when it comes to new solutions and the support of standards. Joomla is free software, without any restrictions in use. There is no cost to purchase, use, or maintain the generally available software.
Hire Dedicated Joomla Developers in Canada
Friendly And Knowledgeable Development Management Staff
It is important to bear in mind that the mobile applications that can have the most impact on the market are mobile applications developed by people who understand each other very well in such a way that the projects do not have problems or delays. They usually have a great connection and very good communication.
An Interdisciplinary Working Group
Many of the great mobile applications that have been developed to date have been the result of the integration of a group of leading experts in each of their categories. Keep in mind that a group of developers and programmers is not enough. It is also important to get the opinion of market researchers, marketing men to evaluate the market experience, industrial engineers to help you determine the best processes, among others.
We Have Experience In Programming And Development Languages
We have a robust programming or custom software development team specialized in the development of mobile applications led by an important team of Marketing professionals who will be in charge of making your mobile application with a good rating in usability and user experience, in addition to being able to become a viral success.
Latest Blogs
Explore the Latest Blogs on Trends and Technology.