Ethereum App Development
The Crypto-currency Platforming That Breaks All Transactions Processes' Barriers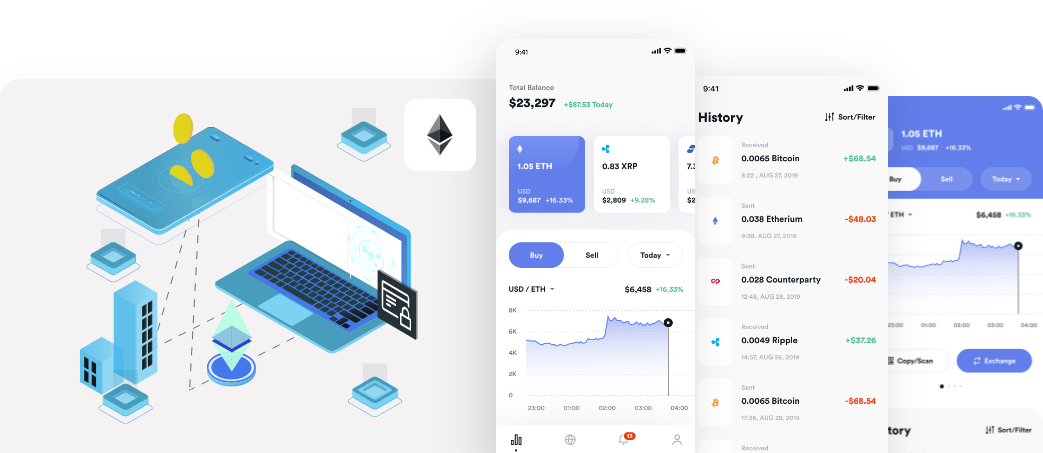 Ethereum is a network, like Bitcoin, created to support its own cryptocurrency, called Ether. Ethereum exist in a decentralized database, such as the blockchain. The possibility of creating smart contracts is what differentiate Ethereum from Bitcoin.
Advantages Of Ethereum
In essence, the advantages of Ether, with respect to traditional currencies, are very similar to those of any other cryptocurrency. In this sense, they are very similar to those of Bitcoin. Some of which are:
They are not controlled by any central government, so they cannot control their value.
They are more difficult to counterfeit than the currencies we use.
The absence of intermediaries when making transactions or payments makes it cheaper.
Open source system like Bitcoin, which enables improvements.
On the other hand, there are also quite a few differences between Bitcoin and Ether, of which we can highlight:
There is no limit of Ethers, unlike Bitcoin that will have a maximum of 21 million units.
The time of the transactions of Ethereum is much faster than that of Bitcoins, with the possibility of executing operations in a matter of seconds instead of minutes.
Smart contracts integrated on the same Ethereum platform without the need for any external software.
Top Ethereum App Development Company In Canada
Hyperlink InfoSystem works hard on building Ethereum apps using the latest UX and UI industry trends and best practices, creating MVPs for startups, and delivering thoroughly tested and ready-to-launch Ethereum apps. We turn your vision and ambitious ideas into an application that makes a difference. We have a solid strategy, impressive design, and excellent user experience.
At Hyperlink InfoSystem, we help you deliver innovative and technically complex application projects, using the latest development technologies. We have been developing applications, both web, and mobile and for wearables, for more than eight years, working with hundreds of small and medium-sized businesses and large enterprises in various sectors. We would love to hear how we can help you.
We have many years of experience in mobile application development in Canada, creating applications that allow new business models or improve existing ones. We support you in identifying the best solution based on your requirements and cost limitations, and we will provide you with a free estimate quickly.
Features Of Ethereum:
Global platform: it refers to a system or "Internet place" that only exists in the virtual world, that is, behind a screen. It is global because it is available to any country or territory that can access the Internet.
Open source: we are not talking about a kind of password, but about computer code. This is the set of instructions that computer systems are built with. In other words, it's the numbers behind the internet or your favorite apps that make everything work the way it's supposed to. Now, when someone says that the code of a software is "open", it means that any programmer can get their hands on it. This "public permission" on software is granted with the aim of creating a worldwide group of professionals to improve it.
Decentralized Applications: Behind the apps that we install on our mobile devices or software on computers, there are companies or a group of developers who control it, make it work well or censor / close your account when they don't like something. Well, when it is stated that an app is "decentralized" (DApp), it is implied that such a thing does not exist: there is no company or authority behind it controlling everything, and also the system (physical and digital) is distributed among many parts.
Digital value: an ambiguous term but, if we trust the context, it refers to digital "monetary" value. In other words, digital currencies. Ethereum has its own cryptocurrency, ether (ETH), which is used to "pay" internally for services, and any other token based on its platform can also be created.
"Exactly as programmed" - There doesn't seem to be much to explain around here, but we have to say that smart contracts are subtly referenced by this phrase. These are electronic algorithms that are configured to fulfill a previously established agreement between two or more parties. Once the conditions are met, a digital task or automatic transaction runs. If there is a bug in them, the truth is that the fault lies with the developer.
Benefits Of Mobile Apps
The only drawback of the mobile app is that the services of app builders are not cheap. But with a well-thought-out professional approach, it quickly pays off and has significant advantages over even an adapted or responsive website. Let's take a closer look at the benefits of applications.
Ideal For Smartphones
If you have ever tried to access a store's website from your smartphone, you immediately noticed how inconvenient it is to use it—tiny print, pages that do not fit the screen. You have to zoom in and move the page, getting lost with the necessary details now and then. The mobile application is fully adapted to the smartphone screen size - this is the main advantage of the application for the client. Moreover, only a mobile device allows some application functions (for example, push notifications, calls, geolocation) to work.
Marketing Channel
More than 50% of Internet users use it via mobile devices. And if a person installs your application on his smartphone, he is interested in buying your goods. That is, having a mobile application, you work only with the target audience. Now your client always has your application icon on the desktop. There is one click left before the purchase.
Communication With The Client 24/7
The application has constant access to the client. Personalized push notifications can be used to keep in touch with a potential customer. The main thing is the right quantity of messages you push. Notifications must be essential and useful.
Process We Follow
1. Requirement Gathering
We analyze the requirements with the clients to understand the functionalities to combined into the app. This process allows us to form a development plan and transform the client's thoughts into an efficient and functional app.
2. UI/UX Design
Our developers use efficient UI trends to design apps that are not only pleasant to the eye but also intuitiveness and flexible. Our applications do not only complete the needs of our clients but also are simple and convenient to the end-users.
3. Prototype
We develop a preliminary visualization of what the mobile app would look like. This helps to generate an idea of the appearance and feel of the app, and we examine the users' reactions to the UI and UX designs.
4. Development
Our team of experts in Native, Hybrid, and Cross-Platform app development, using languages such as Swift, Kotlin, PhoneGap, Ionic, Xamarin, and more to produce high-quality mobile apps for the various operating systems.
5. Quality Assurance
We have a team of developers who carefully test every app to ensure that they provide an excellent user experience and meet the requirements of our clients. Apps developed by our development team are bug-free because they perform through a series of experiments before deployment.
6. Deployment
We follow the best practices when deploying our apps on different app stores, where they can be easily noticeable to considered users.
7. Support & Maintenance
All digital solutions need development. The deployment of an app is not the ultimate stage. Even Post-deployment, we work with our clients to offer maintenance and support.
Process We Follow
1. Requirement Gathering
We follow the first and foremost priority of gathering requirements, resources, and information to begin our project.
2. UI/UX Design
We create catchy and charming designs with the latest tools of designing to make it a best user-friendly experience.
3. Prototype
After designing, you will get your prototype, which will be sent ahead for the development process for the product.
4. Development
Development of mobile application/ web/blockchain started using latest tools and technology with transparency.
5. Quality Assurance
Hyperlink values quality and provides 100% bug free application with no compromisation in it.
6. Deployment
After trial and following all processes, your app is ready to launch on the App store or Play Store.
7. Support & Maintenance
Our company offers you all support and the team is always ready to answer every query after deployment.
Latest Blogs
Explore the Latest Blogs on Trends and Technology.