Hybrid App Development Company
Best Hybrid app development company in Canada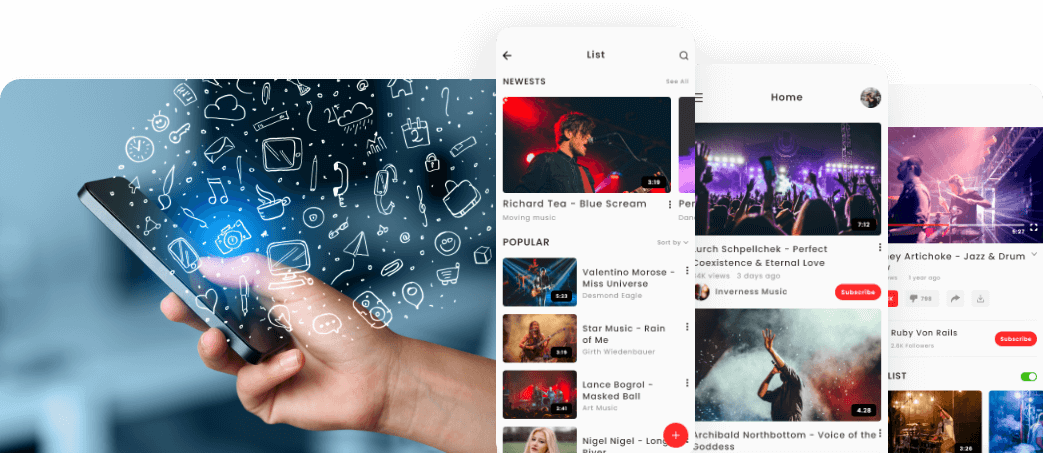 A hybrid app - as the name suggests ? is a combination of two app forms; namely the native app and the web app. Users need to understand the types of apps that merge together to form a hybrid app.�
A Native app is developed with the help of tools and languages ??that are supported by appropriate platforms (XCode and Objective C for iOS apps, Eclipse, Android Studio and Java for Android, Visual Studio and C # for Windows). Native apps then only run on the corresponding target platforms.
Web apps (also HTML5 apps) are cross-platform applications that usually run in the browser. Web apps can be used on all platforms, as every modern smartphone has an internet browser. Due to the widespread use of HTML5, the boundary between web apps and ?normal? mobile websites is now almost blurred.
What Exactly Is A Hybrid App?
As already mentioned, a hybrid app is a combination of both pure forms and at the same time an attempt to combine the best of both worlds. Hybrid apps are based on web technologies such as HTML5, CSS, JavaScript, but run in a WebView container. They are therefore packaged as native apps and can therefore also access native APIs and functions from the operating system.
Hybrid apps are particularly suitable for app providers if you want to reach as many users as possible, but also if you want to take advantage of the mobile platforms and the device hardware so that, data is also available offline.
Applications of Hybrid App
Hybrid apps are used, among other things, in e-commerce, as they reach and serve a large number of customers. Being up to date also plays an important role, because certain offers and push notifications have to reach customers as quickly as possible.
Hybrid apps are also used in mobile business or mobile marketing. Geo-location, controlling, fast synchronization with the company's own CRM system, the publication of current, customer-specific news with offline access or linking your own calendar with your own app so that no events are missed are just a few of the options Use of hybrid apps.
Advantages of Hybrid Apps
Platform-independent development: Like a web app, a hybrid app only needs to be programmed once and not individually developed for each operating system (Android, iOS, Windows). This means that hybrid apps can be installed and used on all operating systems, which means that a large number of potential users can be reached. In addition, a platform-independent development guarantees rapid implementation and thus a quick release of your app.
Low costs: The platform-independent programming saves work, time and money. This is a big plus, especially for small and medium-sized companies with a lower budget.
Free frameworks: If you have a hybrid app developed internally in your company, there are a number of free frameworks available to you. The best known are React Native and Ionic.
Native functions: Thanks to the native code of the WebView container, a hybrid app can access almost the entire hardware of a mobile device. This means that various sensors, GPS, cameras and microphones can be used without complications.
Offline availability: Like native apps, hybrid apps do not require an internet connection to be able to be used, which is otherwise a major disadvantage of web apps. This means that users can access the hybrid app at any time, which significantly increases usability.
Installation & accessibility: Hybrid apps can be downloaded from the various app stores from Google, Apple and Co. The application can then be called up via an icon on the start screen of a mobile device, which means that the user can remember the application and use it more frequently.
Hybrid App Technologies
Hybrid apps run in the browser, which is why they are also developed in the associated programming languages. This includes HTML5, CSS3 and JavaScript, which are also known as the languages ??of the web. As with a web app, HTML5 is responsible for the structure and content of the hybrid app. Various stylesheets are created in CSS3, which define how certain components should be displayed in the app. In short: CSS3 is responsible for the creation and design of a hybrid app.
Various interfaces (APIs) are programmed with the hardware of the system using JavaScript. This enables access to GPS, camera, microphone and various sensors in the smartphone. Developing in the languages ??of the web is a great advantage for many app agencies, as web developers already have a lot of experience in programming with HTML5, CSS3 and JavaScript. In addition to these programming languages, frameworks are often used, with which parts of the code can be written natively. This allows Operating system-specific functions such as double tapping or other finger gestures can be integrated into the hybrid app. These frameworks are not provided by Google or Apple, but are created by third parties. The most popular frameworks for creating hybrid apps are currently Ionic and React Native.
Develop Excellent Hybrid Apps With Hyperlink InfoSystem in Canada
Hybrid apps - or cross-platform apps - are digital applications that work with a basic code on both operating systems (iOS and Android). For a long time, this was not possible and apps had to be developed specifically for one or the other operating system. With developer platforms such as Flutter or React Native, developers now have the opportunity to develop hybrid apps that offer an almost native user experience. As an app agency with a focus on native app development, our developers at Hyperlink InfoSystem can assist you with the development of excellent Hybrid mobile apps in Toronto, Canada.
Process We Follow
1. Requirement Gathering
We analyze the requirements with the clients to understand the functionalities to combined into the app. This process allows us to form a development plan and transform the client's thoughts into an efficient and functional app.
2. UI/UX Design
Our developers use efficient UI trends to design apps that are not only pleasant to the eye but also intuitiveness and flexible. Our applications do not only complete the needs of our clients but also are simple and convenient to the end-users.
3. Prototype
We develop a preliminary visualization of what the mobile app would look like. This helps to generate an idea of the appearance and feel of the app, and we examine the users' reactions to the UI and UX designs.
4. Development
Our team of experts in Native, Hybrid, and Cross-Platform app development, using languages such as Swift, Kotlin, PhoneGap, Ionic, Xamarin, and more to produce high-quality mobile apps for the various operating systems.
5. Quality Assurance
We have a team of developers who carefully test every app to ensure that they provide an excellent user experience and meet the requirements of our clients. Apps developed by our development team are bug-free because they perform through a series of experiments before deployment.
6. Deployment
We follow the best practices when deploying our apps on different app stores, where they can be easily noticeable to considered users.
7. Support & Maintenance
All digital solutions need development. The deployment of an app is not the ultimate stage. Even Post-deployment, we work with our clients to offer maintenance and support.
Process We Follow
1. Requirement Gathering
We follow the first and foremost priority of gathering requirements, resources, and information to begin our project.
2. UI/UX Design
We create catchy and charming designs with the latest tools of designing to make it a best user-friendly experience.
3. Prototype
After designing, you will get your prototype, which will be sent ahead for the development process for the product.
4. Development
Development of mobile application/ web/blockchain started using latest tools and technology with transparency.
5. Quality Assurance
Hyperlink values quality and provides 100% bug free application with no compromisation in it.
6. Deployment
After trial and following all processes, your app is ready to launch on the App store or Play Store.
7. Support & Maintenance
Our company offers you all support and the team is always ready to answer every query after deployment.
Latest Blogs
Explore the Latest Blogs on Trends and Technology.