Hire IoT Solution Architect Developers in Toronto, Canada
hire iot solution architect developers in toronto, canada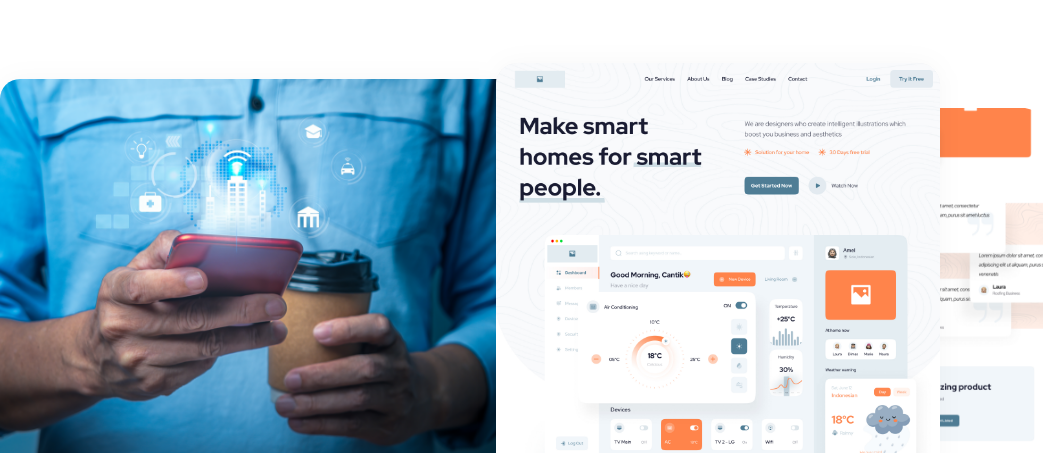 Due to the many benefits that the IoTcan provide, it is quickly rising to prominence in the corporate world. In the IoT, all devices are equipped with intelligent sensors that continuously record their data. In addition, you can command all of these gadgets from anywhere you have an internet connection when you hire IoT Solution Architects in Canada.
We have skilled architects on staff that specialize in building solutions that make use of IoT technology and have received extensive training in this area. The Internet of Things (IoT) solution architect collaborates with the IoT developers, sales team, and customers to design the optimal solution, complete with the necessary functionality and user interface (UI).
The IoT solution architects of Hyperlink InfoSystem are true visionaries, capable of taking any fuzzy concept and turning it into a workable IoT application. As they are engaged at every stage of the process, from initial concept through final deployment and beyond, they can see the full picture.
The architects that work on our Internet of Things (IoT) solutions have extensive experience with data analytics, app administration, consulting, automation, and the design of new IoT products. Our IoT solution architects use their extensive knowledge to keep your development time and costs low.
The Benefits Of Interconnecting Devices Through The Web
Convenient access to data: The knowledge we learn from the IoT about our gadgets will help us improve our decision-making.
Increased productivity and efficiency because Internet-connected devices can be operated with more ease and convenience and in less time than was previously required to do the same work manually. As a direct result, our output will improve.
The Internet of Things helps us save money by warning us before costly infrastructure problems occur, allowing us to schedule maintenance and repairs before they become critical.
One of the features of the Internet of Things is automation, made possible by the system's inherent intelligence. This eliminates the need for manual labor in many situations.
Tools That Allow for the Internet of Things
To begin, the term "Internet of Things" (IoT) refers to the interconnected network of devices, computers, and other physical items that include sensors, software, and other technologies to share information. They might be as simple as common home items or as complex as high-tech machinery. For the IoT to exist, several technologies are required.
To better characterize, forecast, and capitalize on correlations between events, artificial intelligence provides the analytical tools necessary to do so.
Increased behavior: these are tools and methods developed to increase people's propensity to follow medical orders.
Sensors are a kind of equipment that can convert an external physical stimulus into an electrical signal.
Networks are a means through which a signal can be sent.
Norms refer to the precepts or regulations that must be adhered to for a system to function properly.
IoT has risen to prominence as one of the most useful resources of the last few years because of these innovations. Physical items can now communicate and gather data with minimum human involvement, allowing digital systems to track, manage, and fine-tune all interactions between linked devices.
Our IoT Architect Services
To ensure the safety of IoT assets, an IoT solution architect designs and implements several open platform architectures with full end-to-end connectivity and a multi-tenant architecture.
End-to-end System Integration
The IoT solution architects handle all the system connections, including the integration of SMS, maps, emails, and billing engines in addition to CRM and online content and ERP systems.
Our IoT solution architects are subject matter experts in their respective verticals; they create end-device apps that are cross-platform friendly, allow for simple data import/export, and are optimized via iterative refinement.
IoT Consulting & Solution Development
The architect of our Internet of Things solution gathers and analyzes requirements. The IoT solution architect is in charge of issue statement formulation, consulting for product/service improvement, and business process modeling.
The IoT solution architect at Hyperlink InfoSystem oversees the development of hardware products, making sure they are completed on schedule and using a solid design flow that is guaranteed to prevent any design flaws.
What Makes a Good Internet of Things Architect
Knowledge of CSS and HTML.
The IoT is an existing platform that can aid in the interoperability of devices and is used to create websites, which are typically developed using HTML and CSS.
Understand How To Utilize Data And Analytics.
An IoT solutions architect's ability to examine and evaluate data is crucial for finding business solutions and developing appropriate responses.
Be Proficient in Application Development.
By creating M2M apps, machines can automatically exchange data with one another. Knowing how to build apps, especially M2M apps, is essential. Learning how information travels from one device to another is also crucial.
Recognize The Variety of Available Business Options.
It will be necessary for firms to tailor their approach to finding the best possible way to realize their mission. The architect's ability to align firm goals with appropriate solutions is crucial. Architects' ability to learn from their past projects grows as they work in the field.
Possess Strong Coding Skills.
It is extremely recommended that architects have experience with Java and Python so that they can work on the back end to develop solutions.
Hire A Leading IoT Solution Architect
Working with an IT firm like Hyperlink InfoSystem can ensure that the Internet of Things is implemented properly and that the resulting benefits are realized by the business. Hire IoT architects in Ottawa,Canada who understands intelligent platforms and end-to-end encryption systems.
Hyperlink InfoSystem is an industry-leading technology firm with a dedicated staff that can advise you on how to best integrate the Internet of Things (IoT) into your business operations.
Latest Blogs
Explore the Latest Blogs on Trends and Technology.