Hire Frontend Developers in Canada
Best frontend development company in Toronto, Canada. Hire Dedicated frontend developers in canada.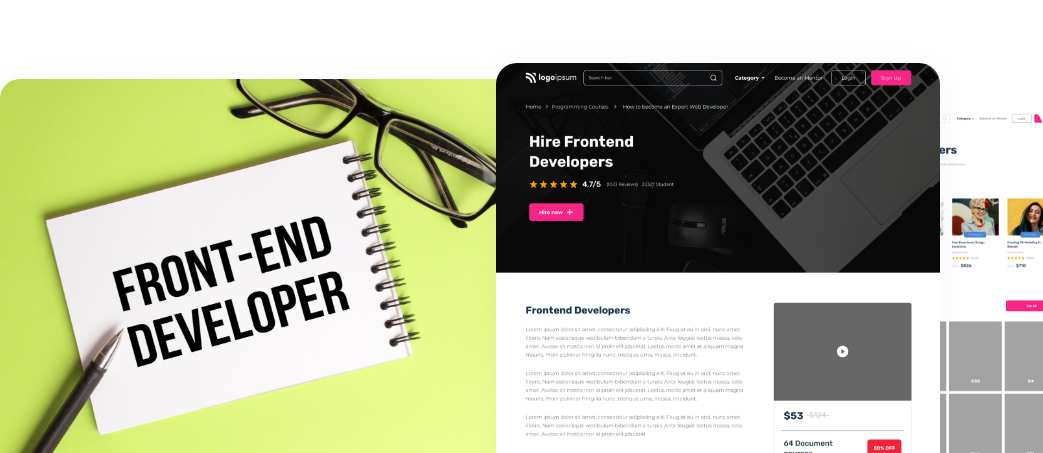 At Hyperlink InfoSystem, "front-developers" are responsible for the user interface and the coding behind the scenes. Our front-end developers build features for end users using a wide variety of languages, frameworks, and design tools. Our front-end developers are both technically smart and imaginative, and they collaborate well with our design and back-end teams. When we work together, we prioritize the user's needs, bring the design to life, and create reliable online apps. Hyperlink InfoSystem has a highly inspired group of front-end developers on staff. Exceptional front-end development skills and strict adherence to coding standards are hallmarks of the work of our software developers. We can guarantee flawless functionality and scalability for your web app.
By entrusting your front-end development to our experienced team, you can save time and money, get ahead of the curve, get access to top talent, and concentrate on more strategic endeavors. Hire front-end developers in Victoria, Canada to develop an excellent interface for your solution.
We work hard and do our jobs well. We are well-versed in the most cutting-edge tools and techniques, and we employ expert designers and programmers. Get your project off the ground with the help of our top-notch front-end developers.
Skills That A Front-End Developer Should Have
A front-end developer's skill set isn't complete unless they can construct a website. To ensure that the client's desired visual outcomes are realized throughout the design process, fluency in many programming languages is required.
The following are all necessary abilities for a frontend developer to have:
Be familiar with techniques for enhancing the load time and scalability of websites and software.
Possess a working familiarity with JavaScript, HTML, and Cascading Style Sheets.
To enhance the web's usability, listen to the opinions of customers, site visitors, and employees.
Collaborate with the mobile app and web backend developers to enhance the app's usability.
Publish your programs and libraries for others to use.
Model and prototype platforms, branding, and business visuals to a high standard.
Always keep an eye on how well an app or website is doing, to catch any bugs and make sure it's running as smoothly as possible.
Write instructions and records detailing functional prerequisites.
Create functional mockups of the user interface and user experience.
Front-End Web Development And The Technologies We Use
Many programmers see HTML as an inferior version of more mature languages. This couldn't be farther from the truth. Though it may not get as much attention as some other front-end languages or JS frameworks, HTML is the foundation of any website you're familiar with. It is impossible to take use of the advantages of more advanced tools and solutions without first laying the groundwork using HTML. You may think of it as the brick that is used to define the layout of a website's static pages.
The appearance of HTML components in a web browser can be styled using a language called Cascading Style Sheets. To discuss the visual appearance of a website or application, we must first discuss styles, and if we discuss styles, we must discuss CSS. A modular,easy-to-integrate CSSsolution that works in tandem with HTML and JavaScript, with several independent styles rather than one big .css file.
Now more than ever, JavaScript is synonymous with front-end programming. The possibilities it opens up are mind-blowing. JavaScript is the "magic" behind the scenes when you click a button or input information into web forms. Websites and web applications written with JavaScript are not only dynamic, adaptable, and user-friendly, but they also function as intended. No matter whatever browser you use, JavaScript will get the job done, which should increase client happiness.
Front-end developers employ a variety of frameworks like Angular to make the most of JavaScript's strengths while developing applications. Front-end solutions that are responsive, dynamic, resilient, and scalable can be developed with the help of Angular. Google introduced it, and it has shown to be quite effective, particularly for bigger IT projects. Whether you're looking for lightning-fast performance for RESTful activities, the ability to apply dependency injection strategies, or the capability to create dynamic dashboards, Angular is a fantastic front-end solution.
Vue has only been around for a short time, yet it has already become a popular option when it comes to JavaScript frameworks. For starters, it has a very straightforward syntax and is hence quite accessible. Vue.js applications are second to none in terms of speed, robustness, versatility, and performance, and this is due in large part to the framework's excellent documentation and design.
To manage the display layer of their projects, developers often turn to ReactJS, an open-source JavaScript toolkit. Small, self-contained chunks of code are utilized to construct larger solutions, and React makes it simple to design such reusable User Interface components. Moreover, Reactcan be used to create feature-rich web applications that don't need a full page refresh every time data is exchanged. With ReactJS, user interfaces can be minimalistic while yet being highly performant and extensible.
Get Help From A Top-Rated Front-End Development Company
The Hyperlink InfoSystem team has extensive expertise in front-end development, allowing us to carry out the necessary tasks at any step of a project's life cycle. When it comes to front-end services, we have extensive expertise in creating user-centric online and mobile apps that increase return on investment.
If you want a flawless final product, tailoring your framework choice to your development and design objectives is essential. Because of our familiarity with all of them, we can choose the framework that will provide the most benefit to your project in terms of performance, scalability, and optimization. When we get your specifications, we'll talk to you about the technology that will power your app or website most effectively and why it's the best option. Hire front-end developers in Canada by contacting us at Hyperlink InfoSystem.
Latest Blogs
Explore the Latest Blogs on Trends and Technology.