Hire Backend Developers in Canada
Best backend development company in Toronto, Canada. Hire Dedicated backend developers in Canada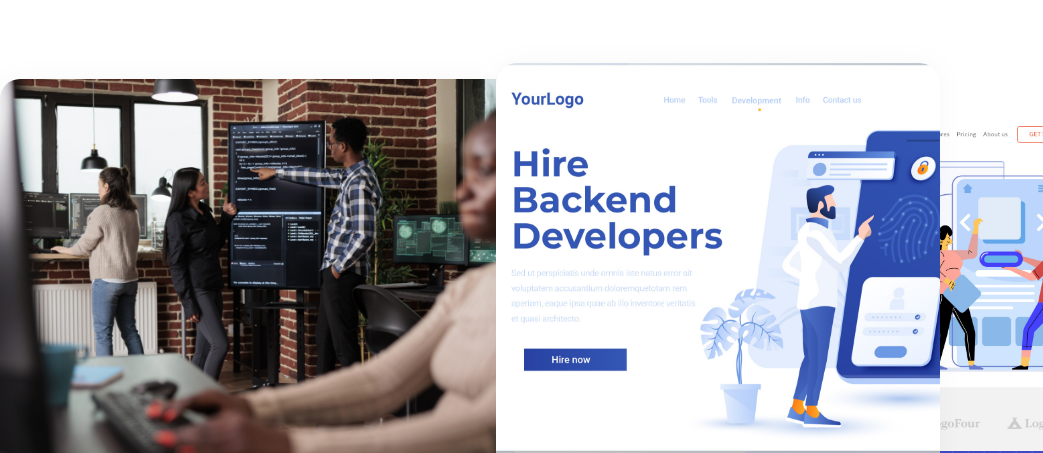 These days, it's unusual to build a mobile or web app without some kind of backend that handles things like content management. Our customers must have access to control the content of their application, make changes to content, administer various features of the database, etc. You will attract more users when you hire backend developers in Canada to assist you with excellent solutions that your competitors do not possess.
Hyperlink InfoSystem's rich background in Backend development allows us to provide each client with an individually designed and highly scalable solution.
Since all of the backends we design are web-based, our customers will be able to handle anything they need, when they need it. This implies that you can make changes to your content or perform the desired action inside your app from any location having access to your platform.
Important Aspects of Backend Programming
100% based on feedback from users and original design
Secure login with personal information shielded by a password
There is a built-in safeguarding system to ensure the safety of your data.
Access to databases from the cloud
Maintenance of indexes and databases
Filtering tools for locating certain types of content in a database
Data can be imported and exported in the specified formats.
Database-accessible CRUD forms
Multiple user types, if necessary
Access granted by the user
Since everything we create is tailor-made, the number of possible uses is almost endless. Since this is the case, all you have to do is ask, and we'll come up with something perfect for you.
Programming Languages Employed in the Backend
There are many different languages available to programmers. This is conditional on requirements or issue solving. When it comes to back-end development, there are specialized languages for certain coding needs. In truth, the world of computer programming is ever-changing, with new languages appearing and existing ones receiving enhancements.
The following are examples of languages often used for server-side programming:
The technology behind Python emerged from several predecessor languages. Python's format is straightforward, it uses few keywords, and the syntax is well stated. Learning how to utilize this software is quite efficient, making it perfect for people who are just starting in the field of backend programming.
Python's many features include but are not limited to, a high-level data structure, numerous modules, dynamic typing, dynamic binding, object-based programming, code, and the organization of code into modules and packages. Its creators have made it simple to read and keep up to date.
As a result of its simplicity and speed in comparison to competing frameworks, it quickly emerges as a top choice among developers. It's quickly risen to prominence, attracting users from Pinterest, Mozilla, and other prominent applications.
This syntax was designed to run in JavaScript back when it was the only environment where it could be used. The JavaScript language and the V8 runtime that Google created for Chrome can be used with NodeJS. At present, it can function as a standalone program on computers of its own.
With Node.js, the back-end developer can handle both asynchronous and real-time connections to the client. Now that it has this capability, Node.js is the best tool for the job when it comes to developing scalable and fast online applications that need real-time resource management.
When a database object or proxy (for certain operations) is required, a chat, data streaming, queued inputs, or other similar feature is desired, Node JS is often the language of choice.
Because of its memorable name, it is one of the most popular. Java is an object-oriented language. As a result, the code only has to be written once for the programmer to use it across several platforms. It's worth mentioning a few of Java's capabilities:
Its robust features are based on C and C++, two widely used programming languages.
It enables you to create applications where data is intrinsically related to processes.
It gives you access to a library and certain programming resources.
The program is hardware agnostic and will function on any computer.
It's reliable and secure.
One software can do a variety of functions.
Increases efficiency and effectiveness.
Our Back End Development Process
Send Your Project Requirements
We begin with a thorough examination of your organization's technical specifications and its overall objectives. You can email us a job description if you need to recruit a certain back-end developer.
Our software engineers provide time and effort estimates. Through our outstaffing services, we can carefully match the most qualified candidates with the specific needs of your project.
We then advise you on the best method of involvement. The decision is up to you, taking into account the scope, duration, and other aspects of the project.
We'll start the design and development process as soon as you've settled on the best prospects. You are more than welcome to keep an eye on things, delegate responsibility, and make modifications as you see fit.
As soon as your solution is complete, our Q&A team will do thorough testing to ensure that all issues have been fixed. We also provide post-production maintenance services.
Hire A Backend Developer
Backend developers are crucial to have on your team, but they need to be working at peak efficiency to accomplish everything the backend does. It's crucial and required for success in the workplace.
Be aware that your web app won't function correctly until the necessary backend functionality has been developed. Furthermore, both frontend and backend development is crucial when creating a web-based or desktop application. Hire backend developers in Toronto, Canada to assist you with the development of bespoke solutions.
Latest Blogs
Explore the Latest Blogs on Trends and Technology.