Top Mobile App Development Company in Canada
Get out-of-the-box mobile app development services as per your custom requirements.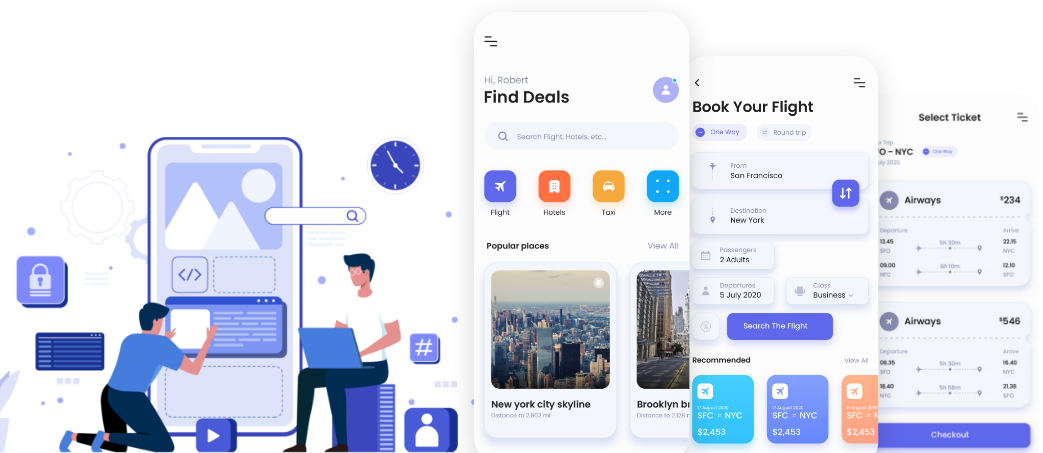 Why Choose Custom Mobile App Development?
Mobile app development is for sure days essential for every size business whether it could be a start-up, mid-size business, or enterprise-size company. We, as a custom mobile app development company in Toronto can give top-notch standard mobile application solutions of any class. We have worked with various brands, associations, new companies, and people to make strong applications from extraordinary ideas.
Custom mobile applications are intended to fulfill customized client needs, make a remarkable client experience, and carry out extraordinary mobile app design. They give the best presentation, security, better flexibility, and adaptability. With our custom mobile application development, you can understand phenomenal business thoughts, add new capacities with every cycle, develop complex applications to address extraordinary end users' issues, address market difficulties, and stand apart from the opposition.
Our experienced team of mobile app developers has an exceptional ability for making applications for various operating systems like iOS, Android, and cross-stage arrangements in Flutter, React Native, and Ionic. Being one of the best mobile app development companies in Canada, we have mastery in giving Full-range mobile app development solutions that can meet your business prerequisites.
Full-Range Mobile App Development Services
We understand your difficulties across business processes and perceive your organization's values. Being one of the best mobile app development companies in Toronto, our aim is to rejuvenate your thoughts through our full-range mobile application development services integrated with our broad industry experience that covers a wide exhibit of enterprises with a global client base, prevalent in the entire Canada. Our full -range of mobile application development services include:
The quantity of individuals who own Android devices is developing year over year. You positively need to offer your one-of-a-kind solutions for this wide client base! We develop Android mobile applications for every Android operating system device utilizing the Java and Kotlin programming languages and Google's own development tools and rules.
Do you know what, it is a universal fact that Apple users show higher brand loyalty than Android users. An iOS application will surely pay off! Mobile app developers at Hyperlink InfoSystem offer end-to-end iOS app development services including app development services to after-sale services and port your current Android application to iOS. We utilize Swift and Objective-C to develop our top-of-the-line iOS applications.
Don't want to provide different mobile applications for iOS and Android? You can get cross-platform mobile app development services that can work in diverse environments thanks to a unique blend of native and web app development technologies.
Flutter app development helps the app developers to develop beautiful mobile applications for iOS and Android from a single code base. Our mobile app developers utilize their skills to develop super responsive mobile app solutions that can deliver perfect usability to your end-users.
We are experts in providing cross-platform mobile applications that work well on every operating system whether it could be iOS or Android using one single codebase. Code written in React Native is an operating system skeptic, yet mobile applications written in React feel very much like native applications written in Java or Swift. mobile applications built using React Native work at-most speed for both iOS and Android operating systems.
To use the advantages of dividing the normal code between the platforms, We use Kotlin. Kotlin is an app development language completely compatible with all Java-based frameworks to get the maximum outcome of Android app development. As one of the top app development companies in Canada, we assess your business needs and suggest you the app test platform for your Android application, which is practical, adaptable, simple to keep up with, and guarantees application security.
We have the aptitude to develop an ionic mobile application that can fulfill all your cross-platform mobile application development along with native mobile app experience requirements in probably the most remarkable framework known to the world of app developers.
Empower Your Business With a Reliable Mobile Application
Mobile applications release valuable open doors for business that couldn't be generally gotten or subbed with various other solutions. mobile applications are as of now not a choice — they are an unquestionable necessity.
1) Find new procurement and income channels
Cell phones are responsible for generally 50% of all site traffic and online shopping. It is one of the best revenue generation models for most businesses out there.
2) Understand clients' expectations and enhance the user experience
The sole purpose of the mobile application is intended to make the target audience's lives simpler, more advantageous, and fun by providing best-in-class services that refer to your business.
3) Broden the target audience base and customer retention
Mobile applications empower instant communications with the target audience and take customized user experience to a higher level.
4) Get the accurate customers behavior insights
Mobile applications provide accurate user analytics that can help to design the next marketing tactics and enhance sales outcomes.
Mobile App Development Process At Hyperlink InfoSystem
To guarantee product virtue, accelerate time-to-market, work on designers' efficiency and save costs, we stick to the accompanying phases of a mobile application development process.
In the first stage of the app development process, our app developers help businesses to decide on functional and non-functional necessities, competitor analysis, make client personas, characterize technology specifications, and define objectives and KPIs to quantify achievement.
In this stage, our app development team gets the clarification of mobile application prerequisites, UX planning, mockup endorsement, UI plan and endorsement, formation of style guides, interactive application model, and expectations for mobile app developers.
The development stage includes the determination of application architecture, technology selection for the back-end, frameworks, libraries, and ready-made solutions, design and development of API, API integration, database modeling, and integration of CI/CD.
Our QA team will check every aspect of the mobile application including successive layered testing of significant efficacy, advantageous usefulness, and formats of the mobile app. Along with that, we will carefully check the user-friendliness of the mobile app, testing the security, ease of use, and execution testing, including high load and stress testing.
Release and After Sale support
The final stage includes the successful submission of the mobile application to the Apple App Store and Google Play, upgrading the mobile application based on user feedback to extend the app functionalities, and fixing the bugs that users have experienced while using the mobile application to enhance the user experience.
Why Choose Hyperlink InfoSystem?
For more than a decade, the app developers of Hyperlink InfoSystem have been developing high-performing, feature-rich mobile applications for businesses around the globe. Being one of the best mobile application development companies, Hyperlink InfoSystem can make accurate iOS and Android mobile applications that will meet all your business and industry requirements.
Reach out to our mobile application developers in Canada to get end-to-end app development support for mobile application design, development, and integration services. No matter what app idea you have whether it could be a customer-centric or extraordinary enterprise app solution, our app developers are efficient enough to drive the whole mobile application development process from ideation and idea to delivery, and after-sale support.
Process We Follow
1. Requirement Gathering
We analyze the requirements with the clients to understand the functionalities to combined into the app. This process allows us to form a development plan and transform the client's thoughts into an efficient and functional app.
2. UI/UX Design
Our developers use efficient UI trends to design apps that are not only pleasant to the eye but also intuitiveness and flexible. Our applications do not only complete the needs of our clients but also are simple and convenient to the end-users.
3. Prototype
We develop a preliminary visualization of what the mobile app would look like. This helps to generate an idea of the appearance and feel of the app, and we examine the users' reactions to the UI and UX designs.
4. Development
Our team of experts in Native, Hybrid, and Cross-Platform app development, using languages such as Swift, Kotlin, PhoneGap, Ionic, Xamarin, and more to produce high-quality mobile apps for the various operating systems.
5. Quality Assurance
We have a team of developers who carefully test every app to ensure that they provide an excellent user experience and meet the requirements of our clients. Apps developed by our development team are bug-free because they perform through a series of experiments before deployment.
6. Deployment
We follow the best practices when deploying our apps on different app stores, where they can be easily noticeable to considered users.
7. Support & Maintenance
All digital solutions need development. The deployment of an app is not the ultimate stage. Even Post-deployment, we work with our clients to offer maintenance and support.
Process We Follow
1. Requirement Gathering
We follow the first and foremost priority of gathering requirements, resources, and information to begin our project.
2. UI/UX Design
We create catchy and charming designs with the latest tools of designing to make it a best user-friendly experience.
3. Prototype
After designing, you will get your prototype, which will be sent ahead for the development process for the product.
4. Development
Development of mobile application/ web/blockchain started using latest tools and technology with transparency.
5. Quality Assurance
Hyperlink values quality and provides 100% bug free application with no compromisation in it.
6. Deployment
After trial and following all processes, your app is ready to launch on the App store or Play Store.
7. Support & Maintenance
Our company offers you all support and the team is always ready to answer every query after deployment.
Latest Blogs
Explore the Latest Blogs on Trends and Technology.