Top VueJS Developers for Hire In Canada
Hire VueJS Developers from top VueJS development company in Toronto, Canada. Contact Hyperlink InfoSystem now!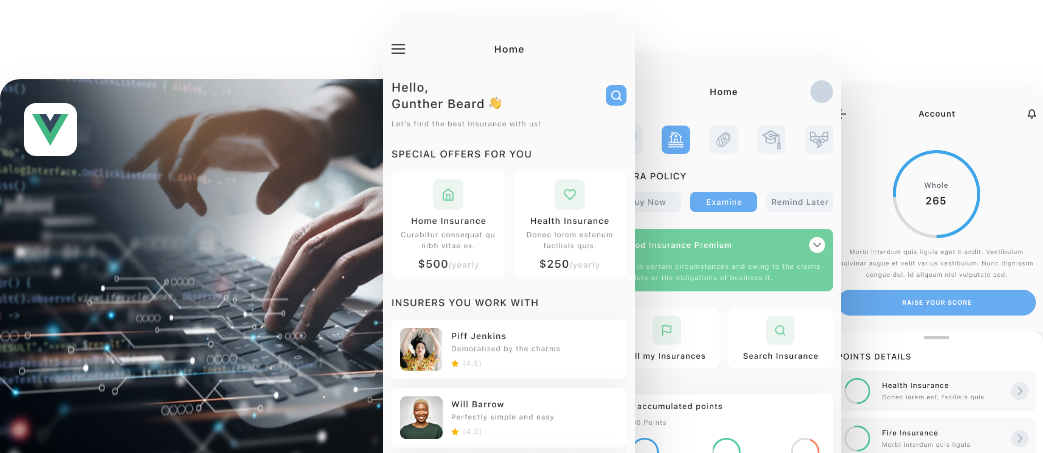 VueJSis a free and open-source JavaScript framework that facilitates the development of user interfaces with little effort. All sorts of innovations are within our reach. Front-end apps can range from basic components that implement a small subset of a web app's functionality to complex programs that have a full routing infrastructure and extensive business logic. Meet with Hyperlink InfoSystem to hire top VueJS Developers in Edmonton, Canada.
VueJS employs a technique known as component architecture. Componentization facilitates the separation of application logic into reusable subunits. A header, menu, list, product card, etc. might all fit into this category. A component might be anything we could require. Furthermore, certain components can be supported by others; for instance, a product file can consist of data, buttons, dropdown menus with information, etc., and appear in a product file list.
VueJS's ability to facilitate the development of reactive views is a definite plus. When data in the application changes, Vue makes it possible to update the HTML and CSS automatically, saving the developer the trouble of individually updating each location on the page where the updated data is presented.
VueJS's Reasons for Being Popular
Development experience:Having worked with the framework regularly, developers have gained valuable expertise. Almost every professional and online application need can be met by VueJS's features. Furthermore, it provides considerable leeway in arranging the code of projects while yet maintaining simplicity.
Learning curve: Developers who approach the technology can get to work quickly and with little investment thanks to its low learning curve and high utility.
Flexibility:As a result of this language's flexibility, you can create a wide variety of different products. You don't need to develop complicated frontend apps single-page applications (SPAs) or Progressive Web Apps (PWAs) to take use of Vue.
Efficiency: It guarantees us superior application efficiency compared to other popular frameworks.
VueJS: Why Use It
The Vue.js framework is the fastest growing of the big three: React, Angular and Vue. Further, it is supported by an open-source community and comes with comprehensive documentation.
The learning curve for VueJS is simple. Simple, the code is a pleasure to read. We have well-up-to-date developers who can make use of all the benefits it provides.
VueJS has several useful add-ons and weighs in at just 20 kilobytes. The whole of its source code—script, template, and style—is contained in a single file.
Because of its basic core and flexible stack, VueJS development services can be utilized to create apps of any size. Vue's ready-to-use components and open API make it easy to combine it with other programs.
VueJS is often quicker than React, and it's simple for developers to include it in their work. This is because its MVVM design allows for a reduction in the size of HTML blocks, which in turn improves speed.
By far the largest of the Big Three, VueJS's developer community is expanding at an unprecedented rate. The likes of Nintendo, Adobe, Grammarly, 9GAG, Alibaba, and Xiaomi all utilize it.
Our Solutions In VueJS In Canada
Our team of developers is up-to-date and capable of maximizing everything that VueJS has to offer in terms of output quality. VueJS is quickly becoming the ideal option for front-end developers of JavaScript because of its robust official support libraries such as Vue-router, Vuex, and Vuefire.
Thanks to Vue.js, we can provide our customers with highly personalized, cutting-edge online and mobile applications.
Those working on Hyperlink InfoSystem have the most in-depth familiarity with the framework and its libraries. Because of this, they commit to providing excellent VueJS development services to clients that need to create lightweight online applications or mobile software.
Development Services Using VueJS
Landing page development that is both effective and efficient, built on a flexible JavaScript framework that can be used to develop single-page apps and user interfaces.
VueJS consultancy is one way we can help you give your projects the boost they need, as we take the time to learn about your company and the unique problems you face.
VueJS front-end development
Our front-end developers are experts in creating user interfaces that work well across devices. Maintaining a state-of-the-art understanding of user interface and user experience design.
The goal of our VueJS migration services is to update your application to the most recent version, which will provide you with the most effective performance possible.
Hire us for comprehensive, business-driven VueJS web development services, from concept to launch.
Provides comprehensive services for maintaining and fixing VueJS applications for dependable, high-performance at all times.
Consult With A Prominent VueJS Development Company
You can rely on Hyperlink InfoSystem to help you create excellentVueJSsolutions. When it comes to its core library, VueJS, a progressive framework, solely cares about the view layer. Our team has been working in the field of information technology for over ten years.
There is less hassle involved with incorporating Vue.js into existing applications that make use of other JavaScript libraries. VueJS can also be used to build interactive web interfaces and APIs that are both simple and extensible. It's much simpler to adjust to new situations, less dogmatic, and lighter in tone. Contact us to hire VueJS Developers in Edmonton, Canada.
Latest Blogs
Explore the Latest Blogs on Trends and Technology.