Hire Full Stack Developers In Canada
Hyperlink InfoSystem is the best full stack development Company In Canada. Hire dedicated full stack Developers In Canada for your Startups and Businesses.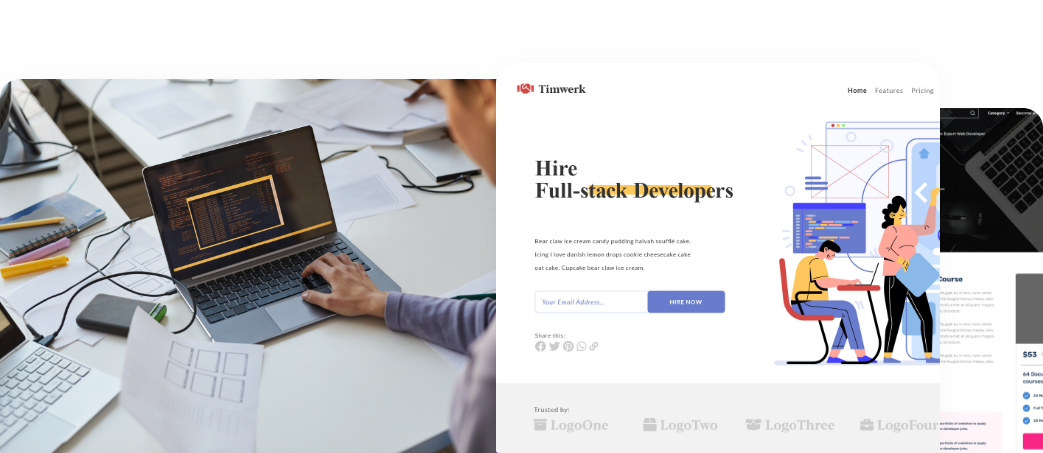 Businesses now seek partners with the resources to build custom software from the ground up and a broad variety of other competencies. As the name implies, a full-stack software development firm handles every step of the development process from start to finish. Software development, database management, containerization, hosting, and website creation are just some of the areas in which a full-stack firm excels.
Our developers are capable of creating a wide variety of projects at Hyperlink InfoSystem. Python/Django for the back end, JavaScript and React for the front end, and React Native for mobile app development are the core technologies we use.Hire full-stack developers in Canada to assist you with software development.
Need A Development Team For The Project? Contact Us At Hyperlink InfoSystem
When working with a full-stack development firm, several regulatory concerns must be addressed. When it comes to following the law, Hyperlink InfoSystem is always one step ahead, thanks to the diligence of our in-house legal team. Check the company's portfolio, look at some customer feedback, and talk to some employees. Do not be shy about asking the firm any queries you may have; they should be happy to oblige.
Clients may find it harder to maintain authority over an outsourced staff than an in-house one. Nonetheless, Hyperlink InfoSystem performs daily online meetings with customers to inform them of the project's status and answer any questions they may have.
Since a full-stack development firm already has all the necessary knowledge and specialized capabilities in-house, hiring a dedicated team will be more costly than employing a freelance developer.
Companies that specialize in software development have specialists in several domains available to them. All of the needs of your business and the industry as a whole will be taken into account while developing your software.
As a result, programmers may choose from a wide variety of languages and platforms. For full-stack development, Hyperlink InfoSystem primarily focuses on Python, JavaScript, and PHP since these languages are well-suited to the needs of our key business verticals (AdTech, travel, and healthcare).
The term "software repository" refers to a central database where programs may be downloaded and installed. Collaborating with a development team also allows you to learn new things.
Reasons To Hire Full-Stack Developers
It's not easy to get that time back, yet it's one of your most precious resources. A project's development time may be cut in half if you employ full-stack developers to finish it. Experienced developers that have worked with the whole stack will not need as much training as a new team that must learn the language, frameworks, libraries, and frameworks. This leads to improved efficiency and decreased prices.
Reduced Training Requirements
Hiring full-stack engineers to build your software means you'll have fewer people to educate in different areas of expertise. This benefit is applicable in terms of both money and time. When you hire full-stack developers, you may have them build in features that even the most technically inept users will find intuitive.
Reduced Maintenance Requirements
Since the whole stack is publicly accessible, there are no ongoing expenses to consider. Unlike with a closed-source solution, you don't have to worry about incompatibilities or features being left out.
Hiring full-stack developers mean you won't have to spend time or money switching development languages once your product is already complete. If you were to recycle everything on a separate platform, it would cost your company a lot of money.
The Enhancement of Performance
When you hire a development team, more skilled programmers can focus on your project. They'll be able to write code more quickly than they could on their own, which will improve the efficiency and quality of your product. Hiring a talented full-stack developer is likely to result in a speedier completion time for any given project than would otherwise be possible.
Developers can create applications for all the main mobile and desktop platforms with only one set of code and cross-platform support. Full stack applications employ reactive programming, which means they may react to user actions and data without forcing the user to repeatedly reload the page or go via a menu. To make their applications seem like native Android and iOS apps, developers need just change a few lines of code.
Using Open Source And Free Libraries
Because it is open source and free, the full stack platform may be used for any purpose, including but not limited to the creation of for-profit and non-profit software. If you're trying to save costs by having someone else build your app, whether it's a freelancer or a specialized agency, hiring a full-stack developer will not only ensure that your project gets done, but will also help you save money.
Requirements To Hire A Full stack Development Company
To begin, you should think carefully about your needs and the features you'd want to see in the program.Discover a firm that can provide all you want. References are quite helpful. Check out third-party review platforms like Clutch if you lack personal connections who can make suggestions.
After narrowing down your search for a suitable contractor, you should get in touch with the remaining candidates to set up face-to-face meetings and discuss the specifics of how their services compare to your needs. If the organization is serious about working with you, they will provide you with the necessary details as soon as feasible.
Hyperlink InfoSystem is more comfortable talking to new customers one-on-one. For maximum efficiency, we will immediately create a full-stack development plan.
Whatever the scope or complexity of your project, Hyperlink InfoSystem is a full-stack development firm equipped to take it on. Hire full-stack developers in Ottawa, Canada to help you develop custom software.
Frequently Asked Questions
The dedicated full stack developers will work only for you to deliver outstanding results with the highest optimization. The team of full-stack developers at Hyperlink InfoSystem offers ample benefits like flexibility, cost-effectiveness, higher output, special skill sets and various others.
Hyperlink InfoSystem offers a very simple process to hire full-stack developers. Just provide project details and the technical expertise you need. The team of full-stack developers will begin working on your project based on your selection.
Yes, with a minimal development charge; you can test the technical and development skills of the full-stack developers before making a final move.
Yes, If you know the task to get done from the dedicated full-stack developer, then you can hire dedicated full-stack developers on an hourly or project/task base.
The cost estimation for dedicated full-stack developers varies based on various factors such as development team size, hiring model, the complexity of the web development, the type of solution, features and functionalities and many more.
Latest Blogs
Explore the Latest Blogs on Trends and Technology.