Salesforce Consulting
Hire A Leading Salesforce Consultancy Company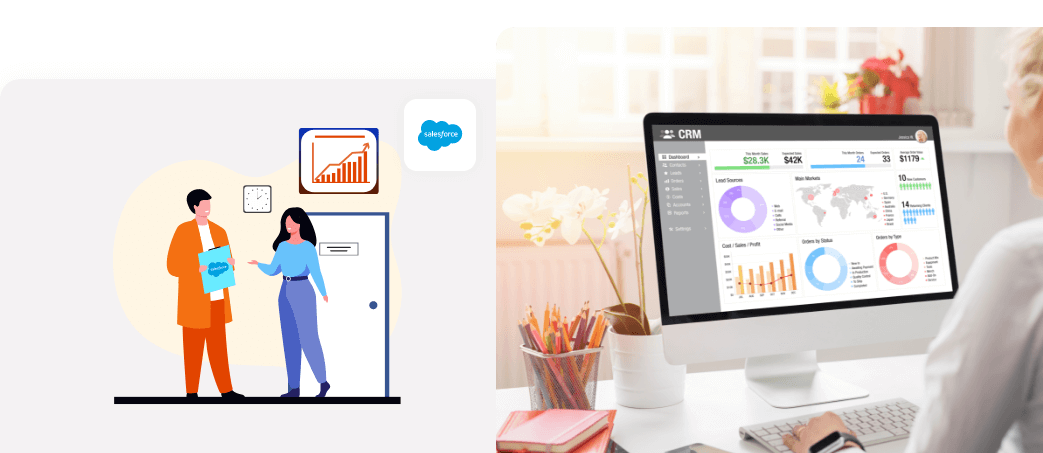 Salesforce CMS offers us the possibility of creating, adapting, and delivering different and quality content in each of the digital experiences that our clients have with our brand. It enables offering different and quality content at all times, thanks to the connection established from the CMS with the Salesforce CRM and its artificial intelligence.
It is the tool that will allow your company to increase productivity, expand markets and communication channels. However, the return on investment will be even greater if it is developed by experts such as Hyperlink InfoSystem, thus being able to capitalize on Salesforce's strengths to a greater extent.
Benefits Of Salesforce
Cloud Solution
Salesforce is a cloud-based CRM. It is a tool that has an external server that we can access through a browser. You do not need to have any specific hardware. To have access, we only need an Internet connection. One of the great advantages that cloud solutions offer is that they update automatically, so we will always have a secure CRM.
It should be noted that being accessible through an Internet connection, it also allows us access through a mobile device.
Configurable And Customizable
Each organization is structured in different ways. Salesforce is aware of this, which is why it offers a very high level of customization and adaptation. We will be able to have a CRM that adapts to our ways of working and our needs.
Mobile-first
Salesforce was the first to offer mobile solutions to its customers. That is why all data is accessible from any device without any additional development. With this solution, companies ensure that their sales representatives can have all the information, wherever they are.
Robust And Safe
When we look for a CRM, we have to keep in mind its security. Salesforce is a cloud solution used by large companies. This makes it a robust and constantly updated tool. Unlike other solutions, Salesforce has millions of users, so it is very difficult to stop updating and supporting.
Leadership
Salesforce is the leading CRM in the market, it is the solution used by large companies. This does not mean that SMEs cannot use it, quite the contrary. It is customizable which allows users to adapt it to any type of organization, large, medium or small. When deciding on which CRM to use, it is very important to consider the number of people using it. In this case, salesforce makes a difference with its competitors.
Innovators
One of the differences between Salesforce and other tools is that they use metadata. This ensures that customizations and updates are done in record time. On the other hand, it is based on the philosophy of minimal developments, which also makes it innovative compared to its competitors.
Collaborative
From salesforce, the doors have been opened to companies and individuals to carry out developments that can serve the Salesforce user community. This means that a user/company can develop applications and share them with the rest of the CRM users. These applications are published in a kind of market called AppExchange.
Quality Technical Support
Salesforce has a quality technical support service that can answer any questions that may arise with the tool. In addition, it has a large number of partners through which you can also get help.
Return On Investment
Salesforce has different license versions so it is not necessary to activate the one that you are not going to enjoy 100%. In this case, we can activate the version that best responds to our needs and change it depending on the evolution of the organization.
Mobile Applications
Salesforce is one of the first CRM to seriously consider mobile devices. That is why it has a powerful mobile application through which you can access the CRM and interact with it.
Productivity
All companies using salesforce have dramatically improved the productivity of their organizations. That is why it is the CRM of large companies.
Hyperlink InfoSystem Modules In Salesforce
We offer the primary services of the leading cloud platform to attract, communicate, and manage customers. Establish a direct relationship with your customers and speed up the sales or quote-to-cash process.
Salesforce App Cloud
Salesforce App Cloud allows you to develop applications that your customers can use to facilitate access to e-commerce processes from mobile devices or by your internal users to optimize management processes.
Salesforce Service Cloud
Design an uninterrupted customer service with Salesforce Service Cloud, personalize customer service with telephone or field support, and improve your customers' user experience.
Salesforce Marketing Cloud
The relationship with customers can be described as borderless. Today, you can have information about potential customers at times and places completely different from the usual ones.
Salesforce CPQ
The process by which they are generated is known as Configure Price Quote (CPQ). A CPQ tool's objective is usually summarized with the expression Quote to Cash (Q2C), that is, to convert a quote to the sale as soon as possible.
Salesforce DMP - KRUX
Krux is a platform that acts as a single repository for the data that is generated in interactions with customers. You should contact a top Salesforce consulting agency such as Hyperlink InfoSystem for your Salesforce development projects.
Salesforce Consulting Services
Hyperlink InfoSystem provides excellent Salesforce consulting services and we are one of the leading Salesforce consultancies in Canada. We have developers who are dedicated to providing top quality CRM services. Contact us to help you innovate and modernize your relation with your clients. If your company is considering a Salesforce implementation, it is important to choose a leading consultancy that provides proven experience in Salesforce projects.
Salesforce is not a solution focused on a particular industry but a cross-platform that provides value to hundreds of thousands of customers around the world. It is the tool that will allow your company to increase productivity, expand markets and communication channels.
Process We Follow
1. Requirement Gathering
We analyze the requirements with the clients to understand the functionalities to combined into the app. This process allows us to form a development plan and transform the client's thoughts into an efficient and functional app.
2. UI/UX Design
Our developers use efficient UI trends to design apps that are not only pleasant to the eye but also intuitiveness and flexible. Our applications do not only complete the needs of our clients but also are simple and convenient to the end-users.
3. Prototype
We develop a preliminary visualization of what the mobile app would look like. This helps to generate an idea of the appearance and feel of the app, and we examine the users' reactions to the UI and UX designs.
4. Development
Our team of experts in Native, Hybrid, and Cross-Platform app development, using languages such as Swift, Kotlin, PhoneGap, Ionic, Xamarin, and more to produce high-quality mobile apps for the various operating systems.
5. Quality Assurance
We have a team of developers who carefully test every app to ensure that they provide an excellent user experience and meet the requirements of our clients. Apps developed by our development team are bug-free because they perform through a series of experiments before deployment.
6. Deployment
We follow the best practices when deploying our apps on different app stores, where they can be easily noticeable to considered users.
7. Support & Maintenance
All digital solutions need development. The deployment of an app is not the ultimate stage. Even Post-deployment, we work with our clients to offer maintenance and support.
Process We Follow
1. Requirement Gathering
We follow the first and foremost priority of gathering requirements, resources, and information to begin our project.
2. UI/UX Design
We create catchy and charming designs with the latest tools of designing to make it a best user-friendly experience.
3. Prototype
After designing, you will get your prototype, which will be sent ahead for the development process for the product.
4. Development
Development of mobile application/ web/blockchain started using latest tools and technology with transparency.
5. Quality Assurance
Hyperlink values quality and provides 100% bug free application with no compromisation in it.
6. Deployment
After trial and following all processes, your app is ready to launch on the App store or Play Store.
7. Support & Maintenance
Our company offers you all support and the team is always ready to answer every query after deployment.
Latest Blogs
Explore the Latest Blogs on Trends and Technology.