Salesforce Development Company
Salesforce: Excellent CRM To Improve Business Processes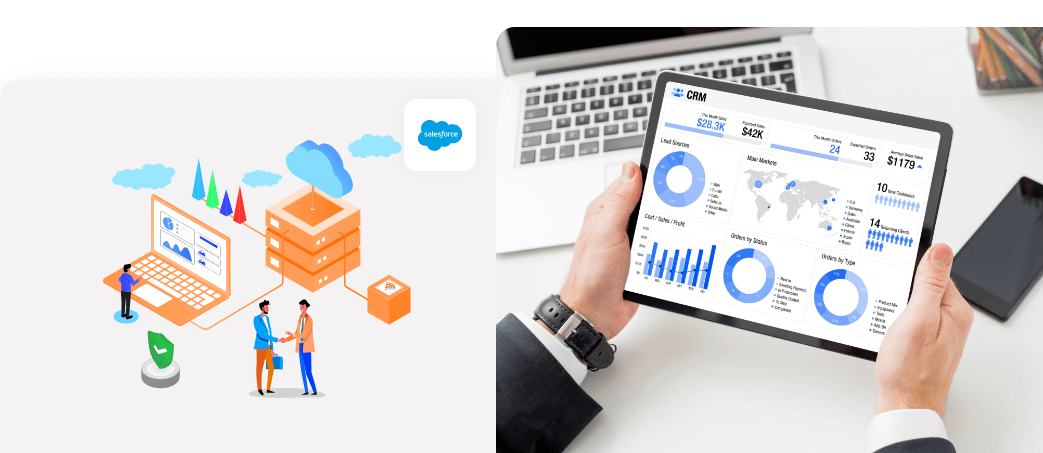 Over time, companies have been forced to change the way they communicate with their customers. This is because users have changed their expectations in a market that offers countless services and solutions. They are now more aware of what they want, so customer service can be a good value proposition and a differential factor, which dictates the decision to buy.
In the same way, CRM companies try to integrate an experience that allows users to feel that their opinion also counts within all departments, especially sales and marketing. It means that companies are focusing their services on listening to the voice of the customer in business processes, in the same way, that tools such as artificial intelligence (AI) are also integrated to guarantee the effectiveness of their platforms.
Salesforce has established itself as the world's leading CRM. Salesforce has improved its market share and increased its revenue more than any other CRM provider. Additionally, the IDC report has identified Salesforce as a leading solution in the areas of Sales, Customer Service and Marketing.
Salesforce focuses all its efforts on updating and innovation. Salesforce's greatest strength is offering a stable and up-to-date application technology ecosystem. And it is possible, thanks to the agility and speed that Salesforce demonstrates when making investments and acquisitions of leading technologies in the market.
List of Salesforce Development Services
Salesforce Licensing
We actively collaborate with Salesforce through the Salesforce Partnership program.
Salesforce QuickStart
Achieve a fast, secure and successful implementation.
Consulting And Development
Take your Salesforce implementation to the next level.
Training And Qualification
Be part of one of the largest ecosystems in the world.
Development And Integration
Get a collaborative model between your business applications.
Support And Maintenance
Keep your Salesforce implementation healthy.
Platform, Clouds, And App Exchange: What Is Salesforce Used For?
Generally speaking, companies use Salesforce to understand and interact with their existing customers and to acquire new customers. To make this possible, Salesforce offers a huge catalog of functionalities that we can take advantage of in our system or business processes:
Salesforce Platform is the standard and generic functionality that Salesforce offers you to adapt the system to specific needs. It is characterized by its generic nature, so it can be used in any sector.
Clouds are groupings of functionalities aimed at specific business areas and processes, such as Sales Cloud, Service Cloud, Community Cloud, and Marketing Cloud, among others. The reality is that these are very versatile functionalities that can even be used for other purposes than those proposed by Salesforce.
AppExchange is Salesforce's "marketplace" where developers and partners offer add-ons, applications, and solutions. All of them very easily accessible.
Why Choose Salesforce Development?
According to Forrester Research, 74% of CRM users have improved their customer relationships, 65% have increased their sales quotas, and 50% have increased their productivity.
In this scenario, it is important to note that Salesforce currently has the largest market share, with 19.5%, well ahead of its main competitors, SAP and Oracle. Without a doubt, the fact that so many companies use it is a clear demonstration of its advantages.
Being able to get up and running quickly is another benefit of Salesforce. Because it is cloud-based, you can quickly integrate your other applications using APIs and be up and running in days or weeks, although on-premises deployments can take months. The unique platform-based API is also attractive. Businesses can get direct access to all Salesforce apps, data, and metadata without having to support multiple platforms and versions.
In addition, Salesforce has many modules that can be used according to the needs of the moment, thanks to its adaptability and versatility. One of the advantages in this regard is that it can be scaled as a business grows, and the pricing model makes it affordable even for small businesses.
Salesforce also offers the AppExchange, its "marketplace" of third-party applications built specifically for Salesforce. Because Salesforce is so widely used, the developers have contributed many different applications and plugins. It's easy to find an extension that fits your needs and that others have coded, helping to save even more time.
Modules In Salesforce Development
We offer the primary services of the leading cloud platform to attract, communicate, and manage customers. Establish a direct relationship with your customers and speed up the sales or quote-to-cash process.
Salesforce App Cloud
Salesforce App Cloud allows you to develop applications that your customers can use to facilitate access to e-commerce processes from mobile devices or by your internal users to optimize management processes.
Salesforce Service Cloud
Design uninterrupted customer service with Salesforce Service Cloud, personalize customer service with telephone or field support and improve your customers' user experience.
Salesforce Marketing Cloud
The relationship with customers can be described as borderless. Today, you can have information about potential customers at times and places completely different from the usual ones.
Salesforce CPQ
The process by which they are generated is known as Configure Price Quote (CPQ). A CPQ tool's objective is usually summarized with the expression Quote to Cash (Q2C), that is, to convert a quote to a sale as soon as possible.
Salesforce DMP - KRUX
Krux is a platform that acts as a single repository for the data that is generated in interactions with customers. You should contact a top Salesforce consulting agency such as Hyperlink InfoSystem for your Salesforce development projects.
Why Choose Hyperlink InfoSystem - Top Salesforce Development Company
Hyperlink InfoSystem developers work according to proven, agile development methods. In addition, we adhere to the current design guidelines of the respective platform and develop your apps using best practices. Current design guidelines are often criteria for posting in the application stores. Using best practices means that the source code we create is clean, maintainable, and of high quality. If your company is considering a Salesforce implementation, it is important to choose a leading consultancy that provides proven experience in Salesforce projects.
Process We Follow
1. Requirement Gathering
We analyze the requirements with the clients to understand the functionalities to combined into the app. This process allows us to form a development plan and transform the client's thoughts into an efficient and functional app.
2. UI/UX Design
Our developers use efficient UI trends to design apps that are not only pleasant to the eye but also intuitiveness and flexible. Our applications do not only complete the needs of our clients but also are simple and convenient to the end-users.
3. Prototype
We develop a preliminary visualization of what the mobile app would look like. This helps to generate an idea of the appearance and feel of the app, and we examine the users' reactions to the UI and UX designs.
4. Development
Our team of experts in Native, Hybrid, and Cross-Platform app development, using languages such as Swift, Kotlin, PhoneGap, Ionic, Xamarin, and more to produce high-quality mobile apps for the various operating systems.
5. Quality Assurance
We have a team of developers who carefully test every app to ensure that they provide an excellent user experience and meet the requirements of our clients. Apps developed by our development team are bug-free because they perform through a series of experiments before deployment.
6. Deployment
We follow the best practices when deploying our apps on different app stores, where they can be easily noticeable to considered users.
7. Support & Maintenance
All digital solutions need development. The deployment of an app is not the ultimate stage. Even Post-deployment, we work with our clients to offer maintenance and support.
Process We Follow
1. Requirement Gathering
We follow the first and foremost priority of gathering requirements, resources, and information to begin our project.
2. UI/UX Design
We create catchy and charming designs with the latest tools of designing to make it a best user-friendly experience.
3. Prototype
After designing, you will get your prototype, which will be sent ahead for the development process for the product.
4. Development
Development of mobile application/ web/blockchain started using latest tools and technology with transparency.
5. Quality Assurance
Hyperlink values quality and provides 100% bug free application with no compromisation in it.
6. Deployment
After trial and following all processes, your app is ready to launch on the App store or Play Store.
7. Support & Maintenance
Our company offers you all support and the team is always ready to answer every query after deployment.
Latest Blogs
Explore the Latest Blogs on Trends and Technology.