Hire Dedicated Java Developers
Hire dedicated Java developers in Canada. Hire the best skilled in Java development and build your software as per your need. Hire now!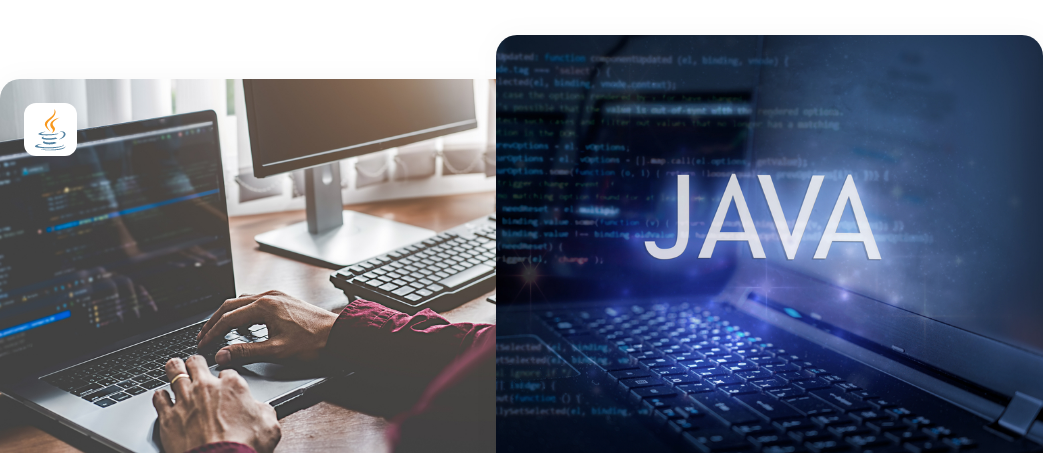 Hire Remote Java Developers in Canada
Java services include, but are not limited to, dynamic app development, web engineering, and in-built system updates. We will help you to develop powerful solutions when you hire Java developers in Canada.
We have been in business for almost a decade as a Java development firm, during which time we have developed several different programming languages, Java being only one of them. The most trustworthy high-tech and engineering prototypes are at the ready, and our team of engineers is prepared to provide effective and well-designed solutions.
Games, content management systems, mobile applications, image analysis tools, market management/control systems, and online solutions are some of the Java products and support services our Hyperlink InfoSystem development firm provides to its paying customers.
Integration Services - Hire Java Developers Remotely
Hyperlink InfoSystem recommends techniques and software that boost project output and conform to global norms. The incorporation of cutting-edge technology into corporate endeavors is an integral part of the services we provide throughout implementation.
Reliable Target Integration
Networksintegration
Safety integration
Real-time data availability
Superb Efficiency
SaaS-CRM-integration
Benefits Of Hiring Java Developers
Computer programming is an ever-changing field. Looking back provides a dizzying picture of development settings, even though those of us in the field often feel that change comes slowly.
While Java is one of the older languages, it is still widely used to build business and consumer-facing apps.
Memory Management And Usage
Users canmanually manage memory concerns if they want, although doing so is optional. Java employs a garbage collector, an automated memory management method, to handle memory management on its own.
The garbage collector is a background Java program that helps Java applications development more efficiently by detecting and collecting unreferenced memory regions at regular periods.
Java is ubiquitous, not just in applications but also in platforms and hardware.
Easy To Understand And Implement
Java's creators set out to make it as simple as possible for programmers to write, build, debug, and learn.
By eliminating concepts like explicit pointers and storage classes, Java is simpler than languages like C and C++.
Because Java can run on any OS, it is simple to adapt programs for use on different devices. This allows programs to operate on more powerful computers as necessary, enabling the system to scale up to meet growing demands.
It paves the way for the development of reusable components and modular programs.
In other words, Java is a very sturdy language. Preemptive error and exception checking is a major design principles of Java. Exceptions in Java are handled by the compiler, which can commit all possible scenarios at runtime, resulting in very dependable clients.
Java is freely available to the public. This implies that in addition to the many features offered by the platform itself, a wealth of third-party code can be integrated.
Reasons To Hire Java Developers From Hyperlink InfoSystem
Help with developing with Java. To get the best possible outcome, our team employs every tool at its disposal.
We leverage our collective knowledge and industry standards to ensure that all of our project deliveries are of the highest quality.
An ideal outcome can be achieved via effective communication and a mutual comprehension of needs.
Scrum-based project management ensures that our deadlines are fulfilled and that our output is of the highest possible quality.
Our group is always moving forward. Regularly, we work to better ourselves. Superior performance requires top-notch tools.
Our Development Experience
We serve businesses with their software development needs across a wide range of industries. You can hire java developers remotely as per your business needs.
We develop software and solutions that are HIPAA-compliant.
Shopping carts and chatbots are just two examples of the real-time e-commerce tools we offer.
Invest in reliable business programs to streamline your operations.
We create reservation projects that streamline the process of buying aircraft and bus tickets and have convenient calendar functionality.
Education and Distance Learning
Projects including LMS implementation are what we do in the education sector.
Media projects with easy-to-use online ad unit management are only one example of the web-based media products that our studio creates.
Consult To Hire Dedicated Java Developers
There are now great ways to do both easy and tough tasks with the help of mobile and online apps. Many programmers have grown to depend on Java as a means to distribute their work to users of various computer systems. This is a fantastic language for developing apps for both desktop computers and mobile devices. This results in very productive software.
The Hyperlink InfoSystem staff has years of expertise in creating and administering Java platforms including Java Cards, J2ME, and J2EE. The breadth of our experience with Java applications is unparalleled. So, we promise a top-notch result that will interest many buyers.
Why You Should Hire Java Developers For Your Busines
Hyperlink InfoSystem's software development services can tackle any issue that arises during custom Java programming for a business or a project. Our team of professionals java developers can handle any Java-based system and provide the most effective and practical solutions to improve business processes.
Clients are encouraged to have input throughout the whole process, from ideation to design to deadlines and specifications.
To get the best possible outcome, our professionals know how to use Java. We provide our clients with a robust Java solution developed by our in-house Java programmers. We then use the right tools and technologies to turn the customer's idea into a working solution, all thanks to our early identification of the technology.
Using Java, Hyperlink InfoSystem can create cutting-edge innovations that can compete with the best in the industry. We're here for our commercial clients in every capacity. Contact us to hire Java Developers in Canada.
Latest Blogs
Explore the Latest Blogs on Trends and Technology.