Hire Golang Developers In Canada
Hire the best dedicated golang developers in Canada from Hyperlink InfoSystem. Hire us in 24h!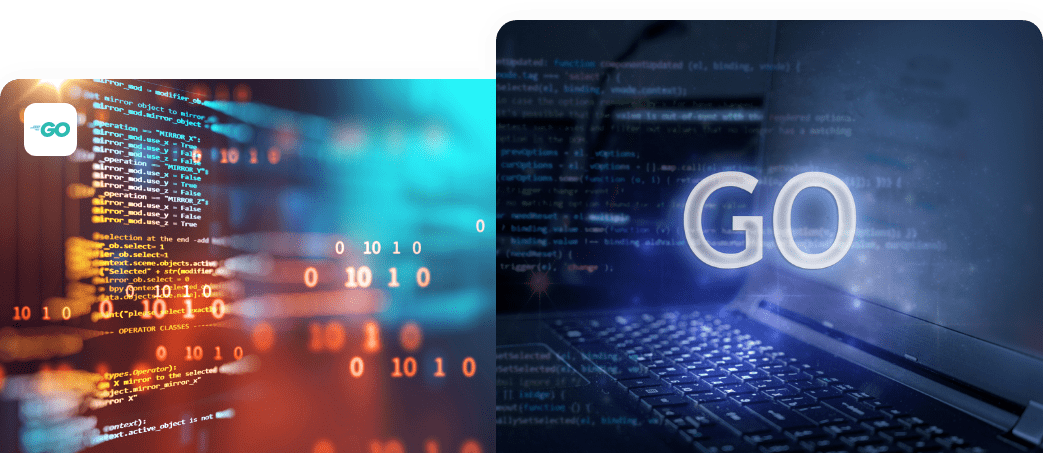 Companies like Google, Netflix, Uber, Docker, and HashiCorp employ the safe, concurrent language Golang because it is ideal for developing efficient microservices and distributed systems. Our developers are Golang gurus who use the language's performance and security benefits across the board. Hire leading Golang developers in Canada by contacting our development team.
Golang allows us to quickly and easily build server-side and client-side apps for iOS, Linux, and Windows. We can concentrate on finishing your project since Golanghas so many trustworthy open-source tools and frameworks to choose from.
The Benefits of Golang
Users can be certain that any new features added by the development team won't break the program's compatibility with later releases.

It keeps many of the tools that C and assembly provide, such as memory management, but with a simpler and easier-to-learn syntax. It presents a suitable alternative to replace C and assembler on servers.

You can double-check just about every facet of the language using the official docs, and they're simple enough to read and remember.


Inquiring into the assembly code of any application while it's running is a breeze, making memory management a breeze as well.

By reading through the language's documentation and examples, you'll pick up many aspects of the standard programming style without having to spend extra time doing it manually.


As the development team has published new versions of the language, they have addressed many of the issues that were present from the outset. Countless programmers have voiced their distaste for the language online. The trash collector, for instance, was formerly the root of many compilation performance issues, but this is no longer the case.

Golang is simple, trustworthy, and efficient, as the developers put it. One of the aims of the Golangdevelopment team was to create a programming language that was simple, easy to learn, understand, and work with and was also dependable. Because of its simple syntax, Golangmakes learning to code relatively painless; its creators also managed to address issues that had plagued languages like C for decades.

If you're looking for a programming language with a top-notch native implementation of concurrency, go no further than Golang. Concurrency is the ability of a system to run several processes in parallel while allowing for their coordination via shared memory and other means of communication. The goroutines (which facilitate the usage of this attribute) are straightforward to understand and implement, and they get few complaints.

An outstanding alternative for creating websites and software: You won't believe how simple it is to achieve your goals.
Application Areas of Golang
The flexibility of Golang means that it can be used to create systems for any market, no matter how basic or complex they may be. Since it is a cloud-based or cloud-designed application, it can be used in any industry, including but not limited to traditional or online retail, e-commerce, banking, fintech, etc. Most often, these are what people use Golang for:
Databases development
Websites development
Artificial Intelligence
Applications development
IT Architecture
Cross-platform
Golang's brightest prospects lie in the realm of AI. As a result, it is quickly becoming a powerful framework for creating AI and other types of virtual machines.
Our Golang Services
Golang Microservices Development
API services, containerization, and serverless Golang are just a few of the cloud technologies and architectural patterns that our Golang development team has experience with. We provide Golang development services, so if you want to use Golang to create microservices, you can hire us to do it.
Synchronized Apps Development
Golang's built-in concurrency feature makes it easy to write synchronized applications and avoid locking in multi-threaded programs.
Golang Maintenance and Support
Maintainability is essential for your Golang online and mobile app solutions. Get in contact with us if you need assistance with complicated problems in your current Golang application.
GolangStrategy & Consulting
Stay ahead of the competition with our Golang consulting and planning services. Our committed Golang programmers are here to assist you in making the best decision possible to meet all the difficult issues your organization faces.
Developing Web Applications with Golang
Create cutting-edge enterprise-grade web apps from scratch using Google's Golang language. The online apps our team creates with Golang are lightning fast, highly secure, and scalable.
Multi-faceted Cloud App development
Golang, Google's programming language, is useful for creating cloud-based services. Make use of the skills of our Golang experts to build advanced cloud apps for hybrid cloud and multi-cloud deployments.
Hire Dedicated Expert Golang Developers
As the best and most reliable Golang web development firm in Canada, Hyperlink InfoSystem has earned acclaim throughout the world. We make it easy for you to find and employ a Golang programmer that has the right mix of experience and skills whenever you need one.
Contact our development team to hire leading Golang developers in Canada.We have a strong understanding of the Golang programming language and can assist you in developing unique Golangdevelopment solutions and cutting-edge enterprise apps to meet your unique business needs and tackle difficult problems.
Latest Blogs
Explore the Latest Blogs on Trends and Technology.