Prestashop Development Company
Develop Ecommerce Websites With Prestashop in Canada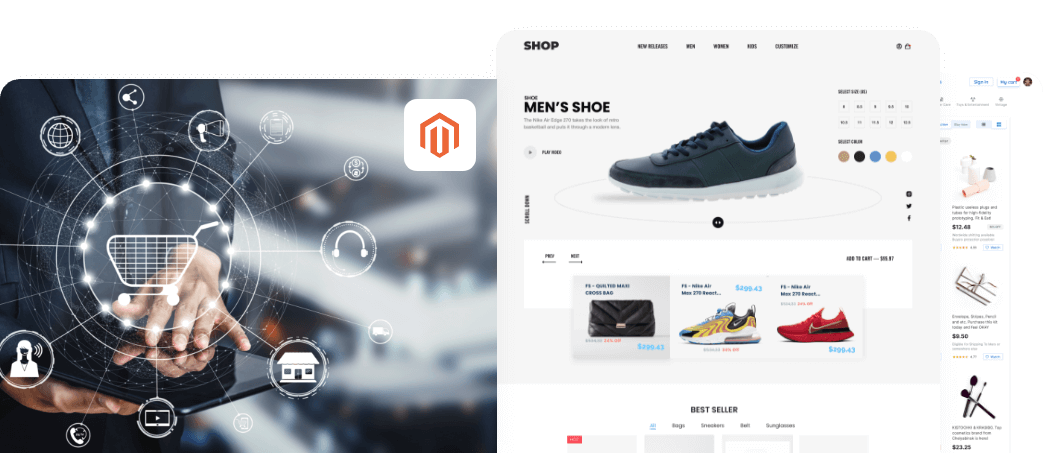 Prestashop is currently one of the most widely used CMS for the implementation of online businesses thanks to its excellent performance, functionalities, and customization options. One of the great advantages of Prestashop is the possibility of installing additional modules to optimize almost every aspect of a store, provide a better experience for buyers, and increase sales.
Who Should Use PrestaShop?
PrestaShop is a tool that allows us to both create and manage e-commerce in a very intuitive way, so PrestaShop is suitable for all audiences.
There may be different scenarios in which we may be interested in using PrestaShop:
If you have a business and you want to manage the store yourself.
If you want to have a fantastic e-commerce website where all sales processes can be easily carried out and controlled.
If you are dedicated to e-commerce, you can find businesses with a virtual store developed with PrestaShop and look for someone to take care of maintenance or other specific actions.
Prestashop Is Excellent For The Development Of Your Online Store
More and more people buy more through online stores. Here, we present one of the preferred tools for people who choose to start an Internet business.
At Hyperlink InfoSystem, we know the advantages of this effective CMS, and that is why we have a team of professionals in the development of PrestaShop in Canada. If you are thinking of growing your business, we are at your disposal to inform you about how we can do it through an online store.
The dispersion of businesses of this type has led to the creation of specific software designed to meet the needs of both the seller and the customer in the purchase process. It is a content manager that will offer you numerous advantages.
It is ideal for SMEs that want to start with an online store since it will allow you to work quickly and efficiently and update the product catalog in a very agile way. It is developed in Apache, PHP, MySQL, and uses a Smarty template that you can optimize without problems. We are facing a very friendly content manager. Anyone can work with it from their control panel without any problem and make the configurations that they consider necessary. Our team of professionals will train you in the operation of the platform so you can manage it easily.
Advantages Of Creating An Online Store:
Intuitive and easy to use: Hyperlink InfoSystem will help you configure it and establish the control panel to customize it to your liking through the instructions you provide us.
Also comes a default template.
Attractive design: Easily customizable and with a wide variety of templates
A large number of modules: With different functionalities, both free and paid.
Excellent customer and order management: If something is not being done well and that can be improved, there are statistics that will tell you.
Complete and intuitive control panel: Also known as back-office. It is one of the strengths of PrestaShop. it allows you to manage orders, payment gateways, create additional modules
Modules and templates: When we create an online store, it is best to customize it to the specific theme that we are going to offer. In the Marketplace section of Prestashop modules, we will find several modules that we can add to improve the service.
Community: It will help you get an updated platform with new modules and tools.
Low economic cost: Compared with other CMS, its maintenance cost is lower and allows you to launch your e-commerce without a large expense.
Features of Prestashop
Open-source: it follows the open-source philosophy, which allows access to source files for all who need it.
Free: it costs nothing. You can download and install it on your server or hosting plan without anyone charging you for it.
Multiplatform: it runs perfectly on Linux, Windows and Unix servers where PHP-MySQL is installed.
Multi-language: it offers hundreds of translations so you can have your virtual store in the mother tongue.
Thousands of Templates: it gives you access to thousands of templates to customize the design of your store for free.
Free plugins: it offers free plugins or modules to extend Prestashop's native functionalities.
Product Management: it allows you to catalog, classify, register, cancel and modify products that you are going to offer in your online store.
User Administration: it allows you to manage the users who manage the administrative portal of the online store.
Customer management: it offers the possibility of managing customers, their data and purchases.
Payment configuration: you can configure your online payment methods (PayPal, Credit Card) and offline (Bank transfer, etc.) according to your convenience.
Shipping tracking: there are many modules that allow you to track the shipment to see its status after purchase.
Stock control: it let you know how many products are left and have your customers notified at all times.
Ratings: it allows users to rate the purchase, the product and leave comments.
Statistics and reports: it includes marketing tools to generate reports of purchases, statistics, products, etc.
Discount Coupons: perfect to encourage purchases by offering juicy discounts, it includes a system for you to configure them easily.
Currency management: it allows you to sell in different types of currencies, as well as manage and apply taxes as you need.
Newsletters: it offers configuration and sending of newsletters to keep your customers informed of all the promotions that exist.
Contact Top Mobile Prestashop Development Company in Canada
The aspects of Prestashop development are diverse. For the development, companies should turn to an experienced service provider such as Hyperlink InfoSystem. Hyperlink InfoSystem was established in 2011, and we have already successfully implemented numerous ideas and have extensive practical experience. Hyperlink InfoSystem has so far been able to master every challenge to the satisfaction of its customers.
Hyperlink InfoSystem is one of the leading Prestashop development company in Canada. With the development of many Prestashop websites with functionality ranging from simple to complex, we are best suited to develop e-commerce websites for your company. We have experts in different aspects of Prestashop development, such as the user interface and user experience. Our attention to detail ensures that we excel in all our projects and have excellent customers' ratings. We are always evolving, and we use the best technologies for every project.
Process We Follow
1. Requirement Gathering
We analyze the requirements with the clients to understand the functionalities to combined into the app. This process allows us to form a development plan and transform the client's thoughts into an efficient and functional app.
2. UI/UX Design
Our developers use efficient UI trends to design apps that are not only pleasant to the eye but also intuitiveness and flexible. Our applications do not only complete the needs of our clients but also are simple and convenient to the end-users.
3. Prototype
We develop a preliminary visualization of what the mobile app would look like. This helps to generate an idea of the appearance and feel of the app, and we examine the users' reactions to the UI and UX designs.
4. Development
Our team of experts in Native, Hybrid, and Cross-Platform app development, using languages such as Swift, Kotlin, PhoneGap, Ionic, Xamarin, and more to produce high-quality mobile apps for the various operating systems.
5. Quality Assurance
We have a team of developers who carefully test every app to ensure that they provide an excellent user experience and meet the requirements of our clients. Apps developed by our development team are bug-free because they perform through a series of experiments before deployment.
6. Deployment
We follow the best practices when deploying our apps on different app stores, where they can be easily noticeable to considered users.
7. Support & Maintenance
All digital solutions need development. The deployment of an app is not the ultimate stage. Even Post-deployment, we work with our clients to offer maintenance and support.
Process We Follow
1. Requirement Gathering
We follow the first and foremost priority of gathering requirements, resources, and information to begin our project.
2. UI/UX Design
We create catchy and charming designs with the latest tools of designing to make it a best user-friendly experience.
3. Prototype
After designing, you will get your prototype, which will be sent ahead for the development process for the product.
4. Development
Development of mobile application/ web/blockchain started using latest tools and technology with transparency.
5. Quality Assurance
Hyperlink values quality and provides 100% bug free application with no compromisation in it.
6. Deployment
After trial and following all processes, your app is ready to launch on the App store or Play Store.
7. Support & Maintenance
Our company offers you all support and the team is always ready to answer every query after deployment.
Latest Blogs
Explore the Latest Blogs on Trends and Technology.