Hire Metaverse Developers In Canada
Hire the best Metaverse developers in Canada from Hyperlink InfoSystem. Hire dedicated metaverse developers in Toronto.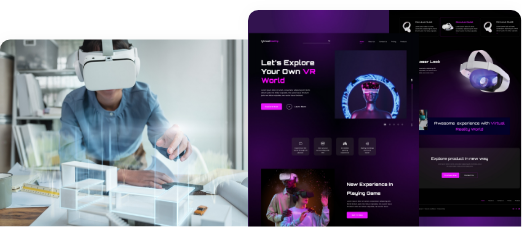 Involve yourself in the metaverse with the help of our metaverse development firm, which specializes in augmented reality, virtual reality, blockchain, and artificial intelligence software. Hyperlink InfoSystem offers the skills and knowledge to help you achieve your goals, whether they be a rapid expansion or a radical reimagining of the digital world. The scope of our imagination is wide. Our focus is on the long-term future. We are innovators at heart and businesspeople at mind. With our assistance, when you hire metaverse developers in Ottawa, Canada, you can create a game-changing metaverse solution that makes a significant difference.
To provide our customers with the best possible metaverse solutions, Hyperlink InfoSystem constantly monitors developments in augmented reality, virtual reality, artificial intelligence, blockchain technology, and 3D modeling. Give us your concept for the metaverse. We'll figure out how to implement this vision using cutting-edge technology so that it can become a show-stopping reality.
Those Tools That Make Up The Metaverse
Virtual reality is a technology that, using computer software and special eyewear, allows users to experience a simulated environment. While using the full-coverage headsets, you are completely isolated from your environment. The LCDs within the lenses of these headsets display a computer-generated virtual world. Connecting these devices to a computer or mobile device that can show virtual environments is common practice. These images can be exact duplicates of real-world locations or from a fictional universe.
Augmented reality (AR) is a technology that uses computer vision to combine virtual and physical worlds. It does this by using a plethora of technologies, including object identification, plane detection, facial recognition, and movement tracking, to identify features and objects in the real environment. Graphics, audio, video, and text are all examples of data that can be generated by a computer and shown on these already established levels of recognition. With Augmented Reality, we can better examine our physical environment while also enhancing our ability to engage with digital products.
MR can also be referred to as Hybrid Reality since it combines elements of both AR and VR. There are both analog and digital components. Though the primary function of Mixed Reality technology is to bridge the gap between the real and the virtual, its greatest strength lies in the natural way in which people can interact with digital objects.
"XR" is the new umbrella word for anyform of immersive media. Current and upcoming technologies include AR, VR, and MR, or mixed reality. The term "immersive technology" refers to any system that either combines the virtual and "real" worlds or simulates an environment that makes the user feel as if they are in the actual world.
All of these technologies have great promise and have the potential to significantly advance the Metaverse. If they are capable of working together, or not. We can't help but incorporate them into our personal and professional life.
The Benefits of Metaverse
Video and web conferencing, instant messaging, and other digital forms of communication have emerged as the primary means of online interaction for the increasing number of individuals who work remotely.
The Metaverse is an immersive 3D environment that provides users with a broad variety of real-world capabilities, taking the current digital experience to the next level. The following are some of the main benefits that we get from the Metaverse.
New Opportunities For Businesses And Marketers
Better social media platforms are in the works at Meta, which will provide new possibilities for companies and marketers. With the use of virtual reality, companies can offer clients the chance to virtually try on a variety of garments and accessories in real-time.
Excellent Resource For Medical Professionals.
With the advent of the Metaverse, doctors and nurses who were previously unable to travel to their patients' locations can now do so with ease. By interacting with a patient in a virtual setting, they can better understand their medical situation.
Providing The Experience of Virtual Tours
The world is out there to explore, but not everyone has the means to do so. There, the Metaverse is realized in all its glory. It paves the way for individuals to virtual travel to locations they can't visit. This cutting-edge virtual world is being created by fusing the resources of the Metaverse, augmented reality, and virtual reality to provide users with a truly immersive environment.
The metaverse they discover online mirrors the real one in many respects. Video games allow players to take on the roles of drivers, shooters, performers, and storytellers. While games like Grand Theft Auto 5 give a real-time simulation, the users are unable to physically interact with the virtual world. The metaverse gives users a taste of the 3D virtual world, where they can explore and engage in a wide range of activities.
Solving the Remote Work Challenges
Most IT workers were able to work from home during the epidemic, but that meant less face-to-face contact between managers and staff. Metaverse applications allow managers to maintain a virtual presence while interacting with staff in the same manner as they would in the real world. Like patients, physicians can have virtual consultations with their patients.
This is Where Our Strengths Lie In The Metaverse
Our metaverse developers are well-versed in making the most of cutting-edge developments in extended reality and AI to revolutionize the delivery of medical care, education, and research.
We provide comprehensive metaverse development services, one of which is the establishment of a virtual property market. Another option is to use the area for construction. You can't beat a good virtual tour, right? In other words, you're taken care of by us, too.
Virtual showrooms and NFTs that let customers buy digital representations of tangible goods are just two examples of the kind of immersive brand experiences we provide.
Our unparalleled technical experience and in-depth knowledge of the subject matter allow us to assist you in taking online education into the metaverse through virtual and augmented reality for more engagement and Immersive effects.
Take advantage of our metaverse development services to enhance product designs, manufacturing processes, cooperation throughout product development, and safety via the use of simulations and digital twins. Enter the metaverse with the hire of top metaverse developers in Ottawa, Canada.
Latest Blogs
Explore the Latest Blogs on Trends and Technology.