Metaverse Development Company
If you're looking for a top-tier Metaverse development company, go no further than Hyperlink InfoSystem.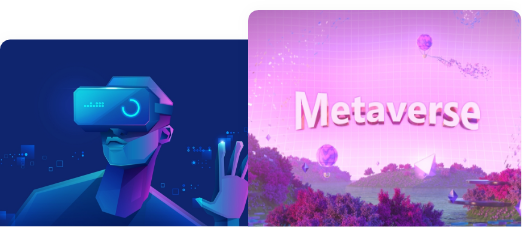 To put it simply, a metaverse is a location where real life and the virtual world meet. Simply said, the Metaverse is an Augmented Reality (AR) and Virtual Reality (VR)-powered, three-dimensional online environment. Metaverse users can collaborate on any task in a shared virtual environment. Imagine a virtual universe in which digital goods, NFTs, avatars, and other virtual entities coexist in a networked environment. Integrate virtual reality into your business when you hire metaverse developers in Canada.
Recent advancements in Metaverse technology have argued for the inclusion of IoT (Internet of Things), AI (Artificial Intelligence), and holographic avatars. Already, these innovations are the primary reasons why many firms are successful.
There are new possibilities for businesses in many sectors as the metaverse technology stack develops. Hyperlink InfoSystem is at the forefront of metaverse development, and its team of innovators thrives on difficulty. We are delighted to help you plan for success in the emerging digital market. Let's talk about your plans for the future and how to make an impact in the metaverse.
Benefits of the Metaverse Development that Companies Can Take Advantage Of
There are several ways in which companies might benefit from using the Metaverse. Technology has made possible what was just a far-fetched fantasy a decade ago: a parallel virtual universe amid the real-world audience. To make educated choices, contemporary enterprises need to investigate the benefits of the Metaverse. There are several advantages to using the Metaverse, some of which include;
Promote And Advertise Merchandise
To provide their consumers with a more satisfying shopping experience, several major eCommerce companies and enterprises are actively using Metaverse to allow customers to virtually try on anything from clothing to eyewear to furniture. Companies can also open virtual storefronts to advertise their goods and services, expanding their reach and perhaps bringing in a significant number of new consumers.
When it comes to raising brand recognition and establishing a distinct company identity, Metaverse has proposed a novel strategy. The audience in the future won't only be passive listeners but active participants making choices about your goods because of the interactive nature of the Metaverse.
Bitcoin and the Metaverse are natural partners. The ease with which digital currencies like bitcoin can be transferred between users is a direct result of the increasing prevalence of digital wallets and payment systems. In the Metaverse, users can make purchases with only a few touches of their fingers, and there's no need to connect their bank accounts to do so.
The possibilities for online entertainment are greatly expanded with the advent of the Metaverse. The potential for a more involved and enthusiastic consumer base awaits any company that is willing to provide a Metaverse experience to its clientele. Everything from digital wares to interactive games to augmented and virtual reality exhibitions is at your disposal.
Possibilities for virtual events
It's possible that seeing your favorite band perform live on the screen won't come up to the experience you'd have in the Metaverse. Customers will like the enhanced sense of presence they get from participating in virtual events, which can be organized for them.
If they want the attention they deserve, museums and galleries can also adjust their strategies to appear on Metaverse radar. Three hundred individual NFT avatars were sold at a recent show.
What We Do Best In Metaverse Development
Want to establish a virtual museum where people can explore both digital and tangible works of art? We can assist with the establishment of a metaverse via our firm. Easy-to-set-up viewing rooms, exhibits, and 3D tours are just some of the services we provide.
Use our skills to have a replica of your shop created in virtual reality, complete with a bitcoin payment gateway. Live-shopping events, digital changing rooms, and try-on applications are all ways we can improve the shopper experience.
We can create a virtual office that is a replica of your physical location, a metaverse for online meetings, and other collaboration tools to boost your business's operational efficiency to new heights.
The metaverse is a fantastic venue for social gatherings of many kinds, from concerts to award shows. When created using Hyperlink InfoSystem, they are dynamic and interesting.
Using 3D avatars, social media can be reimagined as a virtual reality experience. Alternatively, you could team up with our metaverse development firm to create a social media platform that is powered by the blockchain and provides end-to-end encryption for all user interactions.
Our Metaverse Development Services and Consulting
Hyperlink InfoSystem provides the skills and knowledge to help you achieve your goals, whether they be a rapid expansion or reimagining the digital world. We have expansive minds. Ahead of our time is how we think. We're creative problem solvers who keep an eye on the bottom line. We'll assist you in developing a cutting-edge, practically useful Metaverse solution.
Creation of an NFT Marketplace And Its Integration
Your NFT marketplace, whether it be from the ground up or as a white label, can be developed by us. We can build just about anything on top of an existing NFT marketplace, including a user-friendly storefront, trading processes, smart-contract protocols, cryptocurrency wallets, advanced features, and integrations. Both security and compatibility with other systems are addressed.
Hyperlink InfoSystem provides state-of-the-art 3D visuals as part of its Metaverse development services, allowing for the creation of jaw-dropping user experiences. Using an interoperability strategy, we create fantastic 3D models, spatial mapping, virtual events, 360° tours, and much more.
When do you feel prepared to go into the Metaverse? If you're in search of innovative concepts or exploring new commercial possibilities, the R&D laboratories at Hyperlink InfoSystem can give insightful analysis and a winning metaverse approach. We will sketch out your technology roadmap and build your minimum viable product (MVP) so that you can get early customer feedback.
Metaverse Development And Integration
Leverage our unmatched knowledge of augmented reality/virtual reality and blockchain technology to construct a decentralized app or platform. Our groups design interactive virtual worlds where people can socialize, study, and even do their jobs. We also set up connections, such as APIs, data, and services, that can enrich your unique Metaverse development.
If you're looking for a top-tier Metaverse development firm, go no further than Hyperlink InfoSystem.
When it comes to providing cutting-edge augmented and virtual reality solutions to businesses, Hyperlink InfoSystem is the industry leader. When designing a Metaverse experience for a company, our professionals always employ the best tools and methods available. With our agile and user-centric development solutions, you can progress your key business objectives and stand at the forefront of the market. We are a leading Metaverse development company in Canada.
Process We Follow
1. Requirement Gathering
We analyze the requirements with the clients to understand the functionalities to combined into the app. This process allows us to form a development plan and transform the client's thoughts into an efficient and functional app.
2. UI/UX Design
Our developers use efficient UI trends to design apps that are not only pleasant to the eye but also intuitiveness and flexible. Our applications do not only complete the needs of our clients but also are simple and convenient to the end-users.
3. Prototype
We develop a preliminary visualization of what the mobile app would look like. This helps to generate an idea of the appearance and feel of the app, and we examine the users' reactions to the UI and UX designs.
4. Development
Our team of experts in Native, Hybrid, and Cross-Platform app development, using languages such as Swift, Kotlin, PhoneGap, Ionic, Xamarin, and more to produce high-quality mobile apps for the various operating systems.
5. Quality Assurance
We have a team of developers who carefully test every app to ensure that they provide an excellent user experience and meet the requirements of our clients. Apps developed by our development team are bug-free because they perform through a series of experiments before deployment.
6. Deployment
We follow the best practices when deploying our apps on different app stores, where they can be easily noticeable to considered users.
7. Support & Maintenance
All digital solutions need development. The deployment of an app is not the ultimate stage. Even Post-deployment, we work with our clients to offer maintenance and support.
Process We Follow
1. Requirement Gathering
We follow the first and foremost priority of gathering requirements, resources, and information to begin our project.
2. UI/UX Design
We create catchy and charming designs with the latest tools of designing to make it a best user-friendly experience.
3. Prototype
After designing, you will get your prototype, which will be sent ahead for the development process for the product.
4. Development
Development of mobile application/ web/blockchain started using latest tools and technology with transparency.
5. Quality Assurance
Hyperlink values quality and provides 100% bug free application with no compromisation in it.
6. Deployment
After trial and following all processes, your app is ready to launch on the App store or Play Store.
7. Support & Maintenance
Our company offers you all support and the team is always ready to answer every query after deployment.
Latest Blogs
Explore the Latest Blogs on Trends and Technology.